Food Poisoning: Causes, Symptoms & Support Strategies
You go out to a restaurant, eat a delicious meal, and leave with a smile on your face. Later in the evening or the next day, you start having stomach pains, nausea, diarrhea, or vomiting. You have food poisoning. We've all been there. The good news is that there are ways to prevent food poisoning and recover from food poisoning quickly and naturally.
In this article, I will discuss what food poisoning is. You will learn about the main symptoms and major causes of food poisoning. I will share the best preventative methods and my top natural strategies for food poisoning.
What is Food Poisoning
Food poisoning is also caused by foodborne illness. It is an illness characterized by mostly digestive symptoms. It caused by contaminated, spoiled, or toxic food. It is usually caused by pathogens, such as bacteria, viruses, or parasites, or their toxins.
According to the Centers for Disease Control and Prevention (CDC) about 48 million people get sick from food poisoning each year. In most cases, food poisoning is short-lived and not dangerous. Still, food poisoning needs to be taken seriously as about 128,000 get hospitalized and 3,000 die each year due to complications from food poisoning (1).
Symptoms of Food Poisoning
Most symptoms of food poisoning are digestive or related symptoms. Common symptoms of food poisoning include (2):
Abdominal cramps or pain

Vomiting

Nausea

Loss of appetite

Weakness

Headaches

Mild fever
In most cases, there is nothing to worry about and symptoms of food poisoning should pass within a day or a few days. However, if you notice persistent diarrhea for a more than three days, symptoms of severe dehydration (such as no urine or inability to keep fluids down), blood in the urine, severe pain, persistent high fever (over 102 F or 38.9 C), or neurological symptoms (tingling, muscle weakness, or blurry vision), contact your doctor or healthcare provider (2).
Major Causes of Food Poisoning
Food poisoning is caused by bad bacteria, parasites, viruses, or their toxins. They may lie in contaminated, raw, or undercooked meat, poultry, fish, eggs, dairy, greens, vegetables, or fruits. Here are some of the major causes of food poisoning.
Bad Bacteria
Bad bacteria is the most common cause of food poisoning. If you've had food poisoning in the past, the is a good chance that it was from bacteria. The most common bacteria that can lead to food poisoning are Salmonella, E. Coli, and Listeria. Two lesser-known bacteria, C. botulinum (botulism) and Campylobacter are less common, but can be very dangerous and may lead to death (2).
Salmonella is the biggest culprit of food poisoning. They may hide in raw or undercooked meat, poultry, eggs, unpasteurized milk, raw vegetables, and raw fruits. Symptoms may develop within 6 hours up to 6 days after eating contaminated food. E. Coli is another common cause of food contamination. It may hide in raw or undercooked ground beef, unpasteurized milk, raw vegetables and sprouts, or contaminated water.
Symptoms tend to start 3 to 4 days after being exposed. Listeria can be found in soft cheeses, melons, hot dogs, deli meat, smoked seafood, unpasteurized milk, and raw sprouts. Symptoms may start within 1 to 4 weeks. C. botulinum may be found in canned and fermented foods and symptoms may start within 18 to 36 hours. Campylobacter can occur in unpasteurized milk, raw or undercooked poultry, and contaminated water. Symptoms may appear within 2 to 5 days after being exposed (2).
Parasites
Though it is less common than bacteria-caused illness, food poisoning can be caused by parasites. Toxoplasma is one of the most commonly seen causes of bacterial food poisoning. Toxoplasma is usually found in cat food.
The problem with parasites that they can live in your digestive tract for years without being detected. They can lead to a variety of digestive and chronic health issues. They are most dangerous for people with a weak immune system and those who are pregnant (3).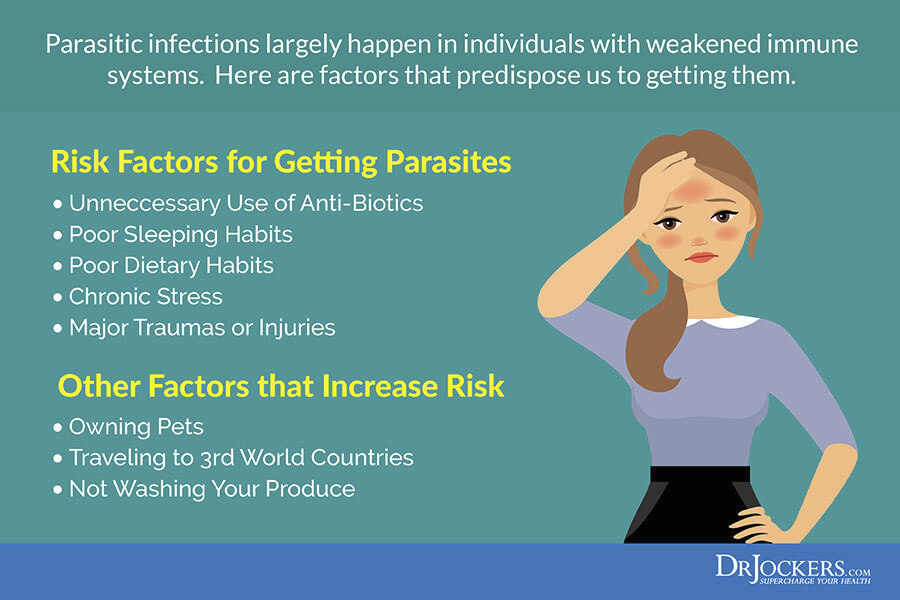 Viruses
Food poisoning may also be the result of a virus. Norovirus or Norwalk virus is the most common viral culprit of food poisoning leading to 19 million cases a year (4). They may be found in contaminated greens, fruits, shellfish, or water.
Symptoms tend to bein within 12 to 48 hours after being exposed to contaminated food or water (2). Other viruses that may cause food poisoning are rotavirus, sapovirus, and astrovirus. However, they are less common and may be milder. Hepatitis A, though not a cause of food poisoning, is a virus that can be transmitted through food.
How To Prevent Food Poisoning
Throughout our lives, we all experience food poisoning at least a couple of times. However, there are some great practices you can use to prevent food poisoning. Most of them have to do with hygiene, food preparation, and food safety. Here is what I recommend to prevent food poisoning:
Wash your hands:

Wash your hand thoroughly with soap and water before and after handling food, especially raw food, such as meat, poultry, fish, eggs, greens, vegetables, and fruits. Avoid touching the garbage bin, blowing your nose, using the toilet, or touching animals while food prepping, and always wash your hands well after such activities. If you are cooking with your children, make sure that their hands are clean.

Keep your countertops clean:

Make sure that your countertops and food preparation areas as clean. Always clean your countertops with soapy water or natural disinfectants before and after preparing food, especially when handling raw foods, such as meat, poultry, fish, eggs, greens, vegetables, and fruits.

Use separate cutting boards:

Make sure that all your cutting boards are clean. Use different cutting boards for raw meat, poultry, or fish and greens, vegetables, and fruits, and ready to eat dishes.

Keep raw meat separate from other food:

Keep your food separated. Raw meat, poultry, fish, and eggs should be kept away from any food that is ready to eat, such as vegetables, greens, fruits, salads, and cooked meals. It is usually the best to store raw meat, poultry, or fish at the bottom shelf of your fridge or in your freezer where it cannot touch other food.

Keep your food refrigerated:

Make sure to keep any meat, poultry, fish, eggs, and dairy in the fridge. If you are going on a trip or hiking, keep your food in a cooler if possible, avoid your food being out on the hot sun for too long, and avoid taking food that can get spoiled easily for long hikes or if you don't have access to a cooler or fridge for an extended period.

Wash your dishcloths regularly: Make sure to wash your dishcloths, sponges, kitchen towels, and anything else regularly. Germs can spread on dirty and damp cloths, so it is important to clean and dry them before using them.
Cook your food thoroughly:

Don't wash raw meat or poultry before you cook them as it may help to spread bacteria. Cook your meat, poultry, and fish throughout. Make sure that it's not pink inside and is steaming hot.

Keep your fridge cool:

Make sure that your fridge is not overflowing, closes properly, and the air can circulate easily. Keep your fridge below 41 F (5 C) to prevent germs from growing.

Cool your leftovers:

If you are not going to finish the entire dish you cooked, make sure to cool it within 90 minutes. Store any leftovers in your fridge or freezer. Make sure to eat any leftovers within two days. Eating them for the next day's lunch or dinner is usually the best practice if you don't want to freeze them.

Pay attention to expiration dates:

Check the expiration or use-by date on your food. Don't eat anything past this date even if it looks fine. Avoid food that's moldy, smells funny, or looks unusual in any way.

Be smart when eating out:

If you are eating out, go to restaurants that you can trust and are up to code. If your food doesn't look okay, make sure to return it.

Stay safe while traveling:

If you are traveling within the United States, follow all the tips that you would at home. Try to stick to foods that you are familiar with and eat at up-to-code restaurants that locals enjoy or cook your meals. Wash your hands regularly. When traveling abroad, eat at popular restaurants that locals eat at. In many countries, tap water is not safe to drink, so make sure to use bottled spring or purifies water.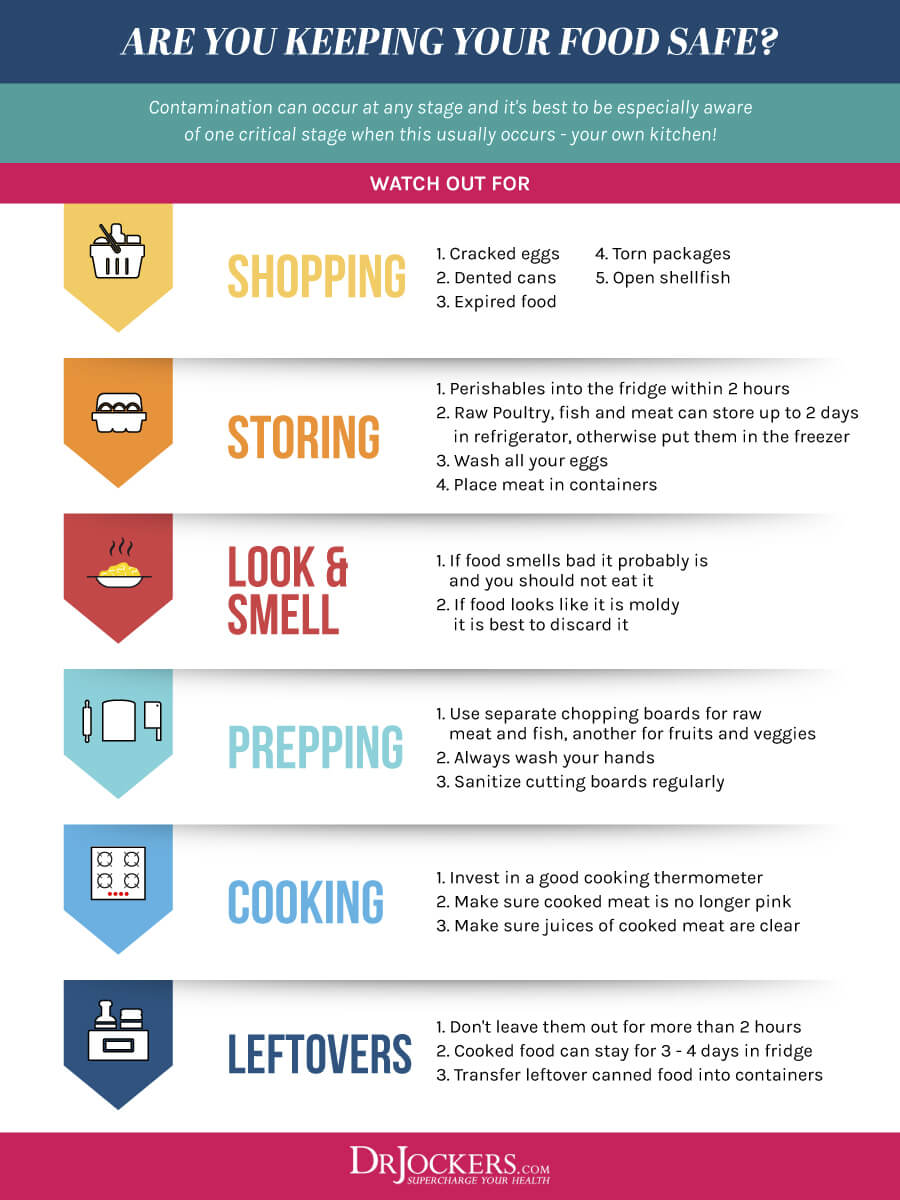 Natural Support Strategies for Food Poisoning
Food poisoning happens. If you have food poisoning, there are some natural support strategies you can try to support your body. Here is what I recommend for food poisoning:
Fasting & Liquid Diet
When you have food poisoning, you probably naturally don't want food, so fasting and 'eating' a liquid diet should be easy and natural. It is important, however, to keep hydrated. Drink plenty of water, even more than normal.
If you notice darker urine or not peeing regularly, you are dehydrated. Drinking bone broth can help you stay hydrated and nourish your body with minerals and other nutrients. Drinking ginger or peppermint tea may be calming to your stomach as well.
Focus on liquids which are the easiest to get down and will keep you hydrated. In some cases, people can handle some cooked rice or even a chicken soup or stew but in the early stages those things can be tough to keep down. Hydration and electrolytes are the most important things in the early stages.
Reduce Stress & Sleep
Reducing stress and sleeping properly is important at all times, however, it is extra critical if you've been sick. I recommend at least 7 to 9 hours of sleep at night. If you are sick from food poisoning, you may need more sleep and rest. Listen to your body and honor its wishes by getting as much sleep, naps, and relaxation time as possible.
Reduce your stress levels. Try meditation, breathwork, prayer, gratitude, and journaling. Reading, crossword puzzles, coloring, listening to calming music may be great at this time. If possible, enjoy some sunshine, but sitting outside with feet on the ground for grounding or walking and stretching if your body is up for it.\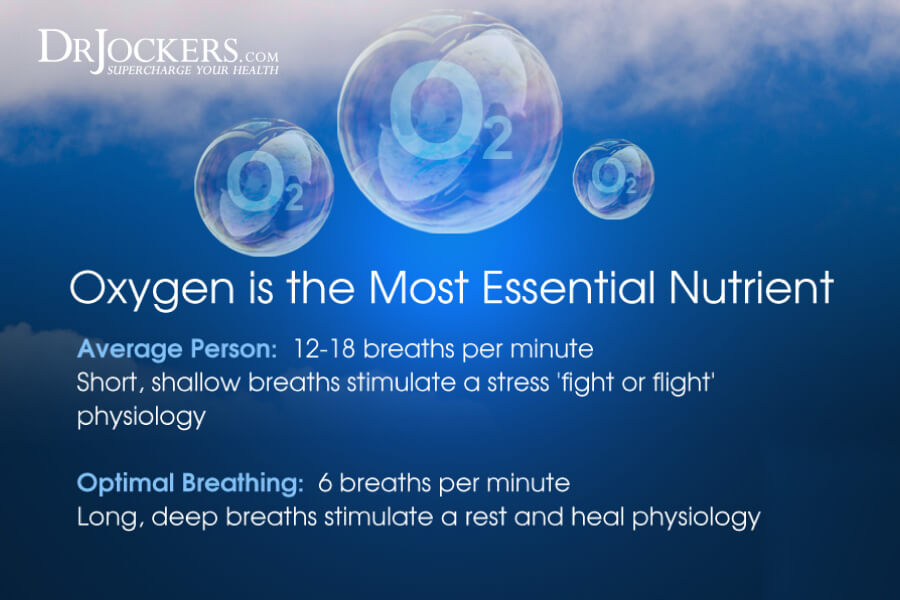 Use Activated Charcoal
Activated charcoal is one of the oldest detoxifying remedies. It's great for food poisoning and digestive issues. It helps to pull out toxins from your body and release them through bowel movements.
According to the research findings published in the book Diarrhoea and Vomiting Caused by Gastroenteritis: Diagnosis, Assessment and Management in Children Younger than 5 Years, activated charcoal may make a significant difference in food poisoning symptoms (5). I recommend taking 1 to 2 grams of Activated Coconut Charcoal every 2 hours.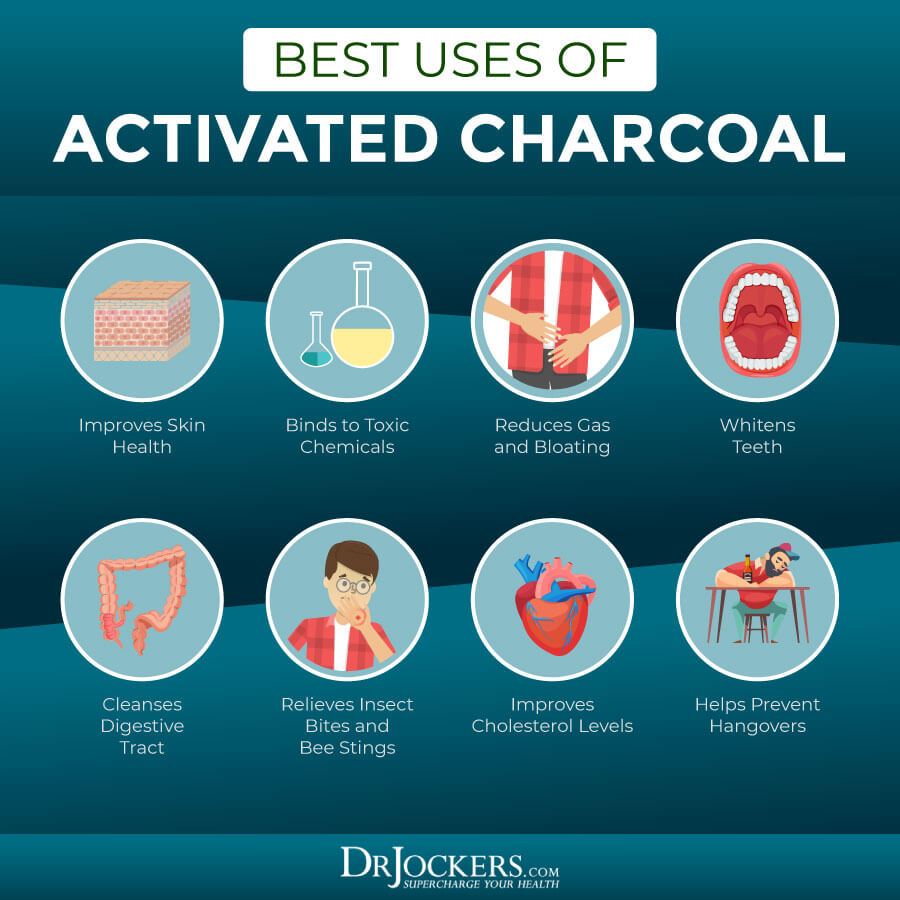 Use L-Glutamine
L-glutamine is the most abundant free amino acid in the body and is an energy substrate for most cells—especially enterocytes (intestinal epithelial cells) and immune cells. It may help to repair the gut lining and boost immune function.
According to a 2004 study published in Gastroenterology Nutrition the research findings published in the book Diarrhoea and Vomiting Caused by Gastroenteritis: Diagnosis, Assessment and Management in Children Younger than 5 Years, l-glutamine can be effective for digestive problems (5, 6). I recommend taking 5 to 10 grams of L-glutamine every 3 waking hours.
Consider Anti-Microbials
Since infectious microbes are at the root of food poisoning, you may benefit from taking some natural anti-microbials (2). Some of the best herbs and compounds to use include berberine, cloves, wormwood, black walnut, oregano, barberry, and Tribulus to help fight bad bacteria, parasites, and fungi, and support your digestion and immune function (7, 8).
It is a good idea to use these in the early stages of a bout with food poisoning. Even if you miss the early window, it can be helpful to use these to clean out any left over pathogens after your body has adapted and symptoms have subsided. It is wise to work with a functional health practitioner to get the right dosage strategy depending upon your symptoms and health history.
Take Probiotics
When your symptoms start improving, you can stop taking anti-microbials and take probiotics instead of anti-microbials. Having food poisoning is hard on your digestive system and can disrupt your gut flora balance.
Taking probiotics may help to improve your symptoms and shorten your symptoms (9). They also help to rebalance your gut microbial balance to support optimal health and functioning.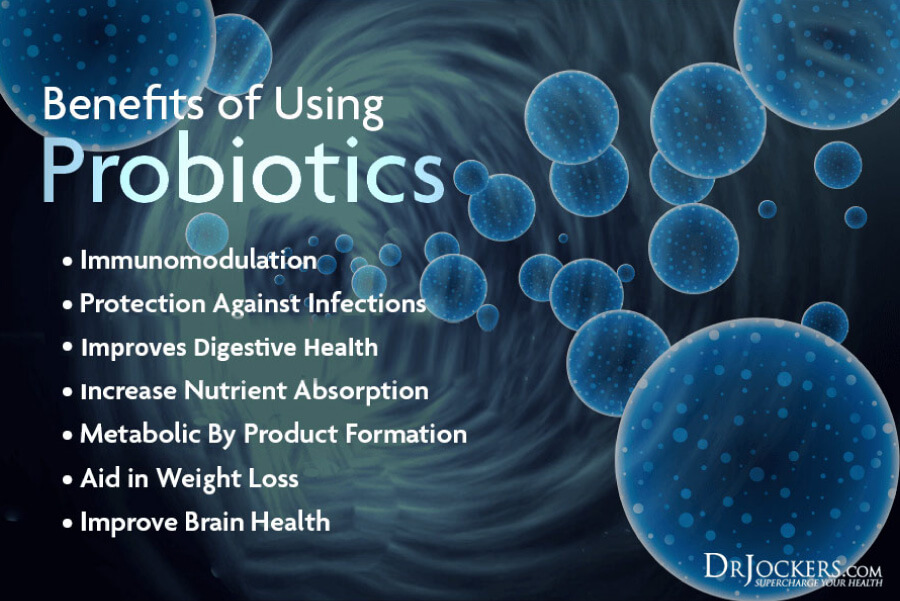 Add in Easy to Digest Foods
When you first start getting symptoms, fasting and a liquid diet are the best. As your symptoms start to improve, you can slowly add back food into your diet. Start with simple things that are hydrating and easy to digests, such as fruits, well-cooked veggies, protein shakes, soups, and stews.
Take your time and ease back slowly to foods that are harder to digest, such as eggs, steak, cheese, heavy starches, and raw vegetables. Depending on the length and severity of your food poisoning symptoms, it may take a week or a few weeks to get back to your regular diet.
Final Thoughts
Food poisoning is an illness characterized by abdominal pains, diarrhea, vomiting, nausea, and other symptoms and caused by bacteria, parasites, or viruses from contaminated or spoiled food. Follow my tips and safety precautions to reduce your risk of food poisoning.
If you are experiencing symptoms of food poisoning, try my natural strategies for quick recovery. Save this article and my tips, so you have it handy if you or any of your family members or friends get food poisoning in the future.
If you want to work with a functional health coach, I recommend this article with tips on how to find a great coach. At my clinic, we offer long-distance functional health coaching programs. For further support with your health goals, just reach out and our fantastic coaches are here to support your journey.
Sources in This Article Include:
1. Foodborne germs and illnesses. Centers for Disease Control and Prevention.
Link Here
2. Food poisoning symptoms. Centers for Disease Control and Prevention.
Link Here
3. Toxoplasmosis. Centers for Disease Control and Prevention.
LInk Here
4. Burden of norovirus illness in the US. Centers or Disease Control and Prevention.
Link Here
5. National Collaborating Centre for Women's and Children's Health (UK). Diarrhoea and Vomiting Caused by Gastroenteritis: Diagnosis, Assessment and Management in Children Younger than 5 Years. London: RCOG Press; 2009 Apr. (NICE Clinical Guidelines, No. 84.) 8, Other therapies. Link Here
6. Yalçin SS, Yurdakök K, Tezcan I, Oner L. Effect of glutamine supplementation on diarrhea, interleukin-8 and secretory immunoglobulin A in children with acute diarrhea. J Pediatr Gastroenterol Nutr. 2004 May;38(5):494-501.
Link Here
7. Krishna S, Bustamante L, Haynes RK, Staines HM. Artemisinins: their growing importance in medicine. Trends Pharmacol Sci. 2008 Oct;29(10):520-7. doi: 10.1016/j.tips.2008.07.004. Epub 2008 Aug 25. PMID:
18752857
8. Clark AM. Antimicrobial activity of juglone. Phytotherapy Research.
LInk HEre
9. Treatment of food poisoning. NIH. Link Here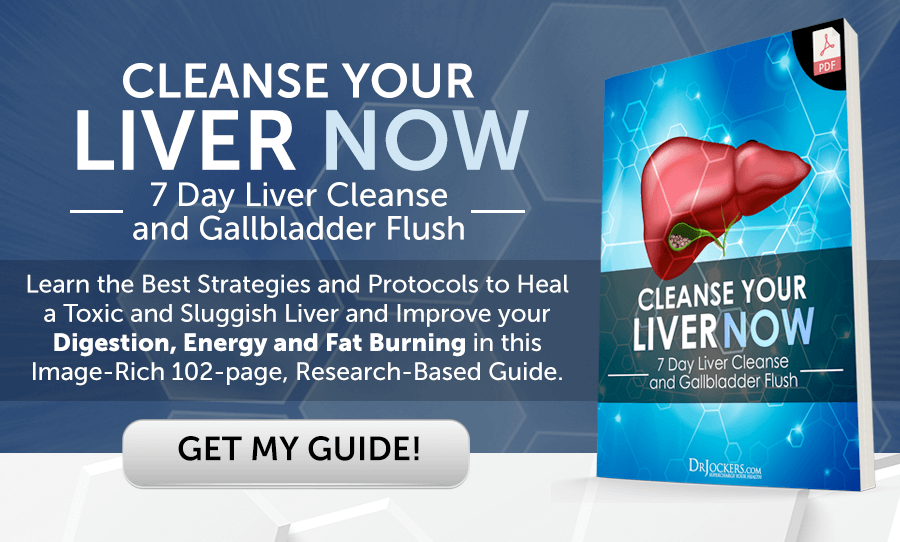 Was this article helpful?