Detoxify Your Body with InfraRed Sauna:
The modern world is full of environmental toxins.  It is estimated that there are over 80,000 toxic chemicals used regularly in the US.  There are over 500 chemicals stored in our body and the average individual has at least seven pesticides tested in their urine (1, 2).  It is imperative to have a daily detoxification lifestyle to get these unwanted toxins out of our system.  Infrared sauna technology is an advanced detoxification strategy with remarkable health results.
The major detoxification organs in the body include the liver, kidneys, skin, respiratory system, gastrointestinal system and urinary tract.  The major eliminatory processes include respiration, urination, defecation and perspiration.
Due to the amount of toxins in our 21st century society health is absolutely dependent upon optimal eliminatory channels.  Infrared sauna's help the body to maximize toxic elimination through perspiratory channels (3, 4).
What is Infrared Technology:
Far Infrared technology (FIR) is a non-invasive form of light therapy that penetrates the body as much as three inches.  Optimal FIR wavelengths vary in size between 5.6 microns and 20 microns.  This process heats muscle tissue and internal organs without heating the surrounding air.  This helps the organs and tissues push toxins into the blood stream where they can be eliminated through the perspiration process (5).
Infrared wavelengths have the ability to stimulate multiple pathways in the body.  These pathways include liver detoxification metabolic pathways, kidney filtration and elimination and fat cell mobilization.   It also kills off pathogenic organisms and improves the immune system, reduces stress and stimulates metabolism which enhances healthy weight loss (6).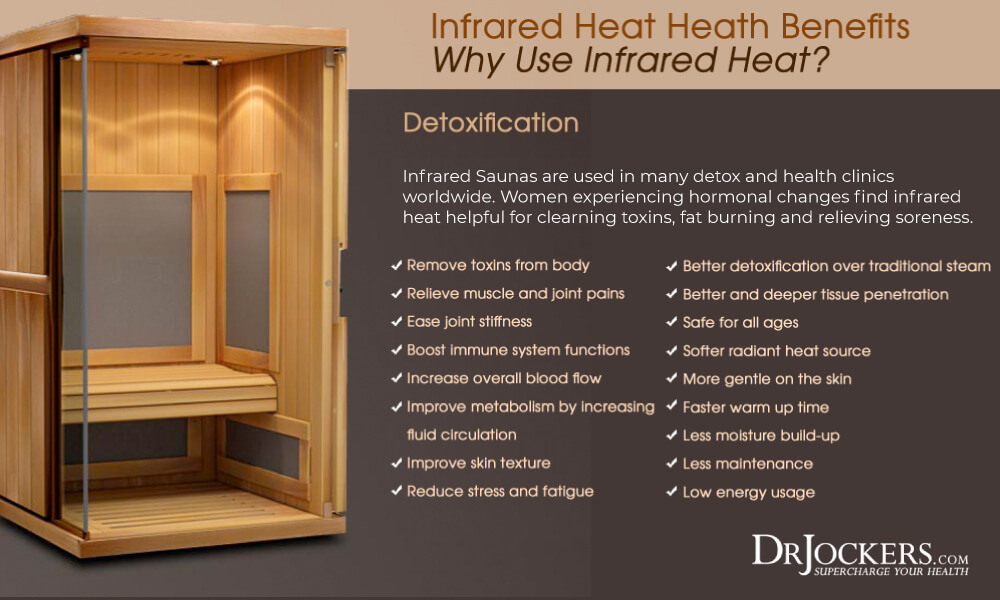 Benefits of Infrared Technology:
FIR technology can penetrate between 1 ½ – 3 inches into the surface of the body.  This has been shown to decrease the size of water clusters in the body which gives them greater mobility and access to body tissues.  This enhances cell membrane tone and functionality which helps the cell to absorb nutrients and excrete toxins more effectively.  This effect also improves circulatory patterns and toxin release through perspiration (5).
The FIR sauna has been shown to lower lactic acid levels, stimulate endorphins, kill pathogenic microorganisms and strengthen the immune system.  It also detoxifies cells by vibrating ionized bonds, stops swelling and inflammation and improves blood and lymphatic circulation.  The increase in core temperature that results in improved microcirculation throughout the body which increases oxygen delivery to the cells and tissues (5).
Steam Rooms versus Infrared Sauna:
Perspiration is one of the best ways to eliminate toxins from the body.  While all saunas and sweat rooms help induce deep toxin eliminating sweats the unique elements involved with the infrared technology allow one to sweat out a significantly greater amount of toxic debris.
Infrared sauna's heaters emit radiant heat which helps the body perspire at an average of 80% water and 20% waste and toxins.  Traditional saunas using air and steam create a perspiration ratio of 97% water and 3% toxins.  This research indicates that infrared saunas are seven times more effective at clearing out toxins than traditional saunas.
Protocols For Using the Infrared Sauna:
It is important for individuals not to overdo themselves in an infrared sauna but instead to allow it to gradually pull toxins.  Most experts recommend the first session to be about 5 minutes and then to add 30 seconds per session until you reach 15-30 minutes.  It essential to maximize hydration both before and after sauna usage.  Also, a mineral and antioxidant rich diet is extremely critical for healthy sauna usage and detoxification processes.
Most infrared saunas run at about 110-150 degrees Fahrenheit while typical steam saunas are around 150-200 degrees (7).   Following the sauna with a hot-cold cycled shower improves the detoxification process and closes down the pores, tones the skin and invigorates the body.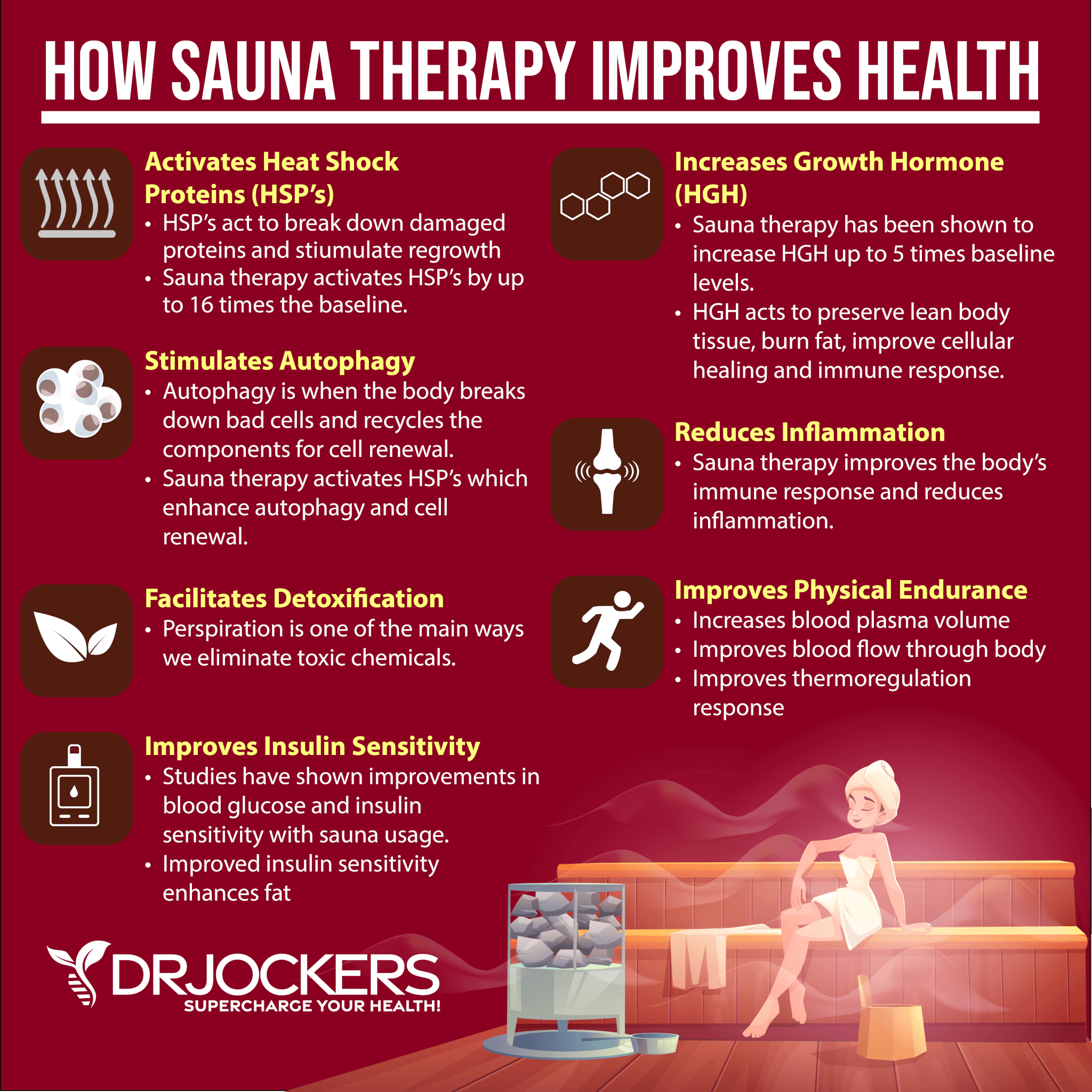 Considerations in Purchasing a Sauna:
After careful research, I found many issues within the Infrared sauna industry.   The biggest problems I see with many common FIR Sauna's include:
1)  Toxic Materials:  Many sauna's are made with chemical treated wood and toxic glues and other chemicals
2)  Dangerous EMF Levels:  Many sauna's produce high levels of electromagnetic frequencies (EMF's)
3)  No Certification:  No Official Certification (lack of 3rd party testing)
4)  Poor Ventilation:  This can lead to increased CO2 in the sauna and reduced detoxification
5)  No Warranty:  You purchase at your own risk
Introducing High Tech Health:
High Tech Health has been promoting infrared sauna therapy for over 15 years as an extremely efficient way to detoxify the body of heavy metals and chemicals. With our reputable background, team of medical practitioners, years of research and education, they have designed the Thermal Life Sauna as the safest and most effective sauna for far infrared detoxification
Hypoallergenic, Premium Poplar Wood
All poplar construction – confirmed to be non-toxic by both researchers and thousands of past and present High Tech Health customers, including the most chemically sensitive.
Poplar wood does not outgas chemicals or have strong odors making it superior to cedar, spruce, hemlock and basswood.
Poplar is the only wood that will not cause lung, eye, nasal and skin irritations and add to the body's total toxic burden.
Poplar is the wood recommended by toxicologists for clinical and home use of therapy saunas used for medical purposes.
State-of-the-art Bio-Resonance Heaters
The custom designed ceramic-inside-metal-sheath heaters deliver the highest quality FIR therapy (130-145 degrees) with the lowest EMF rating (less than 1.5mG).
Emitters are strategically placed throughout the Thermal Life to ensure full body coverage and deliver therapeutic temperatures in less than 20 minutes.
The frequency and intensity of the FIR therapy has been engineered for optimal absorption and controlled detoxification.
Fresh Air Fan
Having a ceiling fan eliminates CO2 build up to keep the air healthy, delivers fresh air to the body as the core temperature increases and provides for the purest detoxification
The Thermal Life Sauna is the only sauna available with a fresh air fan, supporting its medical grade design and ability to safely and effectively detoxify the body.
Certifications
The Thermal Life Sauna is 3rdparty certified for both residential and commercial use.
Certifications meet and exceed the requirements for Canada, the United States and Europe.
Lifetime Warranty
A Lifetime Warranty covers the heaters, workmanship and electronics on the Thermal Life Sauna.
High Tech Health is the only company that has a Lifetime Warranty on a sauna for clinical use.
You can save $500 on High Tech Health by mentioning DrJockers.com as your referral source.
For a portable, lower cost option, I really like the HigherDOSE Infrared Sauna Blanket here.   This is also low EMF and is designed by expert Sauna maker Dr Raleigh Duncan.  Your head stays out of this which most people find really comfortable and their heat tolerance increases so they are able to stay in longer and get more benefits from the sauna therapy.
The sauna blanket has a double sided zipper for easy in and out and has non-toxic vegan leather for extra comfort and uses tourmaline, clay and charcoal.  The tourmaline and clay layers generate negative ions to help buffer oxidative stress, the charcoal layer binds to pollutants and the clay layer emits negative ions.  You have easy control access with a controller to turn it on and off. Use the coupon code DRJOCKERS to save 15% off on HigherDOSE products including the Infrared Sauna Blanket.
How to Use an Infrared Sauna
If you are new to infrared sauna therapy, you can start with a short 5-minute session and build up over time to a 20-minute session or longer. Using it in the evening can help you sleep, while using it in the morning can help you to start your day relaxed and rested. If you have time, you may fit two sauna sessions into your day.
There are also a few strategies you can try to enhance your benefits:
Exercise before using your infrared sauna to start heating up your body, sweating, and detoxing. Rebounding is a great option for lymphatic and cardiovascular benefits.
Take a shower before to heat up your body a bit and remove any external toxins.
Try dry brushing before your sauna therapy session to stimulate your lymphatic system and remove dead skin cells.
Use niacin (vitamin B3), which enhances toxin release, then exercise to kick-start your sweating process before your sauna therapy session.
Take activated charcoal or GI Detox after your session to help internal detoxification.
Eat a nutrient-dense organic diet, lower toxic exposure, exercise, reduce stress, and make healthy lifestyle choices to support detoxification, cellular repair, and rejuvenation.
Sources For This Article Include:
1. Mills PK, Zahm SH. Organophosphate pesticide residues in urine of farmworkers and their children in Fresno County, California. Am J Ind Med. 2001 Nov;40(5):571-7. PMID: 11675626
2. Heudorf U, Angerer J, Drexler H. Current internal exposure to pesticides in children and adolescents in Germany: urinary levels of metabolites of pyrethroid and organophosphorus insecticides. Int Arch Occup Environ Health. 2004 Jan;77(1):67-72. PMID: 14551781
3. Hannuksela ML, Ellahham S. Benefits and risks of sauna bathing. Am J Med. 2001 Feb 1;110(2):118-26. PMID: 11165553
4. Oosterveld FG, Rasker JJ, Floors M, Landkroon R, van Rennes B, Zwijnenberg J, van de Laar MA, Koel GJ. Infrared sauna in patients with rheumatoid arthritis and ankylosing spondylitis. A pilot study showing good tolerance, short-term improvement of pain and stiffness, and a trend towards long-term beneficial effects. Clin Rheumatol. 2009 Jan;28(1):29-34. PMID: 18685882
5. Vatansever F, Hamblin MR. Far infrared radiation (FIR): its biological effects and medical applications. Photonics & lasers in medicine. 2012;4:255-266.
6. Crinnion WJ. Sauna as a valuable clinical tool for cardiovascular, autoimmune, toxicant- induced and other chronic health problems. Altern Med Rev. 2011 Sep;16(3):215-25. PMID: 21951023
7. The Infrared Sauna Effect – Dry Sauna vs Steam Room Link Here

Was this article helpful?