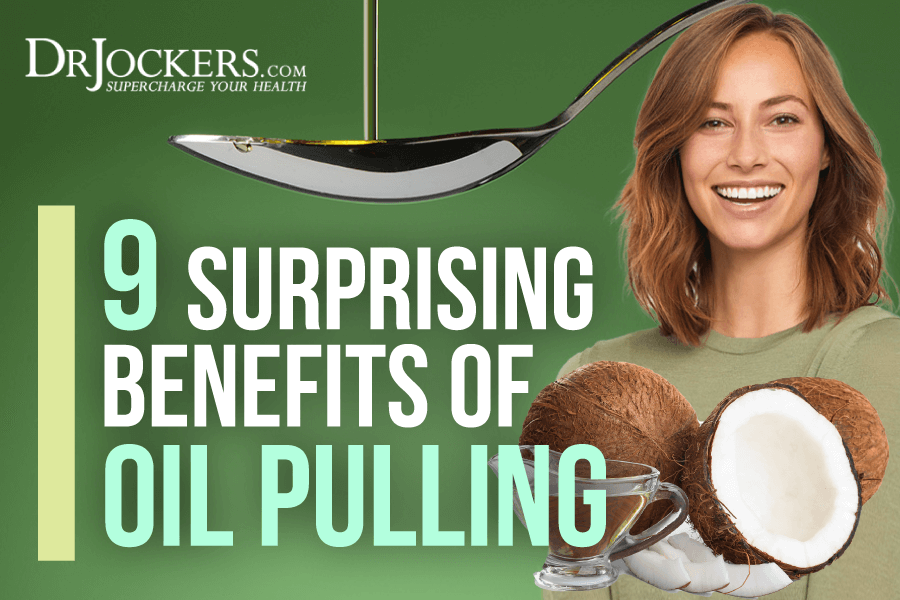 9 Surprising Health Benefits of Oil Pulling
More and more research is revealing that the health of your mouth is extremely critical to the health of your whole body.   A dysbiotic oral cavity increases our risk of developing chronic diseases such as heart disease, cancer and dementia (1, 2, 3).  Oil pulling is an easy and inexpensive way to improve the balance of microorganisms in the mouth and improve our health.
Oil pulling is an ancient Ayurvedic practice that involves swishing a pure oil around in the mouth to draw toxins from the body.  This practice has immediate and tangible effects on conditions such as halitosis, gingivitis and dental plaque.  Doing this regularly has been shown to improve the luster of the hair, clear the skin, whiten teeth, eliminate parasites, reduce joint pain and improve overall body odor (4, 5, 6).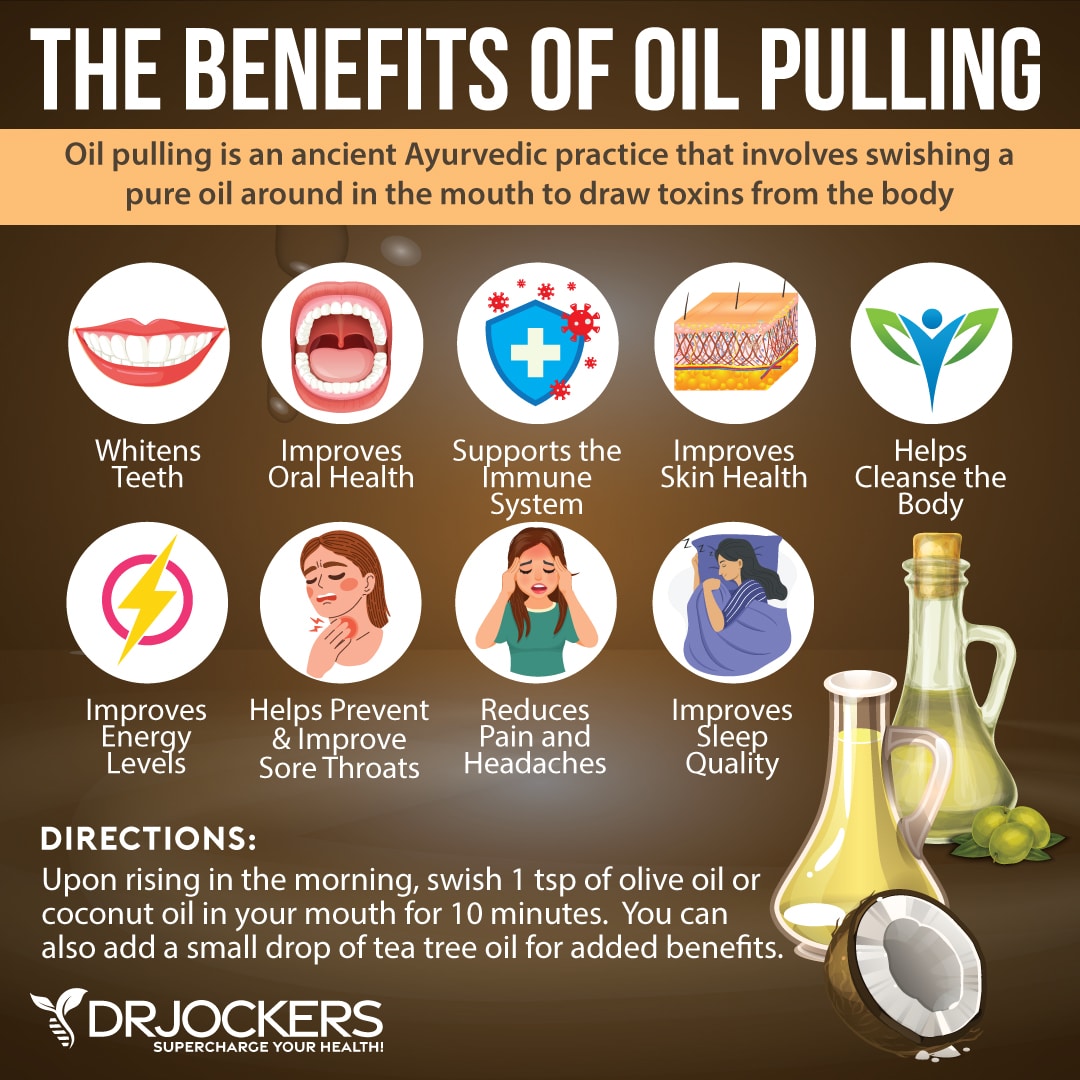 The Importance of Good Oral Hygiene:
The balance of microorganisms plays an enormous role in the health of the overall body.  Numerous studies, including a very large report done at the University of Alabama School of Dentistry, have shown a connection between periodontal disease and increased risk of stroke and cognitive decline (7, 8).
One of the major oral bacteria is streptococcus mutans, which when left unchecked will multiply in the mouth and secrete toxins into the body's bloodstream.  These toxins increase the inflammatory associated cytokine Interleukin-12 (IL-12), which is a strong contributor for the development of chronic disease (9, 10).
Elevated levels of IL-12 are particularly associated with endothelial (inner lining of the blood vessel) dysfunction which is correlated with heart disease, stroke and dementia (11, 12).
Oil Pulling Goes Beyond Brushing & Flossing
Brushing and flossing are obviously important for oral hygiene but oil pulling has some unique benefits.  The oil pulling has been shown to bind, trap and eliminate more microorganisms and get into deep pockets within the teeth and into some regions around root canals (13).
Root canals are a constant breeding ground for bacteria as they are essentially dead tissue that bacteria consistently feed upon.  You cannot brush or floss enough to get the infections out of the root canal.  But 10 minutes of oil pulling 1-2 times a day can be extremely effective at minimizing infectious bacteria in the root canal and the overall oral cavity (14).
How to Practice Oil Pulling: 
There are many different ways to practice oil pulling.  Many people swear by one particular method, but various other strategies will work well for you.  Here are the most frequently asked questions that I get on a routine basis when it comes to the beautiful process of oil pulling.
What is the Best Type of Oil to Use?
Use a high-quality carrier oil such as organic coconut oil, organic olive oil or organic sesame oil.  I prefer to use coconut oil.  You can find my preferred brand here.  It will be solid at room temperature but will melt within 15 seconds of putting it into your mouth.
Should I Use an Essential Oil?
You may also want to use an antimicrobial essential oil such as tea tree oil, oregano oil or lemon oil.  Just use 1 small drop as these oils are very strong.  You don't need this as research has demonstrated great benefits with the use of the carrier oils above.
The benefit of the essential oil is that it has the potential to amplify the anti-microbial benefits you receive from the oil pulling process.  Give it a shot for a week and see what you think.  Be sure to ONLY use 1 VERY small drop each time.  Too much could be too irritating for your teeth and gums.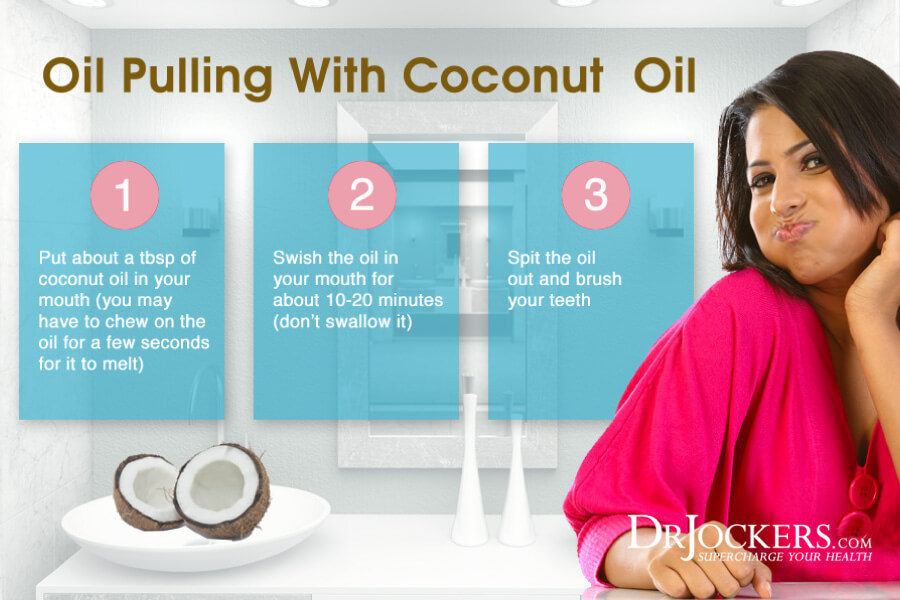 How Do You Oil Pull:
Take 1/2 tsp of carrier oil (coconut, sesame, olive, etc) and 1 drop of anti-microbial oil (tea tree, oregano, lemon, etc) and put in your mouth and swish around for 10-15 minutes.
Avoid gargling the oil but instead use slow pulling motions and be sure to get the oil to all reaches of the mouth.  Most people find that the oil feels thinner after the 10 minute mark.  Never swallow any of the oil as it is full of toxins and microbes.
After finishing the oil swishing, spit the oil into the toilet.  Drink some clean water with a pinch of salt and wash the solution around your mouth to eliminate any of the toxic debris still in your mouth.  Go ahead and brush your teeth really well to help eliminate any other toxins that would still be in your mouth.
How Often Do I Do It?:
I recommend my clients do this 1-4 times daily depending upon their health history and dental health challenges.  Someone who has a root canal or multiple root canals, I will strongly encourage to oil pull 3-4x daily.
Someone without much dental challenges may do great with one oil pull session per day.  I typically recommend 1-2x daily for them.  I personally am in this boat as I have never had a cavity or any major dental work done.  I always oil pull in the AM at some point and will often do it again in the evening.
What is the Best Time to Oil Pull?
There is no real answer to this other than whatever time you have available.  I personally like to do it within the first hour of waking and the last hour before bed.
How Long Before I Notice Benefits?
Most people notice the health improvements within two weeks of beginning the oil pulling process.  Although your mouth may feel cleaner right away.
The typical benefits most experience include whiter teeth, better breath, better body odor, less joint pain and improved energy.  The long-term benefits are invaluable as this may be one of the best strategies for reducing chronic disease risk.  This process is simple, easy and inexpensive.
Can I Oil Pull Even Though I Have Amalgam Fillings?
Fortunately, oil pulling does not induce a detox reaction, nor will it pull mercury vapors out of fillings.  It will not wear out or cause corrosion in your fillings any more than having a salad with oil would.
I don't recommend using essential oils with your oil pulling if you do have amalgams as they may cause a corrosive reaction.  However, oil pulling with olive, coconut or sesame oil is absolutely poses no threat at all.
People have told me they feel dizzy when they oil pull and this is most likely due to rigorous swishing.  Try using just a small amount – like 1/4 or 1/2 a teaspoon and letting it sit in your mouth with little to no switching for 5 minutes.  Slowly build your way up to where you can handle 10-15 minutes of gentle swishing.  If you desire, you can then add more oil to your pulling sessions.
Can Oil Pulling Cause Gum Bleeding?
There is nothing about the process of oil pulling that would cause the gums to bleed or any unwanted dental issue.  However, some individuals have a sensitivity or even an allergy to a particular oil they are using.  If this is the case, that oil will cause more inflammation in their body and could lead to gum bleeding.
Additionally, if you use too much of the anti-microbial oils, they could inflame your gum lining.  Be sure to only use 1 very small drop and never more each time you oil pull.
If you notice this or some other unwanted reaction that seems to consistently happen when you oil pull, try using different oils or discussing with your holistic health care practitioner.
Inflammation Crushing Ebundle
The Inflammation Crushing Ebundle is designed to help you improve your brain, liver, immune system and discover the healing strategies, foods and recipes to burn fat, reduce inflammation and thrive in life!
As a doctor of natural medicine, I have spent the past 20 years studying the best healing strategies and worked with hundreds of coaching clients, helping them overcome chronic health conditions and optimize their overall health.
In our Inflammation Crushing Ebundle, I have put together my very best strategies to reduce inflammation and optimize your healing potential.  Take a look at what you will get inside these valuable guides below!

Sources For This Article Include:
1. Li X, Kolltveit KM, Tronstad L, Olsen I. Systemic Diseases Caused by Oral Infection. Clinical Microbiology Reviews. 2000;13(4):547-558.
2. Periodontal infections and cardiovascular disease Link Here
3. Rautemaa R, Lauhio A, Cullinan MP, Seymour GJ. Oral infections and systemic disease–an emerging problem in medicine. Clin Microbiol Infect. 2007 Nov;13(11):1041-7. PMID: 17714525
4. Singh A, Purohit B. Tooth brushing, oil pulling and tissue regeneration: A review of holistic approaches to oral health. Journal of Ayurveda and Integrative Medicine. 2011;2(2):64-68.
5. Asokan S, Kumar RS, Emmadi P, Raghuraman R, Sivakumar N. Effect of oil pulling on halitosis and microorganisms causing halitosis: a randomized controlled pilot trial. J Indian Soc Pedod Prev Dent. 2011 Apr-Jun;29(2):90-4. PMID: 21911944
6. Asokan S, Emmadi P, Chamundeswari R. Effect of oil pulling on plaque induced gingivitis: a randomized, controlled, triple-blind study. Indian J Dent Res. 2009 Jan-Mar;20(1):47-51. PMID: 19336860
7. Matthews JC, You Z, Wadley VG, Cushman M, Howard G. The association between self-reported tooth loss and cognitive function in the REasons for Geographic And Racial Differences in Stroke study: An assessment of potential pathways. Journal of the American Dental Association (1939). 2011;142(4):379-390.
8. Joshipura K, Zevallos JC, Ritchie CS. Strength of Evidence Relating Periodontal Disease and Atherosclerotic Disease. Compendium of continuing education in dentistry (Jamesburg, NJ : 1995). 2009;30(7):430-439.
9. Hahn C-L, Best AM, Tew JG. Cytokine Induction by Streptococcus mutans and Pulpal Pathogenesis. Clements JD, ed. Infection and Immunity. 2000;68(12):6785-6789.
10. Activation of Human Monocytes by Streptococcus mutans Serotype f Polysaccharide: Immunoglobulin G Fc Receptor Expression and Tumor Necrosis Factor and Interleukin-1 Production Link Here
11. Leishman SJ, Do HL, Ford PJ. Cardiovascular disease and the role of oral bacteria. Journal of Oral Microbiology. 2010;2:3402
12. Mishra M, Kumar H, Bajpai S, Singh RK, Tripathi K. Level of serum IL-12 and its correlation with endothelial dysfunction, insulin resistance, proinflammatory cytokines and lipid profile in newly diagnosed type 2 diabetes. Diabetes Res Clin Pract. 2011 Nov;94(2):255-61. PMID: 21855158
13. Asokan S, Rathan J, Muthu MS, Rathna PV, Emmadi P; Raghuraman; Chamundeswari. Effect of oil pulling on Streptococcus mutans count in plaque and saliva using Dentocult SM Strip mutans test: a randomized, controlled, triple-blind study. J Indian Soc Pedod Prev Dent. 2008 Mar;26(1):12-7. PMID: 18408265
14. Peedikayil FC, Sreenivasan P, Narayanan A. Effect of coconut oil in plaque related gingivitis – A preliminary report. Niger Med J. 2015 Mar-Apr;56(2):143-7. PMID: 25838632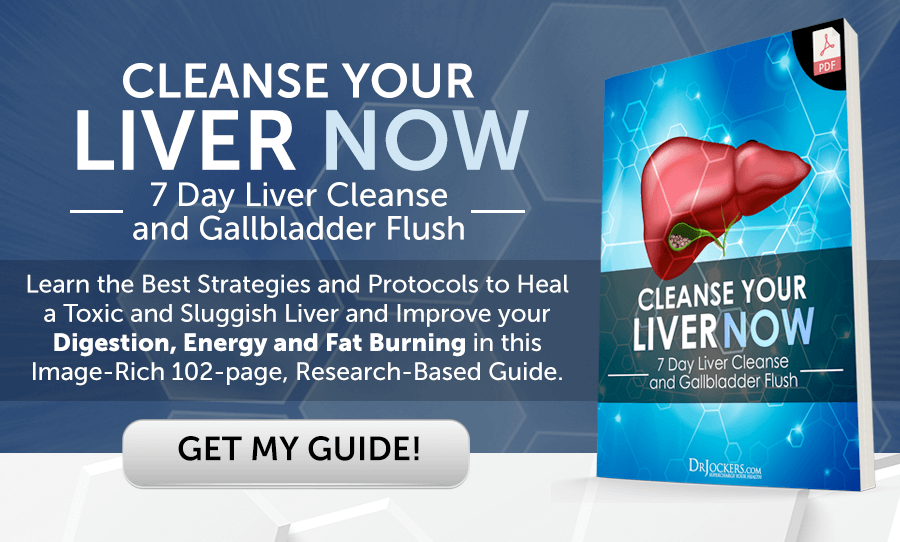 Was this article helpful?