Homemade Keto Protein Bar:
This recipe is a slightly modified version from my friend Megan Kelly. She has an incredible site Renewing All Things – Biblically Based Health, Nutrition and Lifestyle specializing in neurobiology, healing, and mental health. Enjoy these delicious homemade keto protein bar recipe!
If you enjoy recipes like this, you may be interested in my advanced nutrition and recipe book the Keto Metabolic Breakthrough.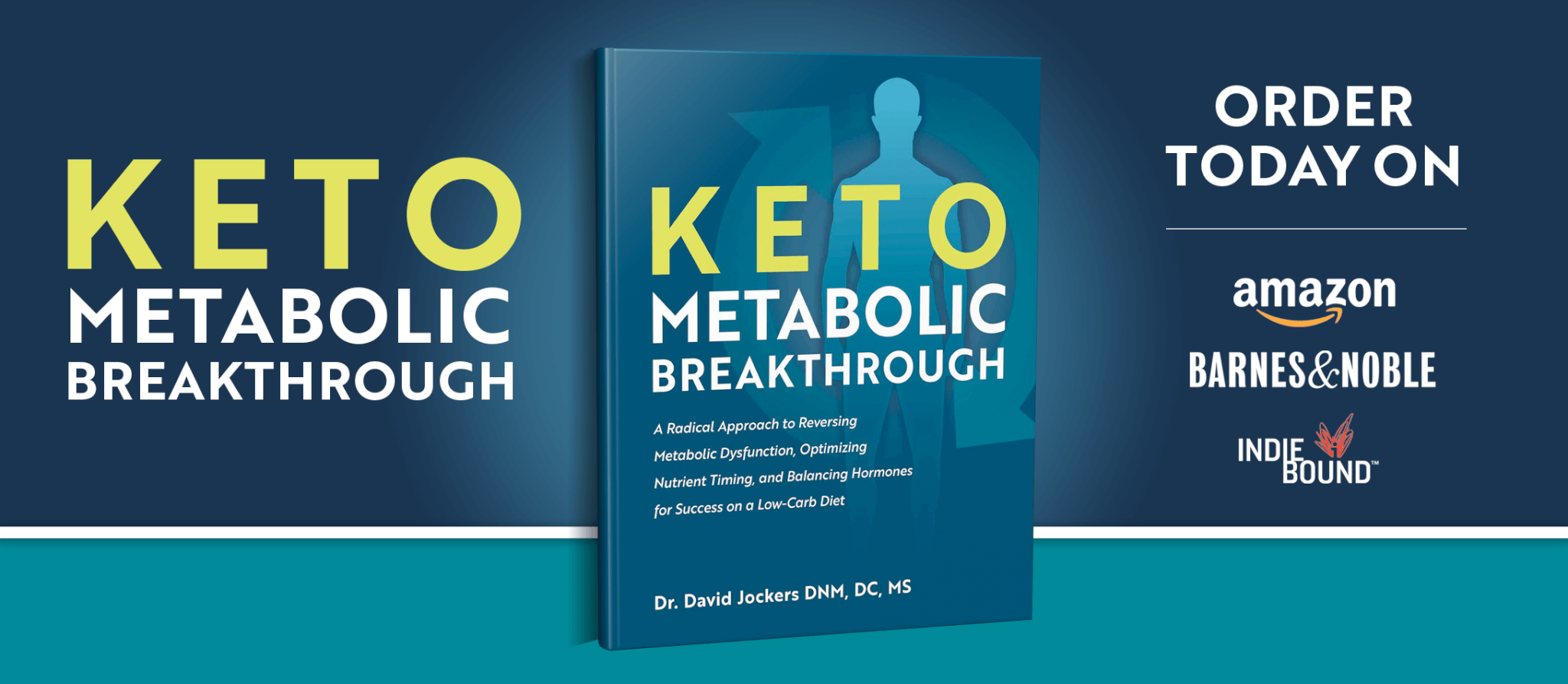 Print
Homemade Keto Protein Bar
Yield 12 Medium Bars
Ingredients:
Optional Ingredients:
Instructions:
Step #1: In a large bowl, stir together all of the ingredients.
Step #2: Transfer the contents of the bowl to a loaf pan or baking dish and smooth the top. Freeze for 1 hour, or until firm.
Step #3: Slice into bars. Serve or store in an airtight container in the refrigerator for up to 1 week or in the freezer for up to 3 months and enjoy when you want a delicious boost!
***Nutritional info does not include optional ingredients.***
***The nutrition info for this recipe is based on the linked ingredients above**
Courses Breakfast, Snack or Dessert
Nutrition Facts
Serving Size 1 medium bar
Amount Per Serving

Calories 180

% Daily Value

Total Fat 15 g

23%

Total Carbohydrates 5 g

2%

Dietary Fiber 2 g

8%

Sugars 2 g

Protein 6 g

12%
* Percent Daily Values are based on a 2,000 calorie diet. Your daily values may be higher or lower depending on your calorie needs.
Dr Jockers Comments
This is a really easy and tasty recipe that is ketogenic, anti-inflammatory and fat burning. This is loaded with healthy fats, protein and fiber. It is super easy to make and you will love the flavor.
This is perfect for busy families with growing kids who seem to be hungry all the time. Keep these in your fridge and let your family help themselves. They are very calorie dense and low-carb, so that combination helps to balance our hormones and produce a natural sense of satiety.
I enjoy using the stevia and the salt helps to drown out any bitter aftertaste from the stevia, if you were concerned about that. It is also a great idea to increase your mineral intake when doing a low-carb diet because you tend to excrete more sodium on low-carb, ketogenic diets. Adding small amounts of Himalayan salt to your foods will improve the flavor and provide the minerals you need.
The Lily's chocolate chips are great because they are sugar-free and flavored with stevia and erythritol. Most people do very well with these sweeteners. For me, sugar alcohols do not seem to agree with my digestive tract and I end up with extra gas. I prefer using pure cacao nibs like these here
For protein, I love the Bone Broth Collagen protein which has high quality collagen protein and peptides to support joint health. In addition, this protein powder helps improve skin, hair, nails, the immune system and the gut lining.
Check out the Bone broth protein blend below and however you decide to make these…let us know how they came out and how your family enjoyed them in the comments below!
Was this article helpful?