The 7 Phases of Adrenal Fatigue
The adrenal glands help the body adapt to stress and reproduce through the unique compounds they produce and secrete.  Over 50 essential hormones are produced within the adrenal glands.  These hormones are critical to health and vitality.  When we are overstressed, the adrenals pump out stress hormones until they fatigue and crash, which can be devastating to the body.
This can lead to a number of different symptoms with the most common being fatigue and inconsistent energy.  Adrenal fatigue can be the primary trigger behind a health condition or it can be secondary to chronic infections, upper cervical stress, blood sugar dysregulation, etc.  Here is the list of major symptoms involved with adrenal fatigue.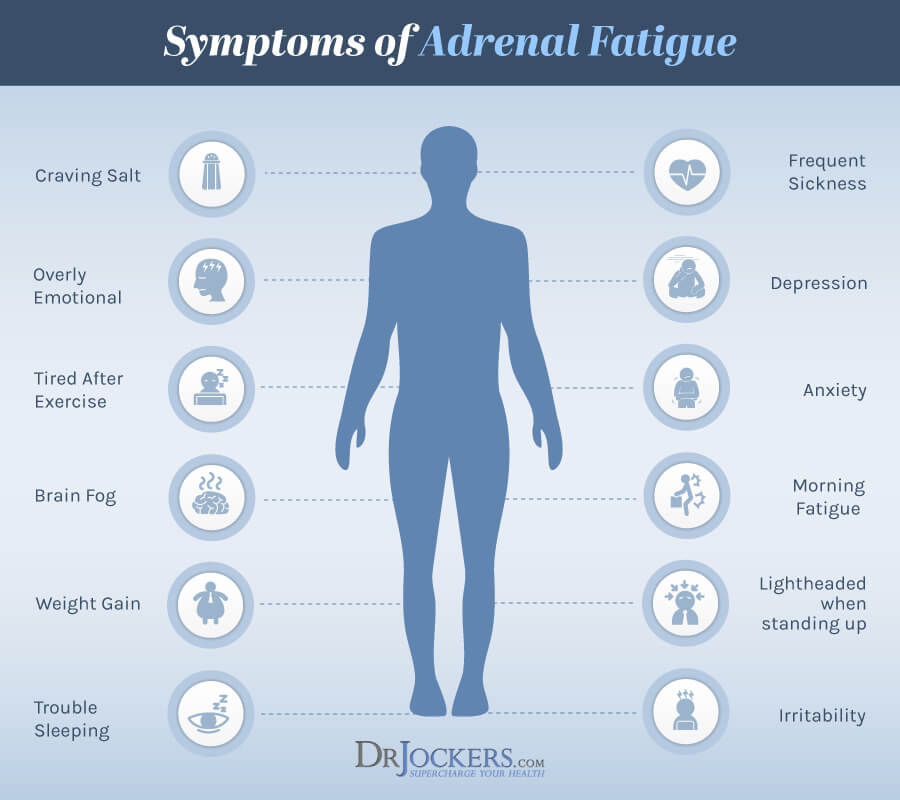 The Major Function of the Adrenals:
Some other major issues people will often experience include feeling really tired around 2-4pm, but getting another kick of energy in the evening and then having no sleep or poor quality sleep at night. These are often early signs that you are moving towards adrenal fatigue and the body is rewiring its physiological processes.
Although the adrenals are no bigger than the size of a walnut, they have an incredibly important role in the human life cycle.  Some of the many different hormones created by the adrenals include steroid hormones such as adrenalin, norepinephrine, cortisol, aldosterone, estrogen and testosterone (1).
4 Categories of Hormones and Adrenal Fatigue:
There are 2 major regions within the adrenal glands that produce hormones.  This is the adrenal cortex and the adrenal medulla.  The adrenal cortex is in the outer circumference of the adrenal glands, it produces three classes of hormones:
1. Mineralocorticoids:
This is primarily aldosterone which acts to maintain the proper salt and water levels to ensure the right blood pressure.  Without aldosterone, the kidney will excrete most of the sodium and water, leading to severe dehydration, low blood pressure and possible death.
Individuals who struggle with high blood pressure often take medications that reduce the amount of circulating aldosterone in order to reduce sodium and water content in the blood.  This results in a lowering of the blood pressure (2).
Individuals who struggle with too low of blood pressure, often have either an inability to produce and utilize aldosterone.  This could be a genetic issue or a functional problem related to adrenal gland exhaustion.
2. Glucocorticoids:
This is mainly referring to cortisol which is involved in the stress response and its main function is to increase blood sugar and reduce inflammation.  Cortisol stimulates glucose production within the liver and muscle cells, increasing blood sugar levels in order to prepare for a fight or flight response.  In addition, it has significant anti-inflammatory effects.
High cortisol will cause increase blood sugar levels and can lead to weight gain (3).  When the body is under chronic stress, we are unable to produce enough cortisol to keep up with the demands and therefore, we are unable to manage blood sugar and inflammation.  The key is to have good cortisol balance in order to maintain proper blood sugar and inflammation levels.
3. Sex Hormones:
This includes the master precursor hormones DHEA and pregnenolone as well as estrogen, progesterone and testosterone.   All have weak effects, but play a role in early development of the male sex organs in childhood, and in women during puberty. These are involved in creating and maintaining the differences between men and women.
The adrenal medulla is in the deep, inner region of the adrenal glands and it produces catecholamines.  The medulla has a direct connection to the brain which is unique for an endocrine organ.  When the body is under stress it fires directly to the medulla to raise up catecholamines.  This allows the body to react very quickly to stress.
4.  Catecholamines:
This includes adrenaline, noradrenaline and small amounts of dopamine.  These hormones are the major players in the physiological characteristics of the stress response, the so called 'fight or flight' response.  They act to drive up blood pressure, increase heart rate and respiration and increase mental awareness.
The fight or flight response is super critical for survival and for things like exercise and athletic performance.  We also use this response in a positive manner when we do things like a business presentation.  However, when this stress response is chronic, it wears down the bodies vital reserves and hampers the body's ability to heal itself (4).
The Major Adrenal Hormones:
Here is a review of what these key hormones do for the body:
Epinephrine:  Also called adrenalin, made in the adrenal medulla, this helps to dilate blood vessels, increase heart rate, blood sugar and blood pressure so we can move and react quickly.  This is necessary for emergencies and times when we are exercising or performing (such as giving a speech or performing in an athletic event.
Norepinephrine:  This is a chemical made in the adrenal medulla that activates our sympathetic nervous system to help our body adapt to stress through fight or flight.  It has very similar activity as epinephrine but is classified as a neurotransmitter in that it interacts with the brain and nervous system more than epinephrine which is classified as a stress hormone.
Cortisol:  This is made in the adrenal cortex and is called a "glucocorticoid," because of the cortex origin and how it functions to increase circulating glucose levels.  Cortisol helps maintain blood sugar levels during times of stress.  It also acts to reduce inflammation in the body.
Aldosterone:  This is called a "mineralocorticoid" hormone because of its production in the adrenal cortex and its role in maintaining electrolyte balance to raise blood pressure. When secreted it acts on the kidney to reabsorb sodium, excrete potassium and increase fluid volume.  Drugs are often used to lower aldosterone levels in individuals with hypertension.
Estrogen:  This is the primary female sex hormone although males produce it as well.   The three major naturally occurring forms of estrogen in women are estrone (E1), estradiol (E2), and estriol (E3). Another type of estrogen called estetrol (E4) is produced only during pregnancy.
Progesterone:  This is one of the key female sex hormones that plays a role in maintaining pregnancy and fertility.  Progesterone is produced primarily in the ovaries and the adrenal glands.   It's main responsibility is to prepare the body for conception and pregnancy, sexual desire and the regulation of the menstrual cycle.
Testosterone:  This is a key sex hormone that is created in the testicles of males, the ovaries of females and the adrenal glands.  It plays a key role in growth, mental drive, muscle development and fat metabolism as well as sexual desire.
Pregnenolone:  This is the major precursor to all the major adrenal hormones as well as neuroactive steroids that help to improve brain function.   Pregnenolone is produced from cholesterol and depending upon the environmental needs it will form into various amounts of progesterone, cortisol, aldosterone and DHEA.
DHEA:  This is shortened for didehydroepiandrosterone, which is the most abundant circulating steroid hormone in humans.  It is produced in the adrenal cortex, the gonads and the brain.  DHEA functions predominantly as the metabolic intermediate in the formation of estrogen and testosterone.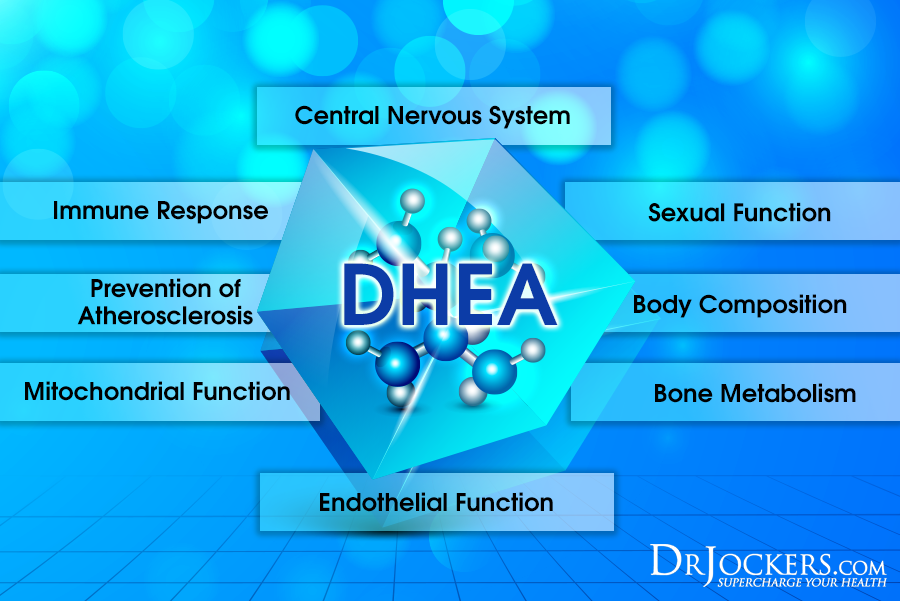 Stress Hormones Before Sex Hormones:
The adrenal glands help to regulate the body's ability to adapt to stress and they also produce hormones that regulate reproduction.  The caveat is that adapting to stress overrides reproduction.  Adapting to stress is critical for immediate survival and that is first priority.  Once our physiology understands that we are not under an environmental threat, than it will focus its energy on reproductive hormones.
The major stress hormones are cortisol, epinephrine and norepinephrine.   These hormones help increase energy, increase blood sugar levels and speed up circulation and respiration to help the body survive through fight or flight.
The major sex hormones produced by the adrenals are estrogen, progesterone and testosterone.  These are all critical for growth, metabolism, strength, endurance, mental drive, menstrual function and reproductive ability.
The master compound that is used by the body to produce cortisol and progesterone is called pregnenolone.   Pregnenalone can either create cortisol, progesterone or DHEA.  DHEA is used by the body to produce testosterone and estrogen.  When the body is under chronic stress there is a high demand to produce cortisol which reduces the amount of progesterone and DHEA that is produced (5).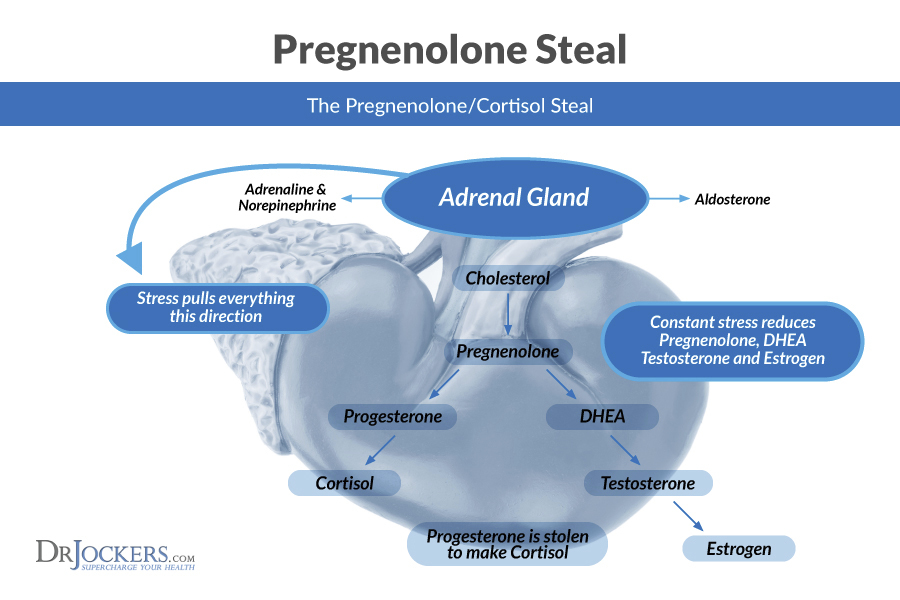 What Stresses the Adrenal Glands?
The adrenal glands are meant to adapt the body to stressors.  Our body was designed to grow stronger through daily stressors.  We should have a natural stress, rest and adaptation cycle that allows the body to effectively acclimate to the environmental stimuli.  However, when these stressors override our ability to adapt effectively the body becomes weaker and chronic stress becomes hardwired into our system.  This can lead to adrenal fatigue.
The adrenal glands are overstressed by a number of different chronic lifestyle factors including the following:
The HPA Axis and the Stress Response:
The body perceives and adapts to stressors through what is called the hypothalamic-pituitary-adrenal (HPA) axis.  This area of the brain called hypothalamus senses the environmental conditions and then it sends signals in the form of chemicals to the pituitary gland.
The pituitary gland receives the signals from the hypothalamus (corticotropin releasing hormone – CRH) and sends its own chemical signals to the adrenal cortex through a hormone called adrenocorticotropic hormone (ACTH) in order to form the appropriate responses to the environmental stimuli.
When we are under chronic stress it creates an alteration in the HPA axis which reduces the body's ability to adapt to new stressors.  This condition is called adrenal fatigue, which can also progress further to adrenal exhaustion.  This process of stress and poor adaptation can lead to a vicious cycle of chronic inflammation, tissue breakdown and accelerated aging (6).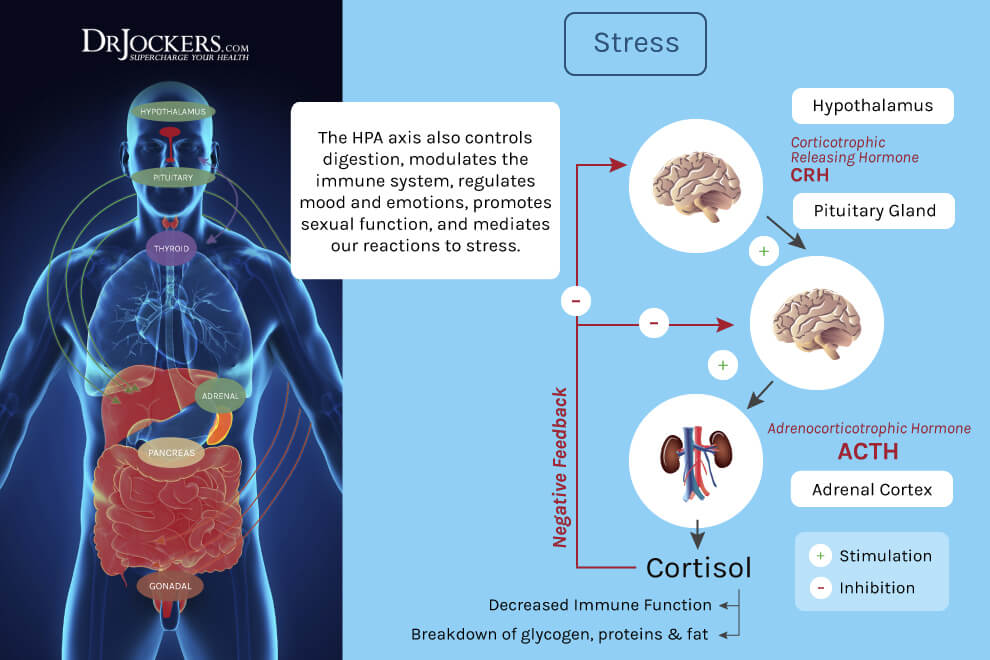 The Phases of Adrenal Fatigue:
The first stage of adrenal activity is called the alarm reaction where the system becomes hyperactive to increase cortisol levels to adapt to the demands of stress.  This is a healthy survival based response that everyone encounters throughout a typical day.
The second phase is the resistance stage where the body adapts to prolonged stress.   During this phase the body steals pregnenolone from cholesterol to make more cortisol.  This phenomenon is called pregnenolone steal.
Under normal circumstances the pregnenolone helps make sex hormones such as progesterone and testosterone.  When pregnenolone steal takes place it leads to hormonal imbalances.  Overtime this can cause very serious hormonal problems such as PMS, infertility, male menopause and polycystic ovary syndrome (PCOS).
The third and final phase of adrenal fatigue is the exhaustion phase.  This is when the adrenals are so exhausted they are unable to adapt to stress.  All the necessary cofactors to produce cortisol are depleted and so cortisol levels drop.  The progenenolone steal effect stops at this point but the body is unable to produce adequate energy and fatigue, accelerated aging and breakdown of the bodies protective barriers (skin, blood brain barrier and gut barrier) are the hallmarks of this particular physiological state.
The DUTCH Complete and Adrenal Fatigue:
The DUTCH Complete Hormone panel is a test that measures the spectrum of adrenal health.  This requires dried urine samples taken throughout the day.  This measures the level of cortisol and DHEA throughout the day.  In addition, I like to see estrogen, progesterone and testosterone levels which helps us shape out what is happening with the overall adrenal function.
A healthy circadian rhythm will have an elevated cortisol level in the morning and low cortisol at night.  When people have insomnia they often have elevated cortisol at night and then low cortisol in the morning leaving them groggy in the AM.  Others have cortisol dysregulation that demonstrates itself with ups and downs throughout the day rather than a steady decline from morning to nightfall.
The measurements of this test allow us to understand the stage of adrenal dysfunction.  This test places people into a normal, stage I-III or failure levels.  Stage I is the alarm reaction, stage II is the resistance as the body tries to keep up with the demands and phase III is the adrenal exhaustion stage.  Finally, the adrenal output fails.
Functional medicine experts such as Dr Datis Kharrazian and Dr Michael Lam have created an even more detailed way of understanding the level of adrenal fatigue with a 7 phase model that focuses on all the unique reflection points that can be analyzed on the DUTCH.  Here is how this works:
Phase 1:  Initial Alarm Reaction:
This has elevated cortisol and DHEA.  This is the normal acute response to stress and is often seen in hardworking individuals and athletes who are overtraining.
Phase 2:  Deep Alarm Reaction:
At this point the cortisol remains high but the DHEA drops down to normal.  This indicates a progressive state of the alarm reaction and the body is no longer under acute stress.  The reason that DHEA drops is that it is being used to make cortisol.  This is where we begin to notice symptoms.
Phase 3A:  Resistance Stage:    
This stage is marked by high cortisol and low DHEA as pregnenolone steal is in place.  With low DHEA, it sets the stage for major hormonal imbalances in the body.  This stage is typically marked by insulin resistance.
Phase 3B:  Deep Resistance Stage:
In this stage cortisol is low and DHEA is low.  This indicates the progression of resistance into exhaustion stage.  Now the adrenals are so overworked they are losing the ability to have any control over stress.
Phase 3C:  Non-Adapted Adrenal Exhaustion:
At this stage cortisol is low and DHEA is normal.  This is where pregnenolone steal has failed to shift all the resources into cortisol production.  There is still some level of DHEA but cortisol levels are failing.  This phenomenon could be due to insulin resistance which should be evaluated.
Phase 3D:  Inappropriate DHEA: 
This is where Cortisol is low but DHEA is high.  The individual may be supplementing with DHEA or they may have Polycystic ovary syndrome (PCOS).  Insulin resistance may also be in play here.
Phase 4:  Adrenal Fatigue in Full Exhaustion:
Cortisol and DHEA are both very low.  In this state the adrenals have completely lost the ability to control cortisol and adapt to stress.  Frequent blood sugar imbalances and crashes are common in this state.

Summary on Adrenal Fatigue:
The adrenals play a vital role in our health and understanding their function and how to analyze their stability is an important factor for a clinician to best help their clients.  If you are suffering with any phase of adrenal fatigue or are looking to prevent this from occurring, begin following the 25 strategies that you can find in this article.
If you want to work with a functional health coach, I recommend this article with tips on how to find a great coach.  On DrJockers.com, we offer long-distance functional health coaching programs. For further support with your health goals, just reach out and our fantastic coaches are here to support your journey.
Sources For This Adrenal Fatigue Article:
1. De Silva DC, Wijesiriwardene B. The adrenal glands and their functions. Ceylon Med J. 2007 Sep;52(3):95-100. PMID: 18020028
2. FREEL EM, CONNELL JMC. Mechanisms of Hypertension: The Expanding Role of Aldosterone. Journal of the American Society of Nephrology : JASN. 2004;15(8):1993-2001.
3. Hucklebridge FH, Clow A, Abeyguneratne T, Huezo-Diaz P, Evans P. The awakening cortisol response and blood glucose levels. Life Sci. 1999;64(11):931-7. PMID: 10201642
4. MAESTRIPIERI D, HOFFMAN CL. Chronic stress, allostatic load, and aging in nonhuman primates. Development and psychopathology. 2011;23(4):1187-1195.
5. Maestripieri D, Hoffman CL. Chronic stress, allostatic load, and aging in nonhuman primates. Dev Psychopathol. 2011 Nov;23(4):1187-95. PMID: 22018089
6. Allen LV Jr. Adrenal fatigue. Int J Pharm Compd. 2013 Jan-Feb;17(1):39-44. PMID: 23627245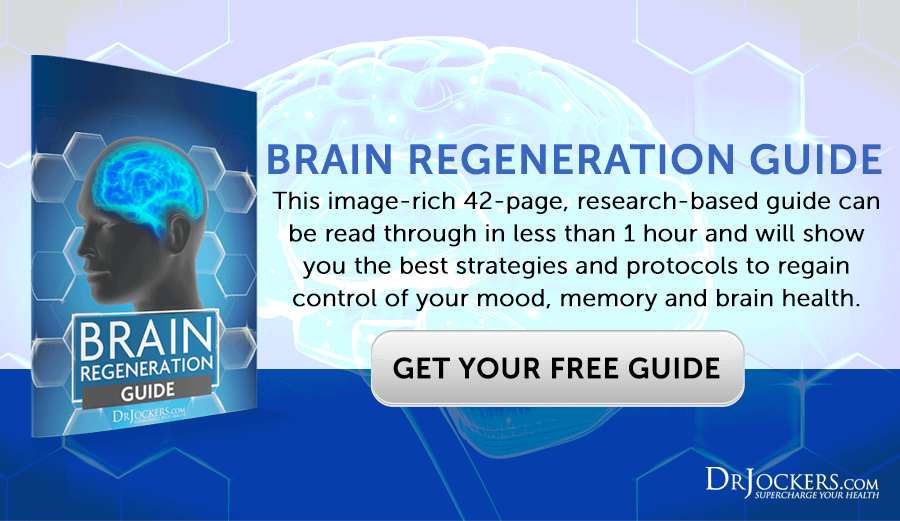 Was this article helpful?