Mold Allergy: Symptoms, Testing, and Natural Treatment
Mold allergy is one of the most insidious of all allergens.  People experience a wide array of various allergens, from pets, foods, pollens, mold spores and dust that can cause any number of health problems.  The challenge with mold is that it lives everywhere – from plants outside to the walls of your bathroom, molds reach is boundless. Mold is a type of fungus that grows in moisture, either indoors or outdoors.
The number of different mold species that exist are estimated to range from tens of thousands to even three hundred thousand or more (1). Taking into consideration the number of potential species of mold in the environment, magnifies the possible contamination of these mold allergens in the air we breathe every day. This means you could be suffering from a mold allergy without knowing what is actually causing it!
Mold growth occurs and thrives in damp, warm, and dark environments, as these conditions allow mold to expedite its growth process. Once mold has found its way into your environment – office or home – the mold will begin to reproduce, therefore producing mold spores that begin to travel into your air, that can lead to potential health problems and symptoms for those that are exposed.
Many studies have found a direct correlation between indoor mold exposure and adverse respiratory health effects, thus having a form of protection or treatment plan in place to mitigate indoor molds is critical to shield respiratory health (2).
What is Mold Allergy – Is Mold an Allergen?
When allergies begin to start-up, mold is usually not something we typically attribute to these allergy flare-ups. Allergies are one of the most common conditions in the United States, with over 50 million people- about one in five – experiencing symptoms of allergies (3).
Pinpointing the exact cause of your allergy symptoms could be a difficult task, but there are some key signs that can help you to determine the allergen at play. If you have experienced symptoms for a long period of time or particularly when indoors, a mold allergy may be at play.
Mold and mildew are fungi that reproduce and grow through "seeds" called spores. These spores travel through the air, and inhalation of these spores can lead to an allergic reaction, also known as mold allergy, in some people.
Mold spores are almost constantly moving around in your air, and therefore can make their way into your nose, eliciting the dreaded symptoms associated with allergies. However, mold spores can also become stagnant in your environment – remaining dormant for prolonged periods of time (months to even year) – and when they hit the ideal environment they will begin to germinate (4).
Signs and Symptoms of Mold Allergy
According to studies conducted, it is estimated that approximately 10% of the population have IgE antibodies – an allergy induced antibody – to common inhaled molds. About half of these individuals (5% of the population), are forecasted to at some point have allergy symptoms in response to these IgE antibodies (5).
However, the symptoms of mold allergy can be similar to those symptoms associated with other allergies. Therefore, it can be difficult to properly identify the main allergen triggering the symptoms that you may be experiencing. When you are experiencing a mold allergy, the symptoms will occur only in certain environments, such as your home (if you have mold growth occurring in your home).
If you're allergic to mold, you will likely experience symptoms such as:
Sneezing
Congestion
Watery and itchy eyes
Postnasal drop
Wheezing
Itchy throat
In some cases, a mold allergy can even exacerbate asthma symptoms for those exposed. Mold spores can trigger the reaction of asthma symptoms, as they are inhaled into the body. Asthma symptoms include:
Coughing
Wheezing
Shortness of breath
Chest tightness
Mold allergies can also, in some circumstances, cause delayed symptoms that can lead to nasal congestion or worsening of asthma over time.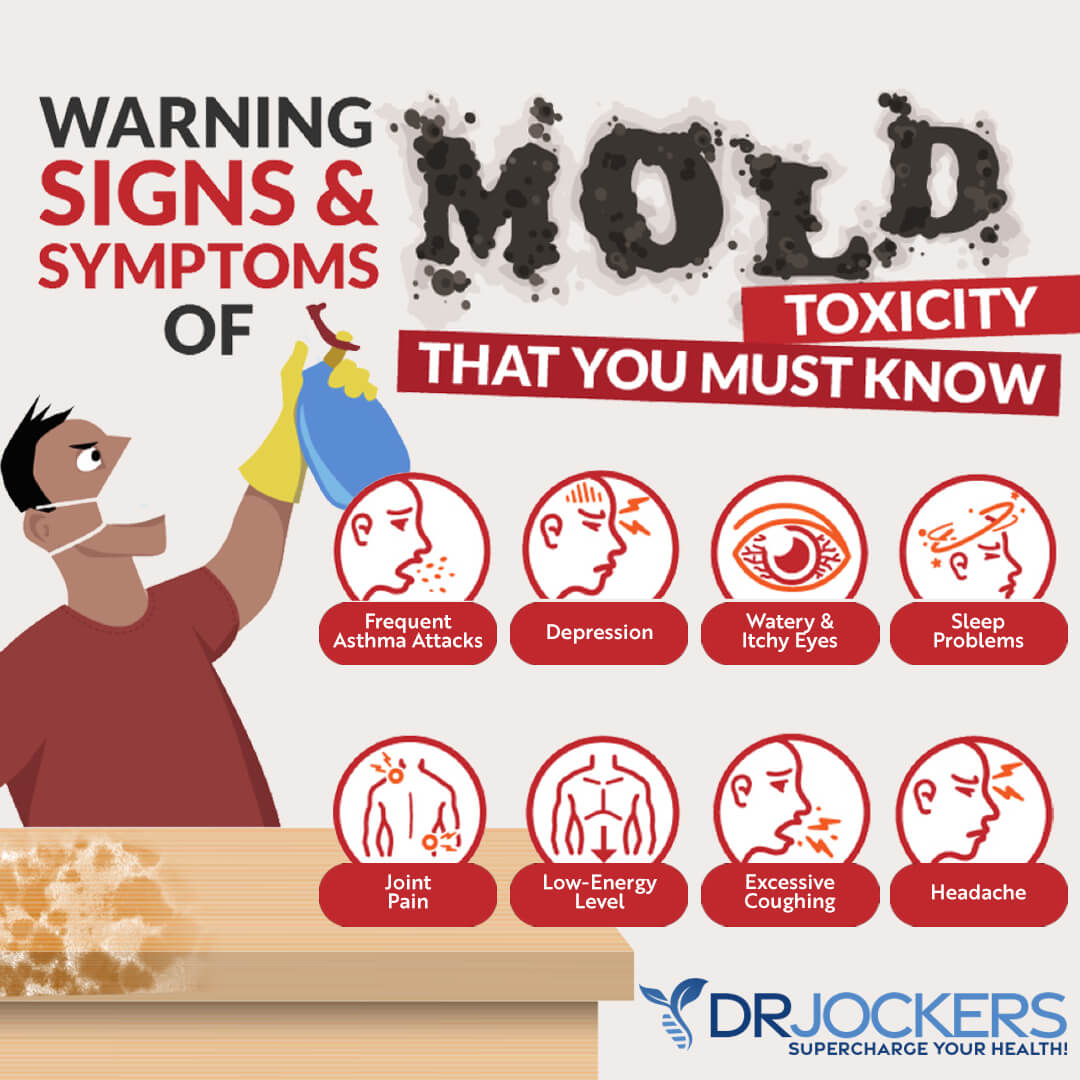 Determining if You Have a Mold Allergy
Mold doesn't bother everyone. In fact, out of thousands of mold species, only a few dozens of these species will trigger any health problems, specifically allergies, according to the Asthma and Allergy Foundation of America. Those who are allergic to an indoor mold may experience symptoms year-round, as the symptoms are triggered by the mold spores in the environment.
People with allergies and asthma are more likely to experience allergy-symptoms to mold, as well as certain people who are more sensitive to the effects of mold, these people include, infants and children, the elderly, people whose immune systems are compromised due to HIV infection, cancer, liver disease, or chemotherapy, and people with chronic lung disease.
Diagnosing a mold allergy, a doctor will often do skin tests or allergy specific IgE blood tests. They will use these different types of fungi to scratch or prick the skin to see if a reaction occurs. This will help indicate an allergy to mold and will allow you to properly treat the environment and yourself to minimize symptoms in the future. There are also newer functional labs that can be performed by functional medicine practitioners that can identify potential mold allergy.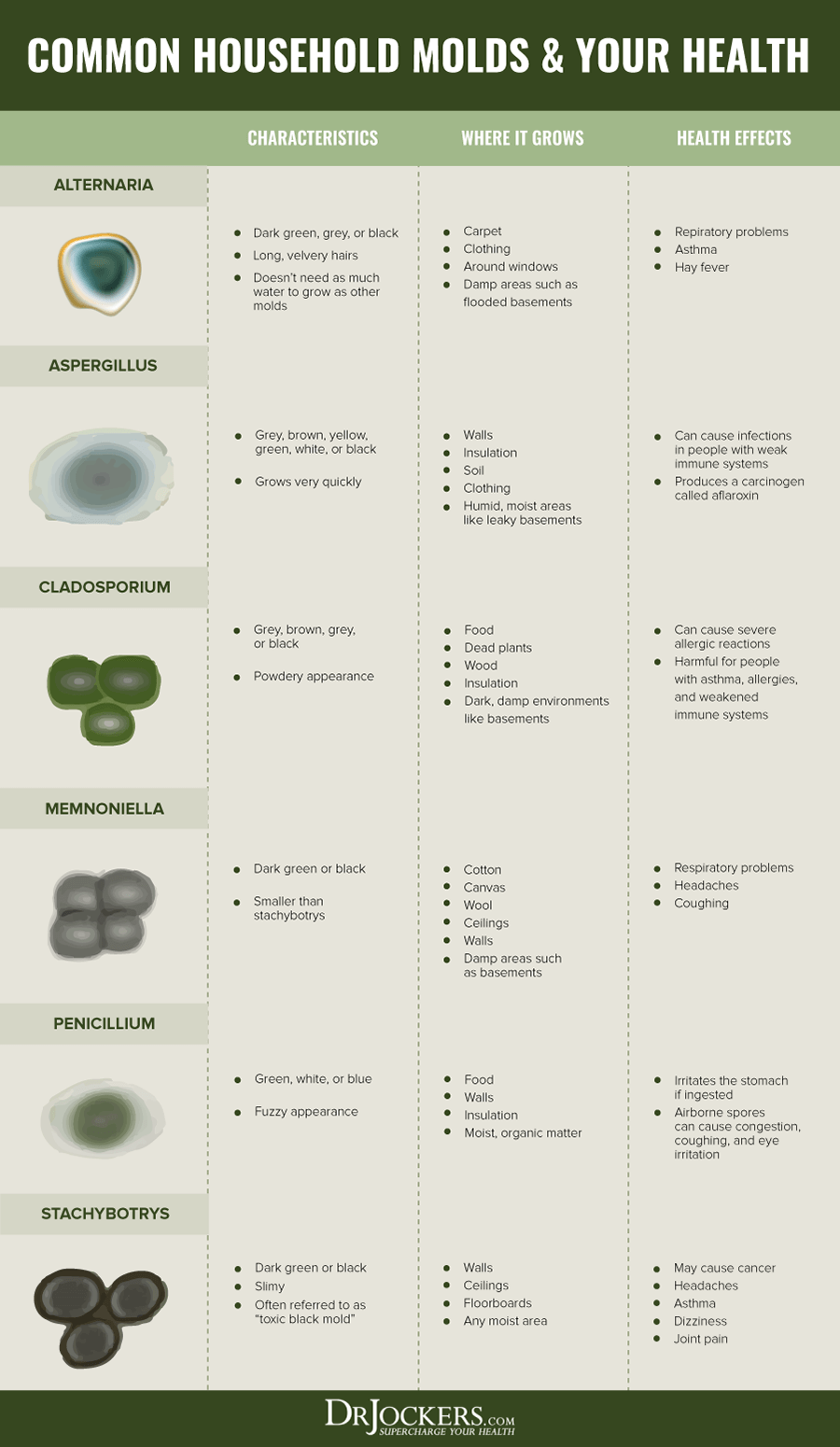 How to Detect Mold in Your Home
Mold detection starts with smell according to Dr. Ruth Etzel, a pediatrician and medical epidemiologist with the U.S. Public Health Service, who says, "One of the things I tell people is that the nose is an excellent mold detector" (6). Mold has a damp, musty smell which is caused by microbial volatile organic compounds (mVOCs), which are substances that are produced by molds naturally as they grow. The production of these mVOCs can play a significant role on health of those exposed, as these particles are known to lead to severe symptoms upon inhalation.
Color, or appearance is another detection factor for mold in your home. There are thousands of different forms of mold, and each will have its own characteristics and appearance compared to other species of mold. This can help you to determine the exact form of mold growing in your home, and how toxic the mold in question is to your health.
Lastly, the presence of water damage or a leak could contribute to the growth of mold. Whether you experienced flooding from a hurricane, had a broken water pipe, or a leak of your washing machine, these can all contribute to mold in your home. Especially if you have had any long-term moisture problems in your house, this will eventually lead to the beginning of mold growth in your home. Signs of water damage can include water stains, discoloration, peeling, bubbling, or cracking of the paint or wallpaper.
Tips to Control Mold Growth in Home
Dry Wet Area ASAP: When moisture builds-up and is left for a long period of time, longer than 48 hours, mold can start to develop. Make sure if you see moisture you dry the area quickly.
Ventilate to Prevent Mold Growth:  Proper ventilation is essential to minimizing mold growth in your home. When moisture is left without proper ventilation to dry the water, mold will begin to form and grow on the surface. Having proper ventilation in rooms that are exposed to water or moisture is key, such as in the basement, bathrooms, or kitchen.
Monitor Indoor Humidity Levels: Humidity in your environment can aggravate mold growth. Therefore, the EPA recommends keeping your indoor humidity between 30 and 60 percent. A main sign of excessive humidity in your home can include condensation on your windows.
Getting Mold Out of the Air
Treating your air is one of the most important natural mold allergy treatments to implement into your home. When mold is growing in your home, the mold will release spores into the air. This can taint the quality of your air, and lead to potential health hazards when you breath them. Therefore, an air purifier could be the best plan to combat the multiplying presence of mold in your home, specifically a HEPA air purifier. HEPA filters excel at trapping microscopic particles in your air such as mold spores to filter them from your air.
A true HEPA filter must meet certain standards of efficiency. The first is the ability to capture a minimum of 99.97% of pollutants, at 0.3 microns. With the EnviroKlenz Mobile UV Air System you can ensure that mold spores are being captured and destroyed. The EnviroKlenz Mobile UV System utilizes UVC (ultraviolet germicidal radiation) lights. These effectively kill collected microorganisms (bacteria, viruses, and mold spores) that are captured by the HEPA filter.
This air purifier also combines particulate removal – with a hospital-grade HEPA filter (second stage filtration). These have the ability to neutralize a broad spectrum of chemicals and noxious odors. This UV air purifier is a perfect natural mold allergy treatment to implement into your home. Its specific combination of filtration technology makes it perfect for removing mold spores.
Functional Testing for Mold Exposure
It is one thing to know that you have mold in your home. If you have a mold allergy, then you likely have mold toxins circulating through your body. This can cause more long-term problems.
Mold toxins, much like other toxins, increase the burden on the liver and cause inflammation in the body. Mold toxins are notorious for causing brain-related symptoms like brain fog, depression, and anxiety.
To find out for sure, the GPL-MycoTOX Profile is one functional lab test that can detect the presence 7 different common mold toxins.  Addressing any mold toxins in the body is one of the factors holding many people back from experiencing optimal health.
Detoxifying Mold from the Body
Finding elevated levels of mold toxins in the body is definitely something that needs to be addressed. If you have mold toxins in your body, you likely have mold toxins in your home or work place. The first step is finding a high-quality remediation specialist to remove the source.
Next, using a purification unit like the one we've discussed in this article will help to control inhalation. Next, it is important to support the body in getting rid of any accumulated toxins. We must deactivate and eliminate the mold toxins by addressing three key areas. These are glutathione production, maximizing detoxification systems, and binding toxins to be eliminated. This is my protocol:
ThyroLiver Protect: A combination of selenium, milk thistle extract, Alpha-Lipoic Acid, and N-Acetyl-L-Cysteine. This combination assists liver detoxification while supporting the production of glutathione.  Taking 1–2 caps, 2 times daily helps your liver neutralize and process the mold spores.
Super Glutathione: For tough cases, extra glutathione can be necessary. This is an acetylated form that is able to be absorbed by the digestive tract.  I recommend 1–2 caps – 2 times daily.  This is especially important if you are suffering with a lot of symptoms from mold exposure.
Activated Charcoal: When detoxification systems are upregulated, many toxins are released into the digestive tract. If they are not bound by something like charcoal, they are given the opportunity to reabsorb and cause more problems. Using 1–2 caps of charcoal between meals and immediately before bed is a great strategy.
BioToxin Binder:  This product contains a special form of carbon that has a greater binding ability.  It also contains wild-crafted yucca root and fulvic acid.  It's formulated specifically to support binding biotoxins like mold, ammonia and aldehyde systemically.  Take 1–2 caps – 2 times daily.

Sources for this Article Include
1. CDC – Mold: Basic Facts (LINK HERE)
2. Polyzois D, Polyzoi E, Wells JA, Koulis T. Poor Indoor Air Quality, Mold Exposure, and Upper Respiratory Tract Infections–Are We Placing Our Children at Risk?. J Environ Health. 2016;78(7):20-7. PMID: 27197351
3. American College of Allergy, Asthma, & Immunology – Allergy Symptoms (LINK HERE)
4. Gray M. Molds and mycotoxins: beyond allergies and asthma. Altern Ther Health Med. 2007;13(2):S146-52. PMID: 17405693
5. Bush RK, Portnoy JM, Saxon A, Terr AI, Wood RA. The medical effects of mold exposure. J Allergy Clin Immunol. 2006;117(2):326-33. PMID: 16514772
6. The National Wildlife Federation – Home Mold Dangers: Keeping Mold in Check at Home (LINK HERE)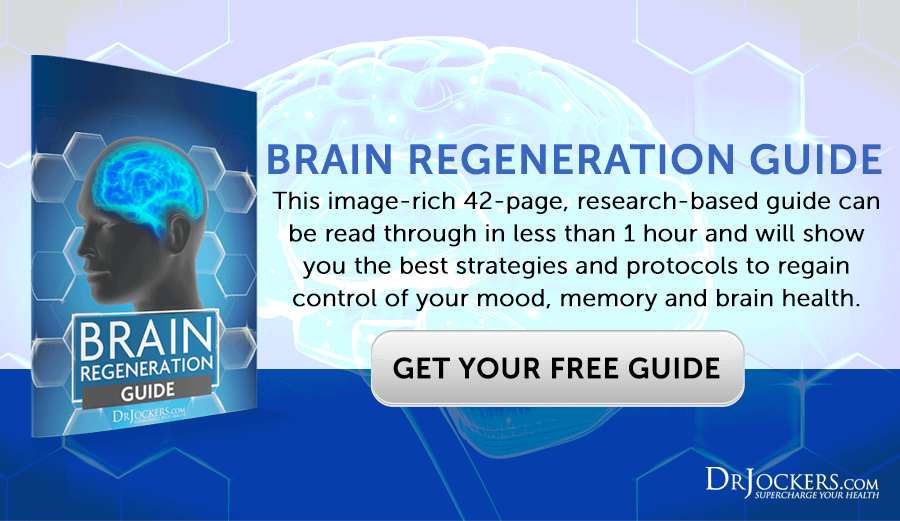 Was this article helpful?