The Revitalizing Power of Breathing:
"Breathing is the FIRST place not the LAST place one should investigate when any disordered energy presents itself."
Sheldon Saul Hendler, MD Ph.D. , The Oxygen Breakthrough,
Arguably the most important aspect of mental and physical health and well-being is the respiratory process of breathing. This has been known throughout the history of mankind. Consider that during the course of your life you are "inspired" by ideas, "aspire" toward your goals and dreams, and finally "expire" at the end of your life.
Many of the ancients developed lifestyles and physical exercises such as yoga and qui-gong that are based around the patterns of breathing and respiratory cycles. So why is breathing so important? It has been suggested that the average individual can survive:
40 days without food
4 days without water
4 minutes without oxygen
OXYGEN AND LIFE FUNCTION
It is true that oxygen is absolutely essential for all human function. In fact, the primary homeostatic mechanism in the human body is designed around necessitating appropriate cellular oxygenation.
The respiratory and cardiovascular systems provide and properly distribute oxygen to the cellular mitochondria, where it serves as the terminal electron acceptor in the oxidative phosphoralization process and the formation of cellular ATP. All human performance, energy, and function is based on appropriate tissue oxygenation.
Endurance, the ability to sustain vigorous effort, is substantiated by the ability of the heart and lungs to supply oxygen to the working muscles (1). Although many factors have an impact, endurance and human working capacity end when the cardiovascular and pulmonary systems can no longer keep up with the demands for oxygen.
In addition, the structural and functional integrity of brain and viscera are profoundly dependent on regular oxygen supply. Any disturbance of this supply can be life threatening.
OXYGEN AND DISEASE
The world famous Dr. Arthur Guyton theorized that all chronic pain, suffering and diseases are caused from a lack of oxygen at the cellular level (2). Lack of cellular oxygen is termed hypoxia. Hypoxia has been implicated in central nervous system pathology in a number of disorders including cancer, heart disease, stroke, and various other neurodegenerative diseases (3). Among other diseases, regions of low oxygen tension are commonly found in malignant tumors and are associated with increased frequency of tumor invasion and metastasis (3)
Consider this: The average human being breaths between 12 – 18 breaths a minute. That equates to 18,000 to 26,000 breaths every 24 hours. It has been suggested that at rest we should consume 6 breaths in a minute to supply our needs. The extra activity involved in our short, shallow breathing habits is robbing us of precious energy, producing toxic waste products and promoting disease in our bodies.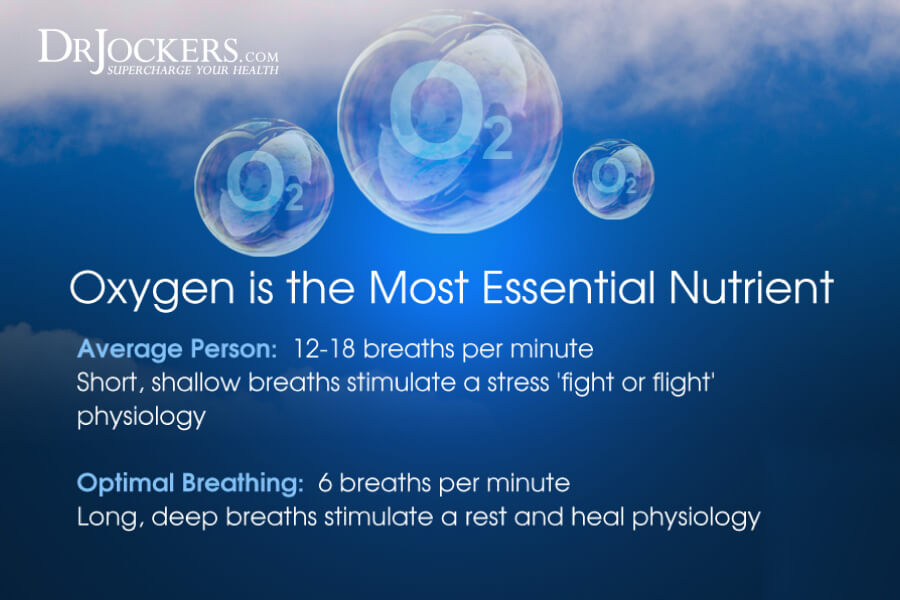 PREDICTING DEATH RATES:
Dr. Schunemann actually found in a long-term study that lung function predicts mortality rates. He explains, "The lung is a primary defense organism against environmental toxins. It could be that impaired pulmonary function could lead to decreased tolerance against these toxins. Researchers also have speculated that decreased pulmonary function could underlie an increase in oxidative stress from free radicals, and we know that oxidative stress plays a role in the development of many diseases.(4)"
Dr. Wendell Hendricks,(Two-time Nobel Laureate, Winner of the Nobel Prize for Cancer Research, Hendricks Research Foundation) said the following. "Cancer is a condition within the body where the oxidation has become so depleted that the body cells have degenerated beyond physiological control.
Similarly, the true cause of allergy is lowered the oxidation process within the body, causing the affected individual to be sensitive to foreign substances entering the body. Only when the oxidation mechanism is restored to its original high state of efficiency can the sensitivity be eliminated."
CHEST VS. ABDOMINAL BREATHING
Effective and efficient oxygenation of the cells, tissues, and organs of our body is an absolute energy necessity. Our respiration cycles are governed by the autonomic nervous system. When your body is under stress you tend to take short, shallow breaths. Because these breaths only penetrate into the upper portion of the chest and lungs they are called "chest breaths."
This reduces your bodies' ability to effectively oxygenate. This is appropriate in order to increase respiratory rate when you are under truly stressful situations, like being chased by a lion or sprinting on a track. However, when it continues for an extended period of time it sets up the pathological processes described earlier.
Several studies have shown that heart disease, depression, anxiety, and chronic pain patients have an intimate relationship with persistent shallow, chest breathing behaviors. Several researchers have suggested maintenance of posture and breathing habits to be the most important factor in health and energy promotion.
HEART FUNCTION:
Diaphragmatic or abdominal breathing is the proper way to respirate. Taking deep, diaphragmatic breaths is necessary to get the oxygen rich air deep into the base of the lungs where three times as many blood vessels are available for respiratory exchange compared to the upper lung region.
Amazingly, when we are taking deep breaths, our diaphragm, which is attached to the heart, is able to pull the heart down and massage it with each breath. This process optimizes the body's natural ability to pump fluid and nutrients into the heart vasculature and suck out the wastes. In the absence of diaphragmatic breathing, the body is unable to adequately deliver nutrients and eliminate wastes from the heart. (6)
Dr. Guy Hendricks says "Healthy breathing should be the first thing taught to a heart patient. A Dutch Study conducted by a Dr. Dixhoorn, compared two groups of heart attack patients. The first group was taught simple diaphragmatic breathing, while the second group was given no training in breathing. The breathing group had no further heart attacks, while 7 of the 12 members of the second group had second heart attacks over the next 2 years."
CHRONIC PAIN AND DEPRESSION:
The diaphragm is also attached to the lumbar spine and produces a natural rhythm of movement that stretches the back and pumps fluid and essential nutrients into the avascular soft tissue structures like the intervertebral disc and ligaments, preventing and possibly correcting spinal degeneration and chronic pain syndromes.
The effects continue in that proper diaphragmatic movement pumps cerebrospinal fluid (the fluid around the spinal cord), which results in an increase in brain metabolism and the resulting feelings of physical and mental well-being and enhanced mental alertness.
It is essential to focus on your breathing throughout the day. Take pauses in your activities to correct your posture and take long, deep breaths from the belly. The body responds to this stimulus by relaxing, understanding that it is not in a life-threatening situation (obviously if you are breathing long, slow, deep breaths you are not being chased by a lion).
The parasympathetic nervous system is activated, calming stress hormones, decreasing heart rate and blood pressure. As you consume more oxygen and release metabolic waste products like carbon dioxide you will improve your mood and energy levels.(8)
Steps to Tranform Your Breathing Habits:
Awareness of your breath
Roll your shoulders back and slightly tip your head back
Put your hand about an inch away from your navel.
As you take a deep inhalation, your navel should expand out and hit your hand.
As you exhale your abdomen should sink back in.
*If you notice your chest moving a lot as you breathe – than you guessed it – you're a chest breather. The good news is that you can change that today and experience a new life of energy and "inspiration."
To Optimize Breathing Habits For Life
Continual awareness and practice of correct breathing mechanics.
Chiropractic care and specific posture and neurological rehabilitation exercises
Engage in a regular aerobic exercise program
Engage in a regular yoga, pilates, and spinal hygiene exercise program
Consider doing our Superbrain yoga (or super brain squats) each day in order to improve brain and breathing patterns.
Sources For This Article Include:
1. Engel R, Vemulpad S. The Effect of Combining Manual Therapy with Exercise on the Respiratory Function of Normal Indivuals: A Randomized Control Trial. JMPT Sept 2007;30, 7;509-513.
2. Guyton, Arthur C. The Textbook of Medical Physiology, (5th Edition.) Pennsylvania: WB Saunders Co., 1976 Link Here
3. Acker T, Acker H. Cellular oxygen sensing need in CNS function: physiological and pathological implications. J Exp Biol. 2004 Aug;207(Pt 18):3171-88. PMID:15299039
4. Schünemann HJ, Dorn J, Grant BJ, Winkelstein W Jr, Trevisan M. Pulmonary function is a long-term predictor of mortality in the general population: 29-year follow-up of the Buffalo Health Study. Chest. 2000 Sep;118(3):656-64. PMID: 10988186
5. "Hyperventilation Syndrome."
Celestial Arts

(1991).
6. Hymes and Nuernberger. Breathing Patterns Found in Heart Attack Patients. Research Bulletin of the Himalayan International International Institute. 1980 2:2; 10-12.
7. John Wiley & Sons New York:52-85.8. Luna-Massey P, Peper E. Clinical Observations on Breath Patterns and Pain Relief in Chronic Pain Patients. The Association for Applied Psychophsiology and Biofeedback. 1986; 82-84.
8. Luna-Massey P, Peper E. Clinical Observations on Breath Patterns and Pain Relief in Chronic Pain Patients. The Association for Applied Psychophsiology and Biofeedback. 1986; 82-84.
9. Gay Hendricks, Ph.D.
Conscious Breathing

, Pg. 16. Link Here
Was this article helpful?