Keto Garlic Rosemary Cauliflower Bread
This cauliflower bread is a tasty recipe made by my wife Angel.  Check out my wife Angel's website, instagram and facebook page where she shares stories and pics about our life. She also has a great YouTube channel you can check out as well.
I loved this recipe and I think you guys will really enjoy the Keto garlic and rosemary cauliflower bread.  If you enjoy recipes like this, you may be interested in my advanced nutrition and recipe book the Keto Metabolic Breakthrough.
Print
Keto Garlic and Rosemary Cauliflower Bread
Yield 16-18 Slices
Ingredients:
**For a smaller loaf, you can use half the recipes and make around a 1000 calorie loaf of bread that has 8-9 slices.  That size bread would only need 5 eggs!
Instructions:
Step #1:  Gather all the ingredients. Pre-heat oven to 350F.  Line 9" x 5" loaf pan with parchment paper.
Step #2:  Separate the egg whites from the egg yolk.  Use a hand mixer and beat the egg whites and cream of tartar until stiff peaks form.
Step #3:  Add coconut flour, salt, egg yolks, baking powder, melted butter, crushed garlic and ¼ of the whipped egg whites in the food processor and blend until combined.
Step #4:  Place steamed cauliflower in kitchen towel and squeeze out excess water.
Step #5:  Add cauliflower in food processor and process until well combined.
Step #6:  Add remaining egg whites to food processor. Fold in just a little and then pulse a few times to combine. Add in the rosemary and parsley.
Step #7:  Transfer batter into lined baking pan and bake for 40–45 min, until the top is golden.  Remove from the oven and let it cool completely before cutting.
Courses Side Dish
Cuisine Italian
Nutrition Facts
Serving Size 1 slice
Amount Per Serving

Calories 116

% Daily Value

Total Fat 8 g

12%

Total Carbohydrates 7 g

2%

Dietary Fiber 3 g

12%

Sugars 2 g

Protein 6 g

12%
* Percent Daily Values are based on a 2,000 calorie diet. Your daily values may be higher or lower depending on your calorie needs.

Special Notes:
With eggs and butter we always recommend getting brands that are organic and pasture-raised.  Vital Farms is our favorite brand of both eggs and butter.  You can often find really great pasture-raised eggs and butter from local farmers in your area.  Simply go to your local farmers market and ask around.
When you are baking with coconut flour, you need a lot of eggs as coconut flour is very dry.  The good news is that this makes a large loaf and each slice is very calorie rich and filling so it will last you a while!  For a smaller loaf, you can use half the recipes and make around a 1000 calorie loaf of bread that has 8-9 slices.
Dr Jockers Comments
This is a savory grain-free, low-carb, ketogenic cauliflower bread recipe that is full of healthy fats, fiber and immune supporting herbs.  If you want to enjoy some great bread on an anti-inflammatory nutrition plan then you will love this!
Rosemary is rich in the polyphenol rosemarinic acid which helps give its unique scent and it helps support the immune system and mental and emotional health.  Garlic is rich in sulfur compounds such as allicin that act as natural anti-microbials and strengthen the immune system.
Coconut flour is full of prebiotic fiber that supports a healthy microbiome and the eggs provide fat soluble vitamins as well as protein and healthy fats.  Try this recipe out and let us know how you like it in the comments section below.
If you are looking for a more detailed fat burning, keto meal plan and recipes than check our complete Navigating the Ketogenic Diet program here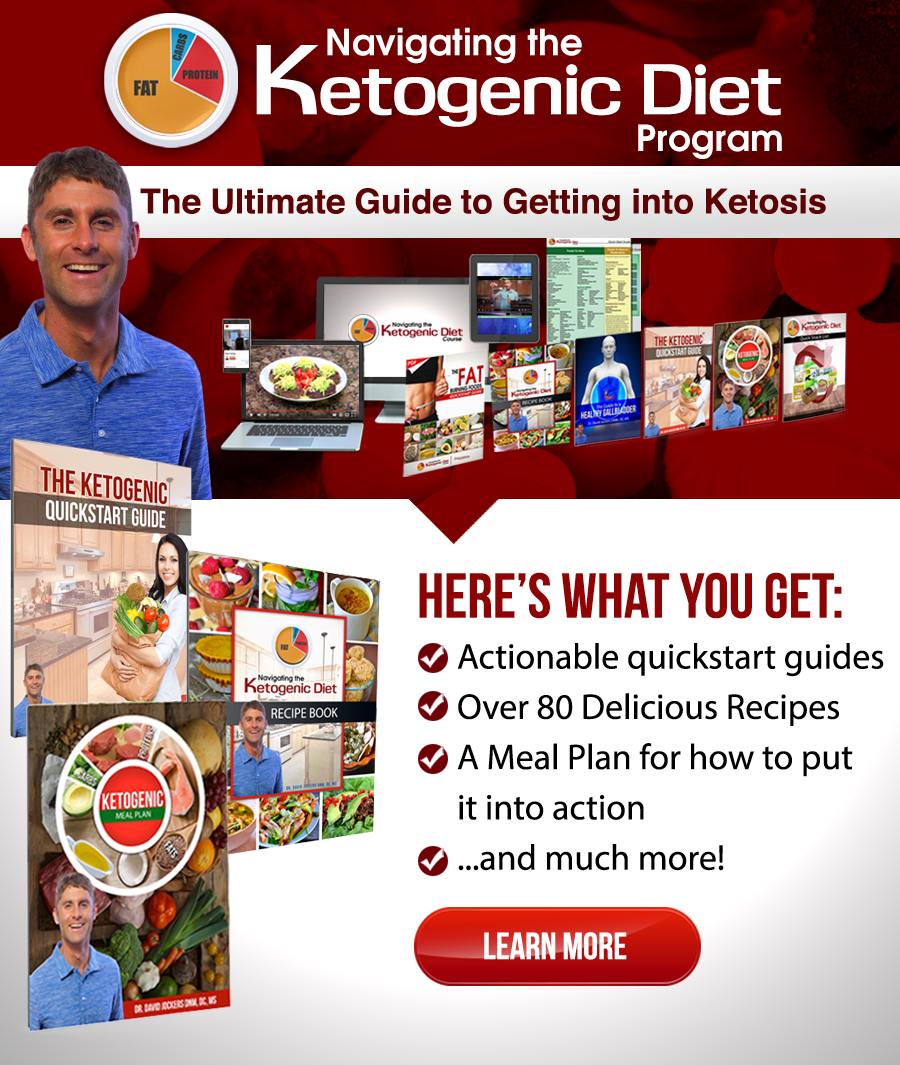 Was this article helpful?