10 Ways To Improve The Gut Microbiome
Not too long ago it was common practice to write off mood or neurological disorders as a poor mentality. Chronic headaches and inflammation were thought of as normal parts of life. There are more conditions like this that we just didn't fully understand for a long time.. until we took a deeper dive into the complexity of the gut microbiome.
As more evidence comes out and our understanding of what goes on in the gut gets deeper, it has become very apparent that the health of our gut, to a pretty huge extent, determines many other aspects of overall health. What I'm saying is, looking for ways to improve the gut microbiome may just change your life.
The Role of the Microbiome
The digestive tract isn't just where food is digested and passed through the body. In addition to this role, the digestive system actually plays a vital role in mental health, immunity, and metabolism. The way that our gut can have such an impact on so many areas of our health comes down to the gut microbiome.
The gut is filled with a diverse community of different types of bacteria that some say outnumbers the cells in your body by a 10-to-1 ratio! When it comes to taking control of your microbiome for better health, the key is diversity and proper balance. The tips outlined in this article are geared toward improving these aspects of the gut microbiome based on what we currently know scientifically.
Avoid Microbiome Destroyers
While there are many things you can do to actively improve your microbiome, the first thing you need to do is take care of anything that is damaging it. These include things like antibiotics, artificial sweeteners, sugar, non-organic produce, GMOs, and overly sterilized environments.
It is now widely understood how antibiotics destroy both good and bad bacteria in the gut which can lead to dysbiosis or opportunistic infections. Perhaps what is less commonly known is how sugar and artificial sweeteners (Splenda, nutrasweet, etc.) tend to support an overgrowth of unwanted bacteria that can lead to sugar cravings, brain fog, increased risk of obesity, and more.
Non-organic and GMO foods are damaging for having notoriously high levels of glyphosate. Glyphosate is an extremely problematic pesticide with a long list of adverse reactions in the body. In terms of the microbiome, glyphosate has been found to damage the gut lining, loosening the gap junctions between cells (leading to leaky gut), and contribute to an overgrowth of harmful bacteria (1).
Clean Up Your Water For a Healthy Microbiome
Another commonly overlooked source of gut microbiome destroying chemicals is your municipal water supply. Tap water often contains many problematic chemicals like chlorine, fluoride, and aluminum.
I recommend systems like Aquatrue or the Berkey system for low cost filtration.  The best water is the Synergy Science hydrogen water which is what I use at home as it is powered by molecular hydrogen which reduces oxidative stress in the body and improves immune function.  Add a slice of lime for some extra flavor.
Finally, it is important not to overly sterilize everything around you. You pick up a lot of microbial diversity from the world around you and this helps your body regulate itself within its environment. I will cover this again later in this article.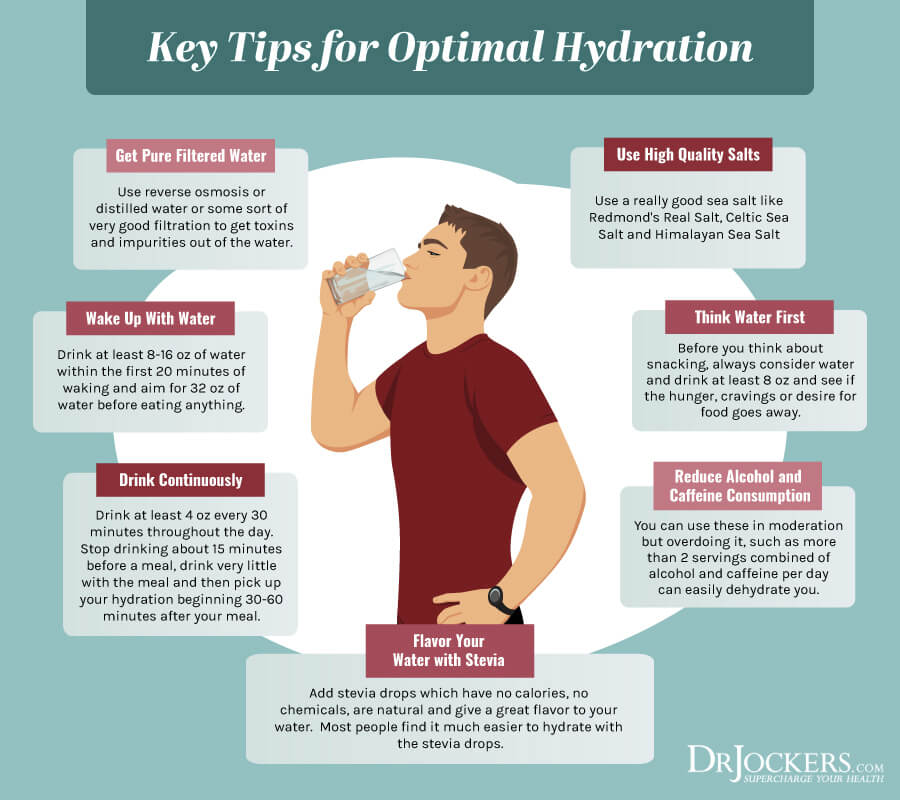 Cut The Sugar
Although I already mentioned sugar, it is probably worth mentioning again. It is very difficult to achieve a healthy microbiome while consuming large amounts of sugar or sugary foods (like fruit) on a regular basis. Fast digesting sugars when consumed actually starve your beneficial bacteria while feeding things like candida.
Candida is typically present in small amounts but an overgrowth can lead to sugar cravings and brain fog. The best thing to do here is really focus on lowering your consumption of sugar from all sources, including grains and fruits. Opt instead for foods in the next section.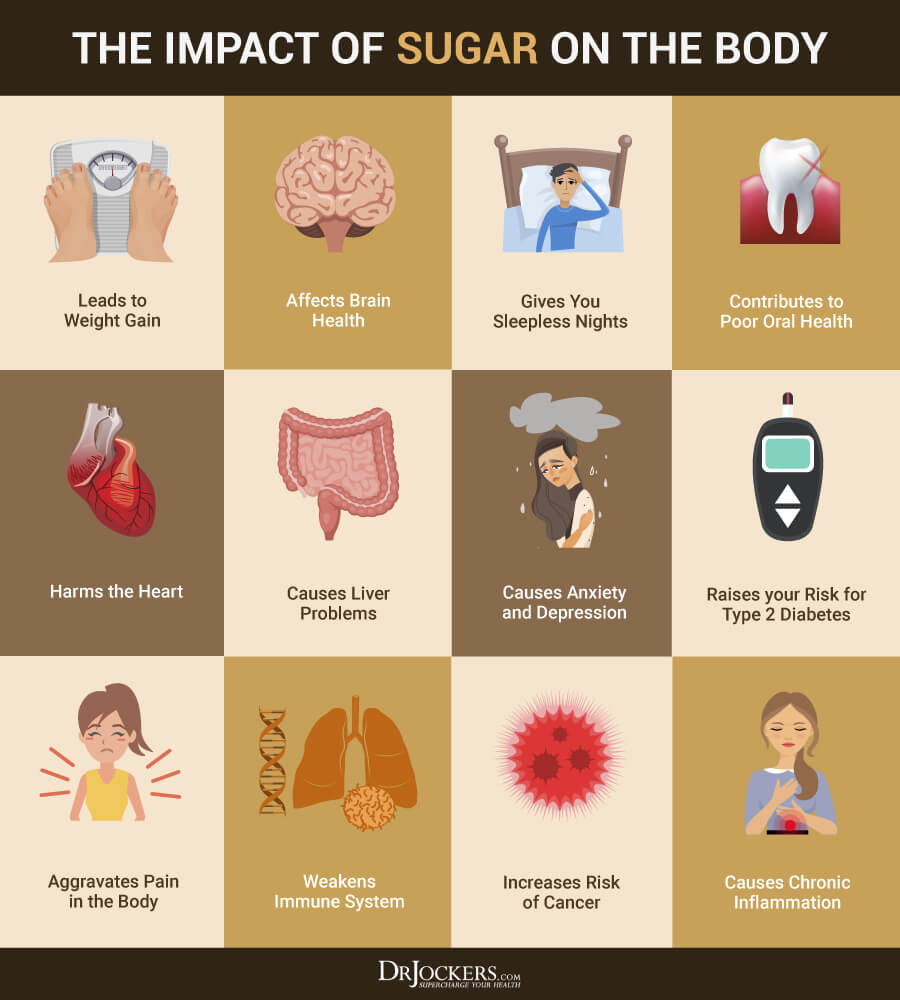 Increase Fiber Intake
Instead of eating lots of sugar-rich foods, opt instead for foods that are high in fiber.  Fiber is a prebiotic because your beneficial gut bacteria such as Lactobacilli and Bifidobacteria actually feed on fibrous foods. Supporting the growth of your beneficial bacteria will also help control the growth of harmful bacteria.
A healthy fiber intake will also help keep your digestive tract healthy by improving the passage of waste in a timelier manner. Food that sits in the digestive tract too long can begin to putrefy, create harmful toxins, and feed unwanted bacteria in your gut.
Some of my favorite high-fiber foods include avocados, berries, coconut meat, cruciferous vegetables like broccoli and Brussels sprouts, chia seeds, and leafy green vegetables. Many fruits are also high in fiber but tend to contain lots of sugar. My favorite high fiber fruits that are less likely to feed unwanted bacteria in the gut are green apples and berries.
There has been some recent research showing that diets low in fiber can not only starve healthy bacteria in the gut, but also contribute to a degrading of the mucosal barrier along the gut lining. This is problematic because this is the kind of change that often precedes leaky gut and more severe imbalances in intestinal bacteria (2).
Fermented Foods & Probiotics
After you have addressed the basics like removing microbiome destroyers and getting lots of healthy fiber to actually feed your good bacteria, it may be helpful to begin introducing fermented vegetables or a high-quality probiotic supplement into your diet.
After following the first few strategies here, introducing dietary or supplementary bacteria will accelerate healthy bacterial growth and promote a flourishing and diverse microbiome. Some of my favorite fermented foods include grass-fed milk kefir, coconut water kefir, sauerkraut, pickles (fermented not pickled), and kimchi. These foods actually have a very diverse set of bacteria that is far beyond what most probiotics can give you.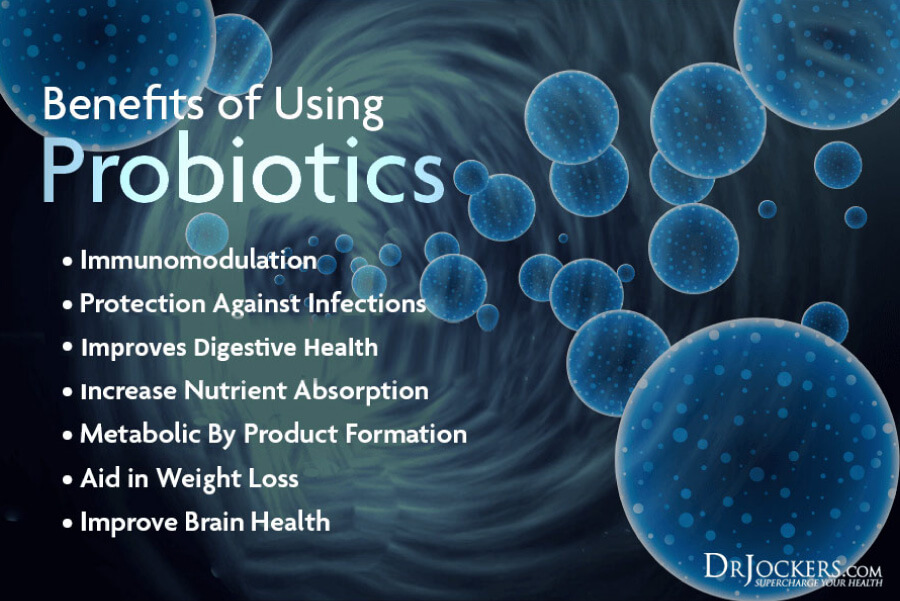 Challenges with Fermented Foods
Many people that I work with, however, have some pretty serious issues going on in their body that causes histamine intolerance and reactions to fermented foods. If you find you do not react well then it is probably best to avoid them momentarily.
In these cases I typically recommend a broad-spectrum probiotic like SBO Probiotics – Ultimate. have found that this probiotic works extremely well for people who are having a lot of intestinal issues. If you are considering introducing probiotics into your system, I would recommend starting with this one to lay a solid foundation of bacteria for your gut microbiome.
Intermittent Fasting
Fasting isn't typically looked at as a method of improving the microbiome but I think it may be a powerful strategy. I have found that those people with bacterial imbalances in their gut often have gut inflammation and low immunity.
This often also accompanies leaky gut. During fasting you allow your digestive tract to heal any damage that has been done while boosting immunity. During this time, you can consume lots of water with lemon or apple cider vinegar to further improve gut health or consume some nutrient-rich bone broth.
Doing a bone broth fast can be one of the most powerful therapies for a damaged gut. Bone broth contains collagen-rich gelatin and the amino acid L-glutamine which have both been shown to heal and support the gut lining. As was mentioned earlier, a healthy gut lining is key to a healthy gut microbiome.
Get Rid Of The Bad Guys
When you have a bacterial imbalance in your gut your ability to fight off pathogens is lowered. This opens the doors for opportunistic bacteria, viruses, and parasites to move in. Once they are situated, they can damage the gut, release toxins, and crowd out healthy bacteria. It is important to make sure any foreign pathogens have been addressed specifically or creating a healthy microbiome will be much more difficult.
Using the probiotic I mentioned (SBO Probiotics – Ultimate), fasting, and using anti-microbial herbs will all help with this to an extent. My favorite antimicrobial herbs include rosemary, oregano, basil, thyme, and uncooked garlic.
Some more stubborn pathogens may need a more targeted approach. In cases when unwanted pathogens are present, I use GI Clear. It contains berberine, black walnut, wormwood and tribulus. Together, these ingredients are powerful for helping get rid of most of the common problematic bacteria, viruses, fungi, and parasites that I encounter in my patients.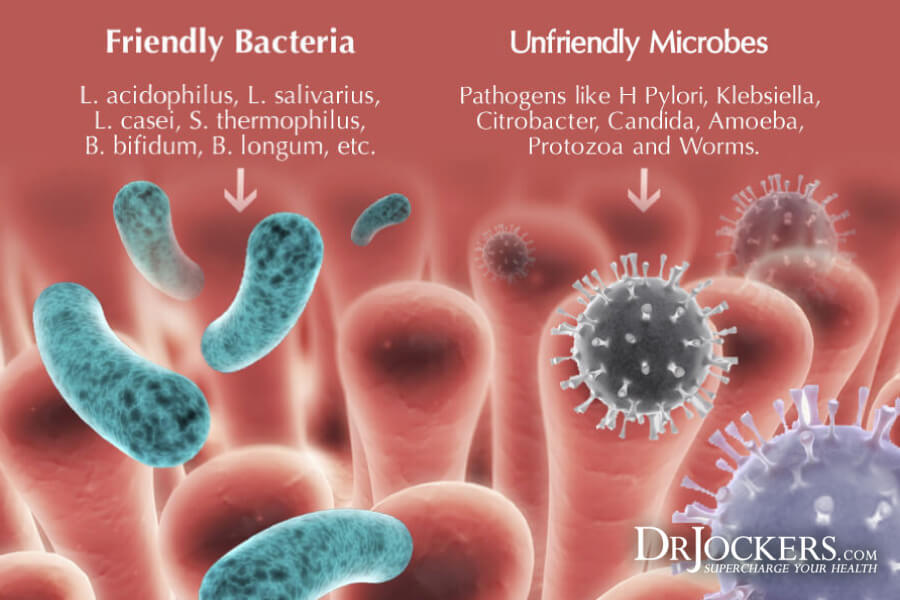 Fortify The Mucosal Barrier
Alluded to in some of the strategies already mentioned, supporting the health of your mucosal barrier is absolutely critical for a healthy gut microbiome. The mucosal barrier is actually where many of your gut bacteria live, so making sure it is intact will help ensure a proper environment for them to thrive (3).
In addition to housing your gut microbiome, the mucosal barrier also acts as a protective barrier from pathogens, toxins, and stomach acid. To heal and fortify your mucosal barrier, there a number of strategies to follow.
First of all, to limit damage, it is important to eat an anti-inflammatory diet that limits toxin exposure and that excludes common food sensitivities. For additional support, sipping on bone broth throughout the day can be very beneficial.
You can make your own, buy it at many grocery stores, or try a bone broth or collagen protein powder. Some other great nutrients for supporting a healthy gut lining are aloe vera, L-glutamine, and deglychrrhizinated licorice. I have a specially formulated gut healing formula that combines all of these things that has helped many of my patients with severe digestive issues.
Get Dirty
Getting out in nature is good for you for many reasons. Studies show that getting barefoot contact with the earth can actually improve mood, boost creativity, and help you get better sleep at night. When it comes to your microbiome, your outdoor surroundings play a key role.
Animals, plants, and dirt all harbor their own bacterial microbiome. By coming in contact with soil and animals, we actually acquire unique and diverse bacteria that improve the health of our microbiome. Just getting skin contact with the earth can be beneficial.
If you get fresh organic produce from local sources, simply rinse them in water before eating to leave behind some of the beneficial soil based organisms. Another great way to reconnect with the earth and your food is to start a garden.
Contact with dirt isn't as dirty as you think! Finally, having a pet can greatly benefit your gut microbiome. Studies have even shown that kids who are raised with pets actually have lower rates of allergies and obesity (4, 5).
Boost Your Home's Microbiome
Like I said before, we live in a world obsessed with keeping everything clean and sterilized. The standard household is cleaned using harsh chemicals that have their own health risks. What if I told you that your home has a microbiome too?
Yes, it's true, and you can create a healthy home microbiome that is healthier to live in without using harsh cleaners. The air inside most homes gets circulated and becomes stale quickly. Try placing plants around the house to filter airborne toxins while providing some fresh oxygen (6).
Next, make sure to periodically open your windows and allow fresh air to circulate. Having animals in the home can change the microbiome of your home as well, which then improves your microbial diversity. Finally, ditch the harsh chemicals and opt instead for some natural cleaning products like Mrs. Meyers or Seventh Generation.
Don't Stress Over It
Take some time to mind your stress. If you find that you are chronically stressed then you are likely harming your gut microbiome. Research has shown that exposure to high levels of stress can actually alter the composition of your gut bacteria in a negative way (7).
Take some time every day to meditate, pray, and express gratitude in some form. Also, it is important to embrace making healthy changes in your life. In today's society, it's not very realistic that someone be able to avoid every little toxin we're exposed to on a daily basis.
There's some really good news though. Some new research suggests that a healthy microbiome can help protect you from environmental toxins like pesticides (8)! I think that's pretty cool. So do the best you can to avoid toxins while following the other strategies in this article and you'll be more resilient than you think!
Inflammation Crushing Ebundle
The Inflammation Crushing Ebundle is designed to help you improve your brain, liver, immune system and discover the healing strategies, foods and recipes to burn fat, reduce inflammation and Thrive in Life!
As a doctor of natural medicine, I have spent the past 20 years studying the best healing strategies and worked with hundreds of coaching clients, helping them overcome chronic health conditions and optimize their overall health.
In our Inflammation Crushing Ebundle, I have put together my very best strategies to reduce inflammation and optimize your healing potential.  Take a look at what you will get inside these valuable guides below!

Sources For This Article Include:
1. Samsel, A., & Seneff, S. (2013). Glyphosate, pathways to modern diseases II: Celiac sprue and gluten intolerance. Interdisciplinary Toxicology, 6(4), 159–84. PMID: 24678255
2. Desai, M. S., Seekatz, A. M., Koropatkin, N. M., Kamada, N., Hickey, C. A., Wolter, M., … Martens, E. C. (2016). A Dietary Fiber-Deprived Gut Microbiota Degrades the Colonic Mucus Barrier and Enhances Pathogen Susceptibility. Cell, 167(5), 1339–1353.e21. PMID: 27863247
3. Vindigni, S. M., Zisman, T. L., Suskind, D. L., & Damman, C. J. (2016). The intestinal microbiome, barrier function, and immune system in inflammatory bowel disease: a tripartite pathophysiological circuit with implications for new therapeutic directions. Therapeutic Advances in Gastroenterology, 9(4), 1–20. PMID: 27366227
4. Ph, D., Brodie, E. L., Havstad, S. L., Zoratti, E. M., Woodcroft, K. J., Bobbitt, K. R., … Lynch, S. V. (2011). Man's best friend? The effect of pet ownership on house dust microbial communities, 126(2), 410–412. PMID: 20633927
5. Tun, H. M., Konya, T., Takaro, T. K., Brook, J. R., Chari, R., Field, C. J., … Kozyrskyj, A. L. (2017). Exposure to household furry pets influences the gut microbiota of infant at 3–4 months following various birth scenarios, 1–14. PMID: 28381231
6. Berg, G., Mahnert, A., & Moissl-Eichinger, C. (2014). Beneficial effects of plant-associated microbes on indoor microbiomes and human health? Frontiers in Microbiology, 5(JAN), 1–5. PMID: 24523719
7. Bailey, M. T., Dowd, S. E., Galley, J. D., Hufnagle, A. R., Rebecca, G., & Lyte, M. (2012). Exposure to a Social Stressor Alters the Structure of the Intestinal Microbiota: Implications for Stressor-Induced Immunomodulation, 25(3), 397–407. PMID: 21040780
8. Trinder, M., McDowell, T. W., Daisley, B. A., Ali, S. N., Leong, H. S., Sumarah, M. W., & Reid, G. (2016). Probiotic lactobacillus rhamnosus reduces organophosphate pesticide absorption and toxicity to Drosophila melanogaster. Applied and Environmental Microbiology, 82(20), 6204–6213. PMID: 27520820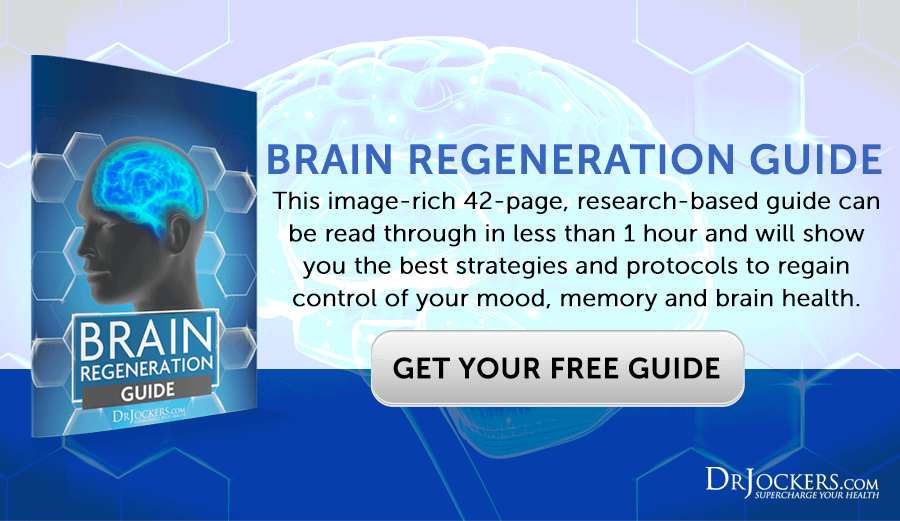 Was this article helpful?