10 Healing Bath Recipes
Unwinding in a soothing bath can help you put stressors aside and concentrate on your own body's healing properties at the end of a long day. Slip into a warm bath to boost your immunity and ail whatever health struggle you may be challenged with. Engulfing yourself into a bath may be just what your body demands for an effective and healthier treatment than reaching for pain relievers, cortisone creams and other drugs with hazardous ingredients.
Enjoy these 10 healing bath recipes with your latest must read and a cup of tea or escape away in a dim lit room with only the glow of a candle and the soft sound of spa relaxation music.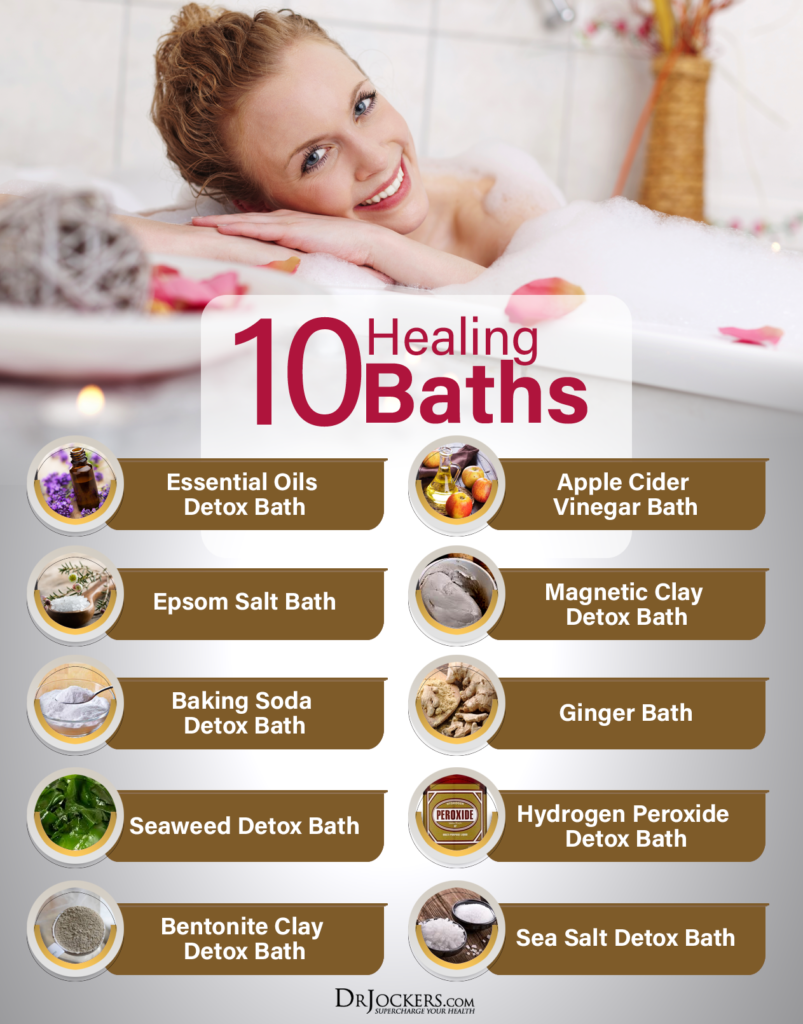 1. Essential Oils Detox Bath:
Essential oils have been traditionally used for medicinal and spiritual health purposes. Choose essential oils based on your needs and their specific health promoting properties. Adding essential oils to a bath can help: (2, 3)
Relieve stress
Boost immunity
Decrease inflammation
Aid in digestion
Heal skin
Stimulate respiratory pathways
Energize
Combat depression
Common aromatherapy essential oils like lavender, frankincense and chamomile are especially therapeutic and enhance healing pathways. Add frankincense to your bath to help reduce anxiety and stabilize mood swings. Or soak in lavender or chamomile before bed to aid in a better night's rest.
Recipe: Add only 100% pure essential oils to your baths that have no added synthetic ingredients. Consider the following essential oil bath combinations when the need arises.
Reduce Anxiety: 10 drops frankincense, 5 drops lavender and 5 drops bergamot
Induce Sleep: 10 drops lavender, 5 drops chamomile, 1 tsp olive oil
Relieve Muscle Soreness: 5-8 drops peppermint oil, 5 drops lavender, 5 drops citrus, 1 tsp coconut oil, handful sea salt
Headache or Sinus Relief: 10 drops peppermint oil, 5 drops eucalyptus, 2 drops clove
Invigorating: 10 drops rosemary, 5 drops lemon, 5 drops orange, 2 drops frankincense, 1 tsp olive oil
2. Epsom Salt Bath:
Epsom salts are an inexpensive purchase you can make in bulk for greater savings. These traditionally used salts are rich in pure magnesium and sulfates. These minerals are absorbed across the skin and take up circulation into the body's blood stream for powerful detoxification effects (7).
Soaking in an Epsom salt bath removes toxins from the body and restores a healthy balance of the minerals magnesium and sulfates. These compounds are vital for supporting healing processes and stimulate nerve and muscle function, increase circulating oxygen and decrease inflammation in the skin, internal tissues and joints. (1)
Recipe: Use the recommended guidelines for submersing yourself in an Epsom bath for at least 40 minutes regularly. Maximize detoxification by soaking in filtered water free of environmental contaminants and avoiding the use of any soaping agents which inhibit mineral absorption.
Children under 60 lbs:   Add ½ cup of salts to a standard size bath
Individuals between 60-100 lbs:  Add 1 cup of salts to a standard size bath
Individuals between 100-150 lbs:  Add 1½ cup of salts to a standard size bath
Individuals between 150-200 lbs:  Add 2 cups of salts to a standard size bath
*For each additional 50lbs – Add in an additional ½ cup of salts.
3. Baking Soda Detox Bath:
The baking soda you store in your fridge and pantry isn't only great at absorbing nasty odors. Baking soda is a cheap and readily available ingredient that you can find anywhere to detoxify the body. Baking soda provides your skin natural itch relief while at the same time neutralizing water contaminants like chlorine. Even with complicated and conventional psoriasis treatments today, healing medical baths such as baking soda baths remain one of the first lines of treatment for the condition (8).
Baking soda provides an invigorating and cleansing feel to the skin due to its natural exfoliant properties. Removing dead skin cells and impurities from the skin's surface improves the body's own healing properties to regenerate new and healthy skin cells while also stimulating the underlying lymphatic system.
Recipe: For a natural sunburn remedy, mix ½ cup of baking soda into a warm bath for a gentle itch relief to your skin. You may also consider adding 3 tbl to a warm foot soak when you don't have the ability to take a bath.
Another option for a detoxifying baking soda bath is to combine it with apple cider vinegar for a bubbly bath fizz to relieve tension. Simply soak in a tub with an added:
1 cup baking soda (aluminum free)
1 cup apple cider vinegar
½ cup Epsom salts
4. Seaweed Detox Bath:
A French researcher of the 1900s, Rene Quinton, found in study that sea water and human plasma are significantly alike in their composition of proteins, mineral salts and other structures. A seaweed bath allows you to reap the benefits from the infusion of minerals across the skin's barrier and then up into circulation to organs and tissue. (13)
Therapeutic benefits of seaweed detox baths are shown to: (14, 15)
Stimulates circulation
Boosts lymphatic system
Moisturize skin
Removes toxic waste
Enhances lymph fluid drainage
Improves inflammatory skin conditions like acne
Treats stiff joints and muscle aches
Balance pH
Promote fat metabolism
Recipe: Two options for seaweed baths are below:
*If you live near an ocean:
Gather fresh seaweed from ocean (not what has already washed onto shore).
Fill up warm bath and add seaweed.
Rub seaweed over body to stimulate circulation and increase detoxification.
Typically, when the gel coating from the seaweed dissolves and the seaweed has shriveled, your optimal detoxification period has elapsed (approximately 45 minutes).
*Unable to access fresh seaweed:
Add ½ cup seaweed flakes into a nylon stocking or cheese cloth and seal tightly. You can also add ¼ cup dried seaweed powder directly to warm tub.
Soak for at least 30 minutes.
5. Bentonite Clay Detox Bath:
Bentonite clay is an excellent agent to draw toxins towards the skin's surface for removal. This clay is rich in minerals formed from evaporated sea water mixed with volcanic ash. These clays are used in mud spas to remove toxins from the skin and promote circulation as a type of rheumatoid arthritis treatment (4).
Since history was first recorded, healing clays like bentonite have been used to treat skin infections due to the infinity for clay to bind with microbes. Bentonite clay has anti-bacterial components that destroy broad-spectrum human pathogens that weak our immune system. It is also used to reduce swelling from insect bites and stimulate healing (6). (5)
Recipe: Before adding the suggested amount of clay directly to your bath, mix the clay (without metal) into a small amount of water to dissolve the clumps and form a paste. Gently massage the paste all over your body and allow to dry while the bath tub fills. Soak in the tub for at least 40 minutes and use a cloth to wash away any residue on the skin.
½ cup bentonite clay
½ cup Epsom salts
6. Apple Cider Vinegar:
Apple cider vinegar is a versatile remedy to ail almost any health concern. It is rich in vitamins and minerals that nourish the skin such as vitamin C and B-complex vitamins. Its natural acidity has an alkalizing effect on the skin which helps balance pH, act as an antimicrobial agent and can aid against skin conditions like dry skin, psoriasis and eczema (16).
Adding apple cider vinegar to baths has benefits to treat inflammatory conditions such as gout, tendonitis, and arthritis. It can benefit athletic aches due to physical exertion and also act as a body odor neutralizer replenishing a healthy balance of bacteria that colonize the skin (17).
Recipe: This bath recipe is simple and quick. Submerse in a bath for 30 minutes containing only 1 or 2 cups of apple cider vinegar. Apple cider vinegar baths are beneficial to take 1-2 times each week.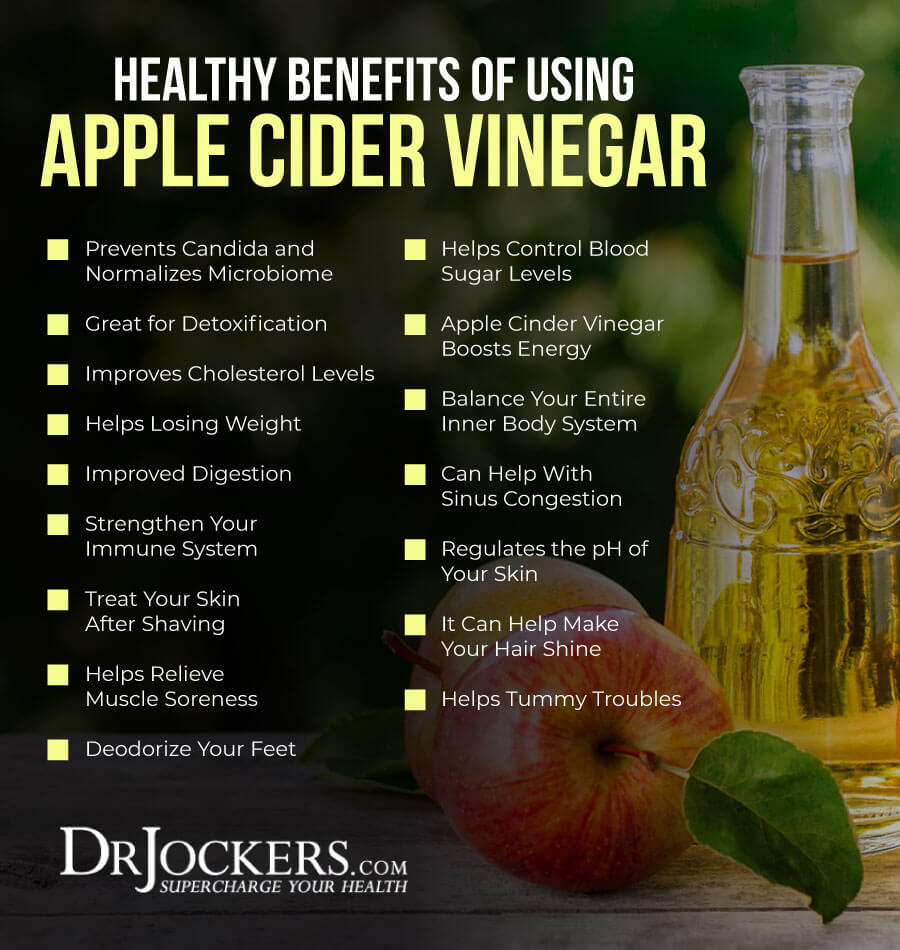 7. Magnetic Clay Detox:
Magnetic clay baths are stated to have comparable effects to chelation therapy which removes heavy metals from the body including mercury, lead, arsenic and aluminum. Magnetic clay has a natural affinity for pulling metals and toxins from the body and may even work faster than chelation therapy. (6)
These types of spa therapies were first recognized for their benefits by the Greeks and increased in use during the Roman Empire for their healing powers (19). Distributers of magnetic clay promote its ability to improve digestive disturbances, treat allergies, kill parasitic growth, improve cognitive function and relieve symptoms of depression and anxiety (18).
Recipe: Receive optimal benefits from magnetic clay baths by enjoying them once a week for health prevention. Begin by adding 2 cups of clay to your detox bath and increasing with use to a maximum of 4 cups. Sensitive individuals may need to use ¼ cup magnetic clay and take baths no more than every 3 weeks. (6)
As with any clay, dissolve the clay first in a small amount of warm water. Add clay into a bowl and stir in ¾ cup warm water to whisk and smooth lumps.
8. Ginger Bath:
Ginger is a natural anti-inflammatory herb that promotes detoxification and increases circulation for the removal of toxins through pores. Ginger has been used for centuries to naturally enhance health. It contains pungent volatile and non-volatile compounds that had traditionally used to prevent cancer, treat arthritis, cardiovascular disorders, diabetes and other degenerative disorders. (10)
Consider soaking in a ginger bath to help with the following: (10, 11)
Ease achy menstrual cramps
Provide headache relief.
Stimulate digestion.
Relieve gas and bloating.
Reduce nausea.
Reduce cold and flu symptoms.
Improve inflammatory conditions such as rheumatism.
Alleviate congestion.
Boost total body detoxification pathways.
Recipe: This bath is only suggested as an evening activity. The combination of ingredients will sooth your mind and body increasing your ability to relax and optimize sleep. Soaking in a ginger bath may cause fatigue directly to follow but you can rest assured that you will wake up feeling rejuvenated.
Into a warm bath add 3 tbl fresh ground organic ginger or ginger powder. Soak for a minimum of 15 minutes but no longer than 30 minutes.
9. Hydrogen Peroxide Detox Bath:
This detox bath is perfect around cold and flu season. This astringent draws toxins from the body and acts as a powerful antiviral agent. Hydrogen peroxide baths are useful for soothing agitated skin and can sooth body aches and pains.
The use of hydrogen peroxide has been shown especially beneficial to women with recurrent bacterial vaginosis (9). Typically treated with antibiotics, hydrogen peroxide restores normal bacteria flora to these afflicted individuals and offers a low cost, effective therapy with no adverse side effects.
Recipe: Fill the tub with warn water. Stir in:
2 cups 3% hydrogen peroxide
1 tbl dried ginger powder
Soak for 30 minutes or as long as desired.
10. Sea Salt Detox Bath:
Sea salt baths are beneficial for soothing skin irritation, battling fatigue and physical exhaustion and increasing magnesium levels in the body. These effects boost over all detoxification and health processes. Sea salts have been shown in study to improve skin hydration thus relieving skin roughness and reducing inflammation (7).
Dead Sea salt treatments have been noted throughout Biblical history for their healing properties. Today, Dead Sea salt treatments are an effective treatment for psoriasis and various rheumatologic diseases like knee osteoarthritis and rheumatoid arthritis (12).
Recipe: Dissolve the following ingredients together in a separate container and set aside while the bathtub fills with 1/3 apple cider vinegar:
¼ cup sea salt
¼ cup baking soda
¼ cup Epsom salt
10 drops essential oils if desired
Once the tub is filled, add salt mixture along with oils. Soak in the tub for 20 to 30 minutes making sure to stay well hydrated welling resting. Although generally safe, Dead Sea salt baths can lead to scaly, rough skin characteristic of solar UV radiation and should be used less frequently than other sea salt varieties (12).  You can find Minera Dead Sea Salts here
Tips for Your Next Detox Bath:
Stay hydrated to avoid dizziness, nausea and fatigue during and following detox bath. Drink plenty of purified water and/or herbal teas while bathing.
Always test for skin allergies before submersing into a detox bath.
Avoid submersing open wounds in detox baths to avoid further irritation.
Try to relax for 2 hours following a detox bath to promote muscle relaxation and avoid joint stiffness than can occur with physical activity.
The hotter the water, the great the detoxification pathways are stimulated as the pores are opened.
Generally, concentrations of detoxifying bath agents can be multiplied but this also increases the detoxification processes. Begin taking detox baths with recommended concentrations and adjust measurements accordingly.
Always add essential oils just be entering bath to reap their aromatherapy effects. These volatile compounds evaporate quickly when added to hot water without an oil.
Submerge as much as your body as possible in the healing bath to aid in optimal detoxification. If needed, bend knees out of water so that abdomen and feet are submerged.
Some of these bath ingredients will not dissolve down drains. Use a drain guard to prevent materials like clay from clogging drains and clean up tub with a cloth following use.
Inflammation Crushing Ebundle
The Inflammation Crushing Ebundle is designed to help you improve your brain, liver, immune system and discover the healing strategies, foods and recipes to burn fat, reduce inflammation and thrive in life!
As a doctor of natural medicine, I have spent the past 20 years studying the best healing strategies and worked with hundreds of coaching clients, helping them overcome chronic health conditions and optimize their overall health.
In our Inflammation Crushing Ebundle, I have put together my very best strategies to reduce inflammation and optimize your healing potential.  Take a look at what you will get inside these valuable guides below!

Sources for this Article Include:
1.
Wolf A. The Effective Use of Small Non-dehydrating Doses of Epsom Salt in Epilepsy: A Study of One Hundred and Nine Cases. J Neurol Psychopathol. 1936 Jan; 16(63):213-8. PMID: 21610827
2. Siddiqui MZ. Boswellia Serrata, A Potential Antiinflammatory Agent: An Overview. Indian Journal of Pharmaceutical Sciences. 2011; 73(3):255-261. PMCID: 3309643
3. Hamidpour R, Hamidpour S, Hamidpour M, Shahlari M. Frankincense (乳香 Rǔ Xiāng; Boswellia Species): From the Selection of Traditional Applications to the Novel Phytotherapy for the Prevention and Treatment of Serious Diseases. Journal of Traditional and Complementary Medicine. 2013; 3(4) 221-226.PMCID: 3924999
4. Christidis GE. Comparative study of the mobility of major and trace elements during alteration of an andesite and a rhyolite to bentonite in the islands of Milos and Kimolos, Agean, Greece. Clays and Clay Minerals. 1998; 46:379–399. Link Here
5. Williams LB, Haydel SE. Evaluation of the medicinal use of clay minerals as antibacterial agents. International geology review. 2010; 52(7/8):745-770. PMCID: 2904249
6. LL Magnetic Clay: Tub Baths Link Here
7. Provksch E, et al. Bathing in a magnesium-rich Dead Sea salt solution improves skin barrier function, enhances skin hydration, and reduce inflammation in atopic dry skin. Int J Dermatol. 2005 Feb; 44(2): 151-7. PMID: 15689218
8. Verdolini R, et al. Old fashioned sodium bicarbonate baths for the treatment of psoriasis in the era of futuristic biologics: an old ally to be rescued. J Dermatolog Treat. 2005 Feb; 16(1): 26-30. PMID: 15897164
9. Cardone A, et al. Utilisation of hydrogen peroxide in the treatment of recurrent bacterial vaginosis. Minerva Ginecol. 2003 Dec; 55(6): 483-92. PMID: 14676737
10. Mashhadi NS, Ghiasvand R, Askari G, Hariri M, Darvishi L, Mofid MR. Anti-Oxidative and Anti-Inflammatory Effects of Ginger in Health and Physical Activity: Review of Current Evidence. International Journal of Preventive Medicine. 2013; 4 (Suppl 1):S36-S42. PMCID: 3665023
11. Rahmani AH, Shabrmi FM, Aly SM. Active ingredients of ginger as potential candidates in the prevention and treatment of diseases via modulation of biological activities. Int J Physiol Pathophysiol Pharmacol. 2014 Jul 12; 6(2):125-36. PMID: 25057339
12. Katz U, et al. Scientific evidence of the therapeutic effects of dead sea treatments: a systematic review. Semin Arthritis Rheum. 2012 Oct; 42(2): 186-200. PMID: 22503590
13. Soak: Seaweed Baths link here
14. Choi JS, et al. Effects of seaweed Laminaria japonica extracts on skin moisturizing activity in vivo. J Cosmet Sci. 2013 May-Jun; 64(3): 193-205. PMID: 23752034
15. Meinita MD, Hong YK, and Jeong GT. Detoxification of acidic catalyzed hydrolysate of Kappaphycus alvarezii (cottonii). Bioprocess Biosyst Eng. 2012 Jan; 35(1-2): 93-8. PMID: 21909671
16. Healthline: Does Apple Cider Vinegar Help with Psoriasis? Link Here
17. Cortesia C, et al. Acetic Acid, the Active Component of Vinegar, Is an Effective Tuberculocidal Disinfectant. 2014 Feb; 5(2): e00013-14 DOI: 10.1128/mBio.00013-14
18. Amazon: Clear-Out Detox Clay Bath Link Here
19. Van Tubergen A, van der Linden S. A brief history of spa therapy.Annals of the Rheumatic Diseases. 2002; 61(3):273-275. PMCID: 1754027

Was this article helpful?