10 Signs Of Magnesium Deficiency
Magnesium is one of the most abundant minerals in the human body and is used in over 300 different physiological processes. Unfortunately, magnesium is also one of the most pervasive deficiencies in our society today. Could the lack of magnesium be influencing your health negatively? This article breaks down the signs of a magnesium deficiency and the best ways to get more in your diet.
According to American neurosurgeon Norman Shealy, MD, PhD, almost every known disease is associated with a magnesium deficiency. This may sound like a bold statement at first but it actually makes a lot of sense considering the number of roles it plays in the body. This also explains why there are such a diverse set of symptoms that occur when you are not getting enough of it.
There are 10 major signs that clue me in as to whether or not someone has a magnesium deficiency.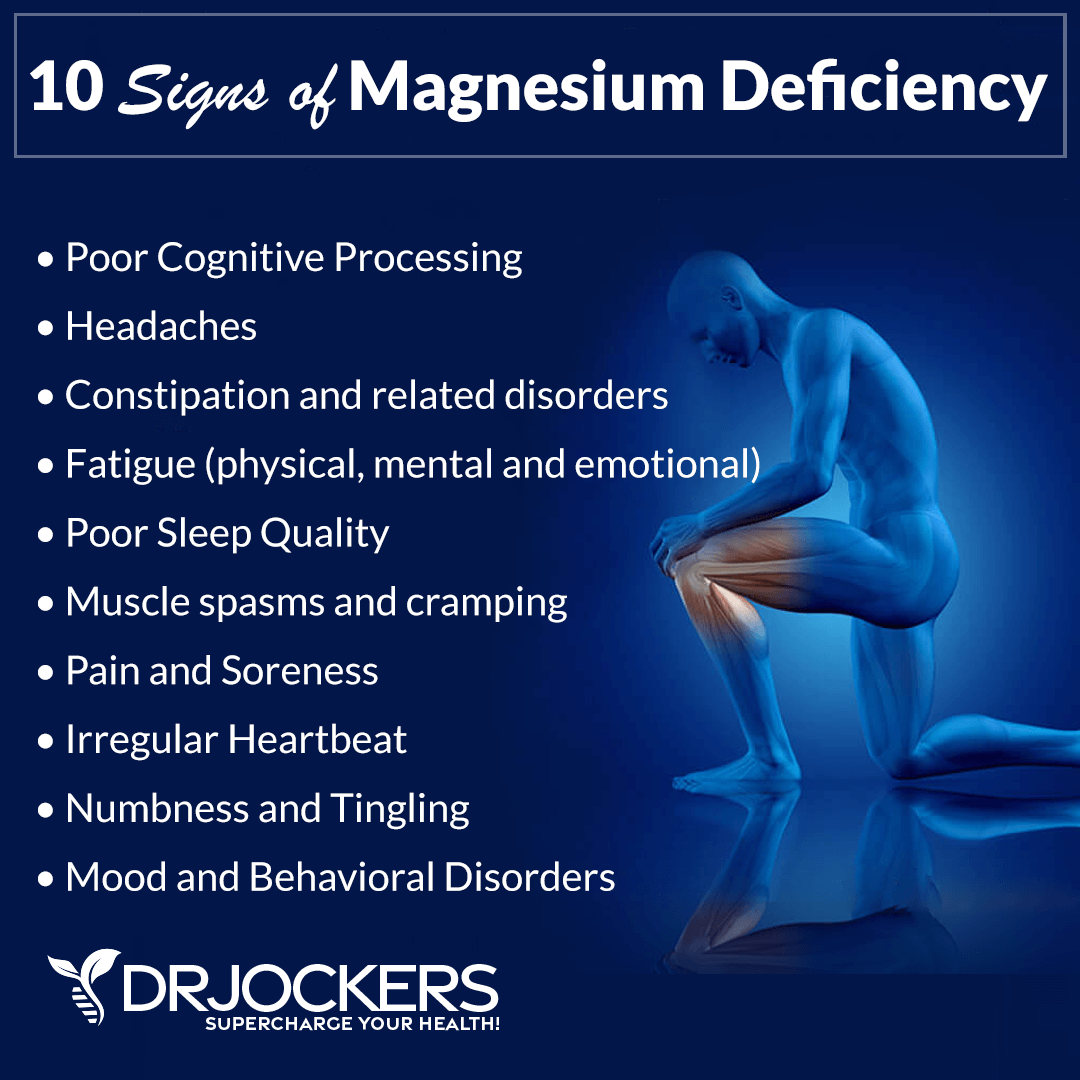 1. Poor Cognitive Processing 
If you are dealing with frequent bouts of brain fog, poor concentration, or constant memory issues, you may have a magnesium deficiency. Structures within every cell of the body, called mitochondria, are responsible for producing the energy that the body uses for everything.
The brain contains the highest concentration of mitochondria in the male body (females have a higher concentration in their ovaries). Mitochondria are heavily reliant on magnesium for energy production so a deficiency can hamper your brain performance significantly (1). It comes at no surprise that supplemental magnesium has been shown to improve learning and memory (2)!
2. Headaches & Chronic Migraines 
It has been found that sufferers of chronic migraines often have lower levels of magnesium in their bodies. Considering how important magnesium is for proper nerve function, this makes a lot of sense. Magnesium also plays the additional key role of regulating neurotransmitter production, which can also influence migraines.
Supplemental magnesium taken on a regular basis has been shown to decrease both the frequency and intensity of migraine headaches (3). Additionally, magnesium has been shown to have the same effect on non-migraine headaches as well.
Much of this has to do with magnesium's ability to help regulate calcium balance within neuronal cells.  Too much calcium can lead to neurotoxic effects where the brain cells are overstimulated, and this is a major factor in headaches and migraine formation.
3. Constipation & IBS 
Constipation is one digestive issue I hear all the time. Proper magnesium intake actually softens stools by drawing water into the bowels, supporting healthy elimination. If stools become too hard, they move slower through the colon and become a problem. This is why I always recommend magnesium when I hear this complaint.
For reference, an ideal stool should resemble type 3 or 4 on the Bristol stool chart below.
Additionally, magnesium plays a major role in regulating muscle contractions in the intestines and this is why a magnesium deficiency often results in constipation.  In this way, magnesium can also be a very helpful in relieving discomfort and cramping due to IBS or other similar conditions.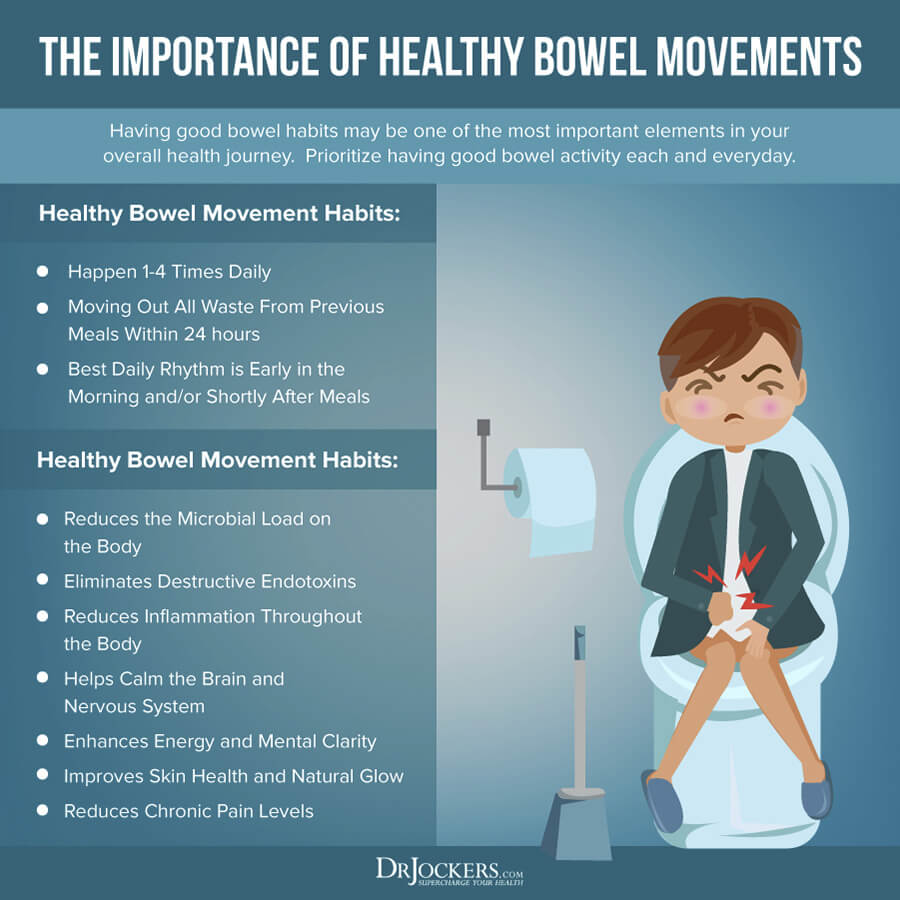 4. Fatigue 
Magnesium is highly involved with energy production. As mentioned before, the mitochondria in your cells heavily rely on magnesium to produce energy (4). Your mitochondrial function primarily determines your energy levels. Additionally, magnesium supports the adrenal glands which can play a huge part in energy production as well.
And the kicker… because magnesium is involved in so many enzymatic processes in the body, deficiency will make it harder to perform over 300 normal processes. This acts as a chronic stressor on your body and drains your energy!
If you are chronically fatigued, you may have a magnesium deficiency and increasing your magnesium intake can improve your energy levels drastically.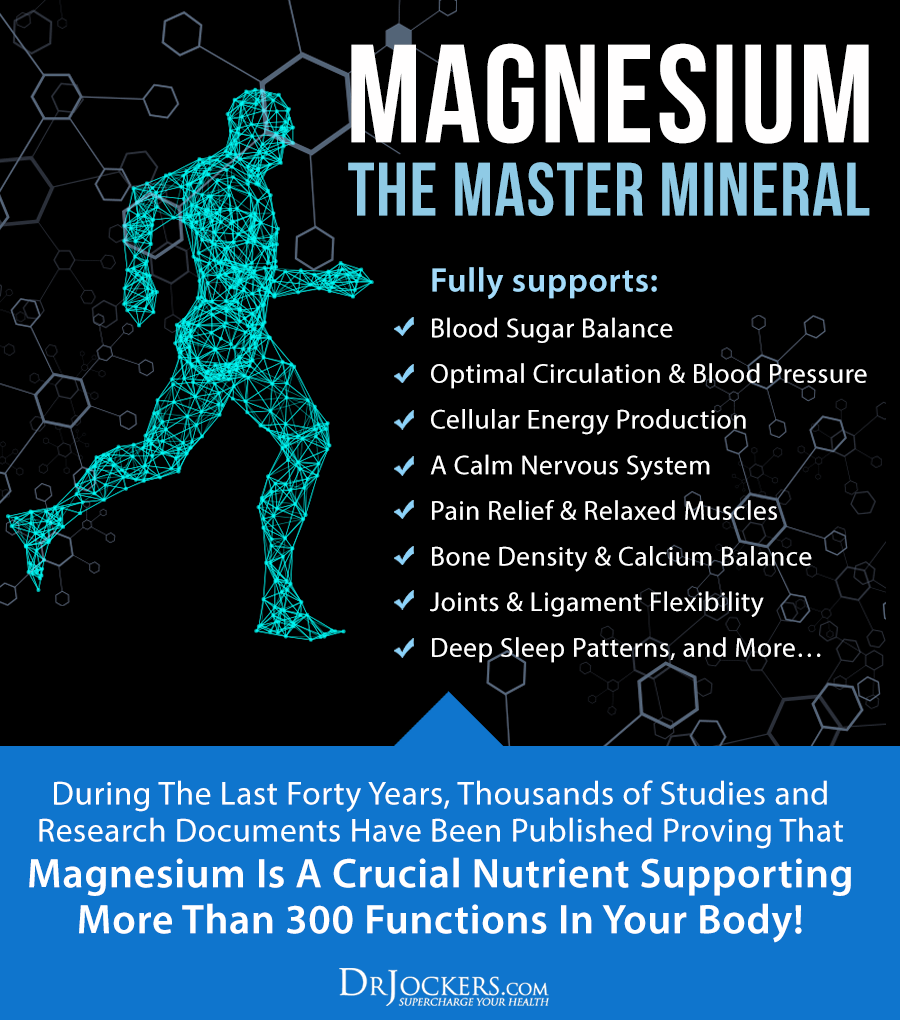 5. Insomnia 
Insomnia is one of the big conditions I see a lot of improvement in when beginning magnesium supplementation. This is because magnesium is involved in the production of GABA in the brain. GABA is what is known as an inhibitory neurotransmitter. This just means a chemical that promotes relaxation.
If you don't have enough magnesium to produce adequate amounts of GABA, your sleep will likely suffer. Although there are other nutrients involved with GABA production, magnesium is a critical factor that will heavily determine your sleep quality.
6. Muscle Spasms & Cramping 
Because magnesium is so important for proper nerve transmission, it comes as no surprise that it also plays a vital role in muscle contraction. When magnesium is depleted, muscle contractions can become weak and uncoordinated, leading to involuntary spasms and painful cramps.
This is actually one of the most common early signs of magnesium deficiency. Spasms typically occur in the legs, feet, and sometimes even in places like the eyelids. If you are a woman, you may also experience worsened PMS-related cramping when magnesium stores are low.
7. Chronic Pain & Fibromyalgia 
Chronic pain and related conditions like fibromyalgia are heavily related to tension carried in the body. This tension can be purely physical, but can also be aggravated by emotional stress as well. Emotions such as anxiety, anger, and worry all contribute to physical tension. Over time this chronic tension leads to pain.
When magnesium stores are low in the body, the nervous system can become hyper excitable (meaning easily overstimulated) which can increase muscle tension. Magnesium can play a role here by helping to elicit an overall calming effect on the mind and body while soothing and relaxing the muscles.
8. Heart Arrhythmia
The heart is a muscle that constantly contracts inside our bodies without needing to be consciously controlled. Just as with other muscles in the body, the heart relies heavily on magnesium for proper contractility. This is thought to be due to its role in regulating calcium and potassium concentrations in the muscle tissue (5).
If you notice that your heart beats irregularly, magnesium may be something to address. This includes rapid heartbeats, slow heartbeats, and sudden changes in heart rhythm for no apparent reason.
9. Numbness and Tingling
If you often feel numbness or tingling sensations in your body, such as in the hands and feet, this is likely due to a change in nerve activity. For example, peripheral neuropathy (a common side effect of diabetes) is characterized by these sensations.
Because of its role in healthy nerve transmission, magnesium deficiency may be at least in part playing a role here. Limited research has been performed on this mechanism specifically, but some studies have shown that magnesium may be able to relieve or prevent numbness and tingling in the extremities.
This effect has been highlighted in research showing protective properties against peripheral neuropathy induced by certain cancer therapies (6). 
10. Mood Disorders 
Magnesium plays a crucial role in regulating neurotransmitter balance. Neurotransmitters are chemicals in the brain that regulate thought patterns and behaviors ranging from motivation to sleep to focus (and many more). As mentioned before, magnesium is particularly involved in GABA production in the brain, which is a calming neurotransmitter.
A poor ability to produce adequate GABA in the brain results in conditions such as ADD/ADHD, anxiety, irritability, and general mood imbalances. If you identify with these feelings on a regular basis, you should consider increasing your daily magnesium intake. 
3 Ways To Support Magnesium Levels 
Now that you know the signs of magnesium deficiency and just how important this mineral is for the human body, it is important to understand the best ways to obtain it. Follow these 3 strategies to boost your magnesium levels and do your health a tremendous favor.
1. Magnesium Rich Foods 
As with most nutrients, I always recommend starting with your diet. There are plenty of great food sources of magnesium that are easy to incorporate into your daily life. Some of my favorites are avocados, leafy green vegetables, and raw chocolate.
I'd recommend picking a few high-magnesium foods and consuming them on a regular basis. For example, I use avocados to make avocado chocolate protein pudding that I eat for lunch just about every day!
I have plenty more healthy recipes that feature magnesium-rich foods such as:
Pick your favorites from the list below and come up with creative ways to get them in your diet every day!
2. Epsom Salt Baths 
Perhaps one of the most relaxing ways to get more magnesium into your body is by taking an Epsom salt bath. Epsom salts are actually a form of magnesium that can absorb into the body through the skin while you soak. This is part of the reason why Epsom salt baths are so relaxing!
While traditional Epsom salts are made of magnesium sulfate, there are also newer forms of magnesium flakes that are made of magnesium chloride. Both types of salts provide benefits for the body, however magnesium chloride may be able to provide longer lasting benefits. This is because magnesium chloride is both easier to absorb and slower to be excreted from the body.
This means that less magnesium chloride is needed to derive benefits. One of my favorite brands of magnesium flakes is Ancient Minerals and their bath soak can be found here.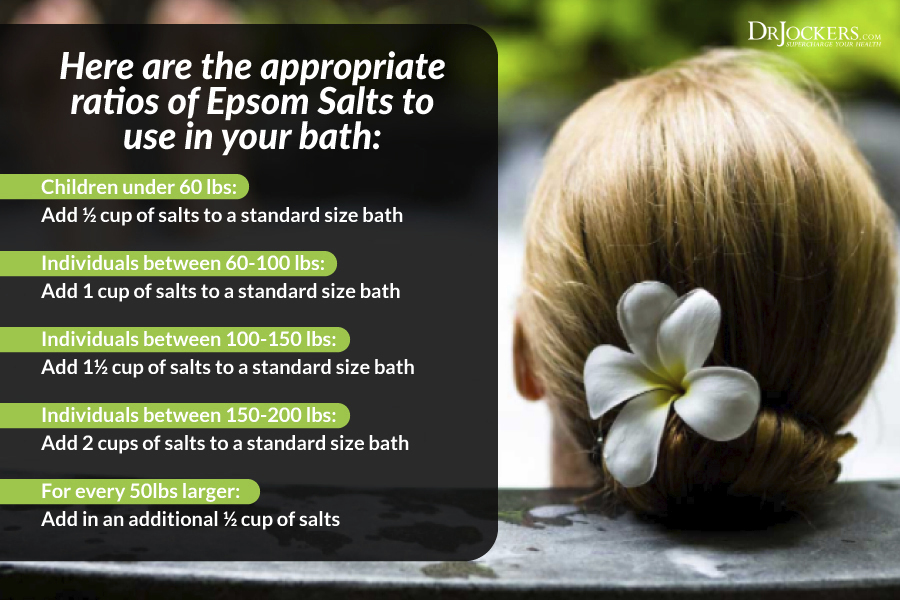 3. Supplemental Magnesium 
When it comes down to it, our food supply just isn't what it used to be. Industrialization and poor attention to soil quality has depleted our soil of vital nutrients that used to be passed into the food we ate.
Although we are starting to wake up to this fact and make more conscious efforts to create nourished farming conditions, our food is still lacking in the nutrition our bodies need.
This is why I recommend supplemental magnesium to so many of my patients. It is just so critically important to make sure you get enough magnesium in your diet that even I supplement with it every day.
Not all magnesium is made equal. Different forms of magnesium have different benefits, some are better for mental health or sleep, others may have digestive benefits. Some are not bioavailable to your body and are effective in most cases.
I've discussed the benefits of different forms of magnesium in this article. Here are the best forms of magnesium for your brain, mental health, and depression.
Magnesium Malate
Magnesium malate is a form of magnesium bonded to malic acid. Magnesium malate naturally occurs in many foods, especially in fruits. Malic acid is a key component of the Krebs Cycle, which is the biological process responsible for making ATP energy.
Thus magnesium malate is a great option for improving energy-related disorders, including depression and chronic fatigue syndrome. According to a 2011 study published in Orvosi Hetilap, magnesium malate may help to support a healthy magnesium-calcium balance (7).
Magnesium Glycinate
Magnesium glycinate or chelated magnesium is made up of magnesium and amino acid glycine. According to a 2017 review published in Nutrients, magnesium glycinate is one of the most bioavailable forms of magnesium (8).
Magnesium is a gut-friendly magnesium that's also great for digestive issues It is the most commonly recommended option for hypomagnesemia or clinically diagnosed magnesium deficiency.
Magnesium L-Threonate  
Magnesium L-threonate (MgT) is a newer form of magnesium that's commonly used for brain and mental health including depression, anxiety, brain fog, cognitive performance, learning, and memory. According to a 2014 study published in Molecular Brain, magnesium threonate may offer neuroprotective and cognitive-boosting benefits that may be protective against Alzheimer's disease (9).
A 2011 study published in the Journal of Neurosciences has found that magnesium L-threonate may help to support NMDA receptors (NMDARs) signaling, BDNF expression, and synaptic plasticity (10). A 2019 comparative study published in the Pakistani Journal of Pharmaceutical Sciences has found that magnesium L-threonate supplementation may help to improve oxidative stress and neurobehavioral activities (11).
Transdermal Magnesium
Transdermal magnesium comes in a lotion that can be applied to the abdomen or areas of pain for quick absorption that bypasses the digestive tract.
This is important especially in cases where the digestive tract is damaged or compromised and cannot absorb magnesium properly (such as leaky gut).   The Ancient Minerals Magnesium with MSM product is a great transdermal lotion that works quickly and effectively.  It contains magnesium as well as MSM which helps reduce pain and inflammation and this is a great product to use on sore and painful joints and muscles.
I also like the Ancient Minerals Goodnight lotion which contains transdermal magnesium with melatonin.  This is a fantastic product to put on the soles of your feet and on your upper arms before bed to enhance sleep quality.
Introducing Brain Calm Magnesium 
I recommend Brain Calm Magnesium. We developed Brain Calm Magnesium in order to provide the best form of magnesium to improve brain function and neuronal health.  This product helps you to focus, concentrate and perform at a significantly higher level.  In addition, it is fantastic for reducing anxiety while improving mood, memory, and sleep.
Brain Calm Magnesium features key Albion forms of Magnesium (malate, lysinate & glycinate chelate) as well as magnesium L-threonate the only form of magnesium proven in animal studies to cross the blood-brain barrier. Boosting the brain's magnesium level is vital to healthy cognition, which includes long- and short-term memory, learning, stress management, and sleep.
Because many forms of magnesium have low bioavailability, we carefully selected magnesium compounds backed by research and studies to formulate Brain Calm Magnesium. This product features a unique combination of highly absorbable, organic Albion minerals—di-magnesium malate and magnesium lysinate glycinate chelate—and Magtein.
Magtein is a groundbreaking organic magnesium compound that was developed by MIT (Massachusetts Institute of Technology) researchers to support "brain power."
Magtein is the result of 10 years of research at MIT. This novel form of magnesium is changing the way we support brain health. Unlike other brain products on the market that work via brain stimulation (often overstimulation), Magtein works via a completely different mechanism.
When brain magnesium levels are not optimal, synapse function deteriorates. By delivering magnesium into synapses, Magtein helps brain cells stay healthy without being overactivated; consequently, brain cells respond to signals with clarity and robustness.
Brain Calm Magnesium supports healthy brain magnesium levels, healthy synapse number, and function, supports memory and cognitive acceleration, supports stress management, helps sleep quality, supports healthy mood, and ensures optimal magnesium intake.
I use Brain Calm Magnesium on a daily basis myself during the daytime in order to improve my concentration and productivity. I also take some at night and have noticed much deeper and more restorative sleeping patterns. I use this product with clients that are struggling with neurodegenerative issues, mental clarity, sleep, and mood issues.
Final Thoughts 
By now you understand how important magnesium is for the human body. Even if you do not have any of the common symptoms of magnesium deficiency listed above, just about anyone can benefit from additional magnesium in the diet.
I use magnesium every day as I find that it helps keep my mind at ease and my energy levels balanced. It also has the cool effect of acting as an adaptogen by improving your body's ability to adapt to everyday stressors. It truly is a modern-day health tonic!
Sources For This Article Include:
1. Yamanaka, R., Tabata, S., Shindo, Y., Hotta, K., Suzuki, K., Soga, T., & Oka, K. (2016). Mitochondrial Mg2+ homeostasis decides cellular energy metabolism and vulnerability to stress. Scientific Reports, 6(1), 30027. PMID: 27458051
2. Slutsky, I., Abumaria, N., Wu, L. J., Huang, C., Zhang, L., Li, B., … Liu, G. (2010). Enhancement of Learning and Memory by Elevating Brain Magnesium. Neuron, 65(2), 165–177. PMID: 20152124
3. Chiu, H.-Y., Yeh, T.-H., Huang, Y.-C., & Chen, P.-Y. (2016). Effects of Intravenous and Oral Magnesium on Reducing Migraine: A Meta-analysis of Randomized Controlled Trials. Pain Physician, 19(1), E97-112. PMID: 26752497
4. Feeney, K. A., Hansen, L. L., Putker, M., Olivares-Yañez, C., Day, J., Eades, L. J., … van Ooijen, G. (2016). Daily magnesium fluxes regulate cellular timekeeping and energy balance. Nature, 532(7599), 375–379. PMID: 27074515
5. de Baaij, J. H. F., Hoenderop, J. G. J., & Bindels, R. J. M. (2015). Magnesium in Man: Implications for Health and Disease. Physiological Reviews, 95(1), 1–46. PMID: 25540137
6. Piccolo, J., & Kolesar, J. M. (2014). Prevention and treatment of chemotherapy-induced peripheral neuropathy. American Journal of Health-System Pharmacy, 71(1), 19–25. PMID: 24352178
7. Virág V, May Z, Kocsis I, Blázovics A, Szentmihályi K. Magnéziumpótlás hatása a kalcium- és magnéziumszintekre, valamint a redox-homeosztázisra normolipidaemiás és alimentárisan előidézett hyperlipidaemiás patkányokban [Effects of magnesium supplementation on calcium and magnesium levels, and redox homeostasis in normolipidemic and food-induced hyperlipidemic rats]. Orv Hetil. 2011 Jul 3;152(27):1075-81. Hungarian. doi: 10.1556/OH.2011.29152. PMID: 21676674
8. Boyle NB, Lawton C, Dye L. The Effects of Magnesium Supplementation on Subjective Anxiety and Stress-A Systematic Review. Nutrients. 2017 Apr 26;9(5):429. doi: 10.3390/nu9050429. PMID: 28445426
9. Li W, Yu J, Liu Y, Huang X, Abumaria N, Zhu Y, Huang X, Xiong W, Ren C, Liu XG, Chui D, Liu G. Elevation of brain magnesium prevents synaptic loss and reverses cognitive deficits in Alzheimer's disease mouse model. Mol Brain. 2014 Sep 13;7:65. doi: 10.1186/s13041-014-0065-y. PMID: 25213836
10. Abumaria N, Yin B, Zhang L, Li XY, Chen T, Descalzi G, Zhao L, Ahn M, Luo L, Ran C, Zhuo M, Liu G. Effects of elevation of brain magnesium on fear conditioning, fear extinction, and synaptic plasticity in the infralimbic prefrontal cortex and lateral amygdala. J Neurosci. 2011 Oct 19;31(42):14871-81. doi: 10.1523/JNEUROSCI.3782-11.2011. PMID: 22016520
11. Sadir S, Tabassum S, Emad S, Liaquat L, Batool Z, Madiha S, Shehzad S, Sajid I, Haider S. Neurobehavioral and biochemical effects of magnesium chloride (MgCl2), magnesium sulfate (MgSO4) and magnesium-L-threonate (MgT) supplementation in rats: A dose dependent comparative study. Pak J Pharm Sci. 2019 Jan;32(1(Supplementary)):277-283. PMID: 30829204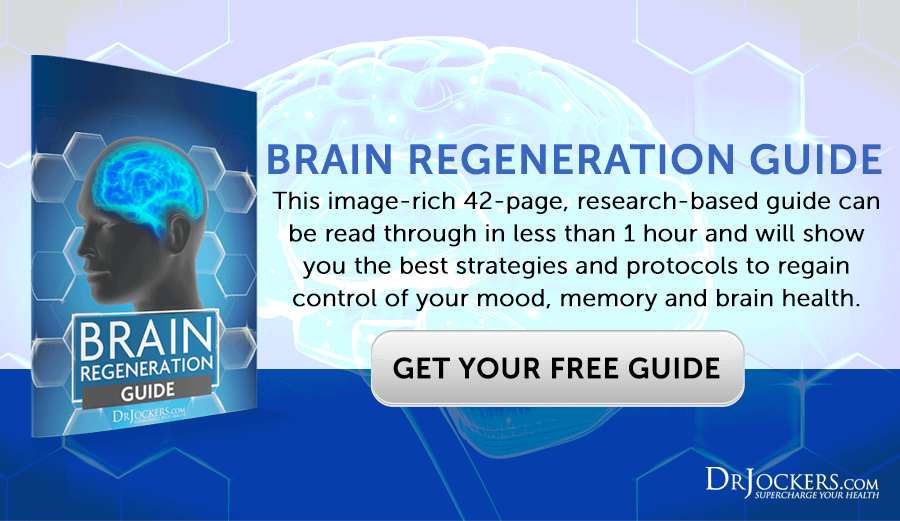 Was this article helpful?