The Leaky Gut Protocol:
Leaky gut or intestinal permeability syndrome is a condition in which the gut lining is damaged.  In this condition, large food particles, bacteria and environmental toxins are able to seep into the blood stream and cause problems in the body.  This article goes into detail on various supplement strategies to help the body heal and seal the gut through our leaky gut protocol.
As a clinician, I always suspect leaky gut whenever I have patients with chronic immune related issues.  There are many factors that contribute to the development of leaky gut syndrome and I discuss this all in detail in this article here
In this article, I detail as well as possible, the stages I take my clients through on the leaky gut protocol.  There is a tremendous amount of variability from person to person, but this is the foundational elements of the leaky gut protocol and I give advice on what to do if certain symptoms pop-up along the way.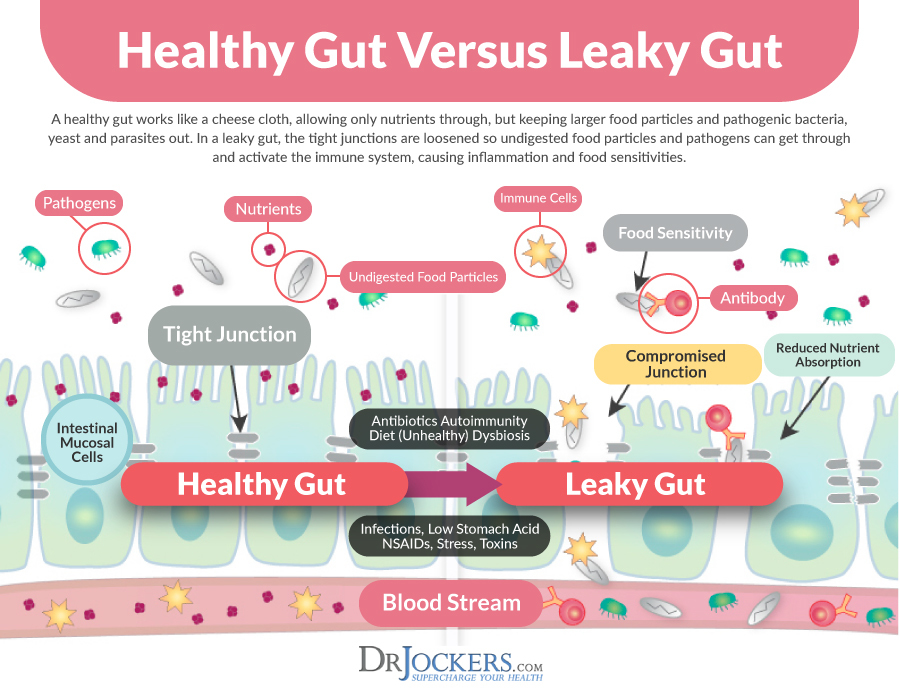 Gut Inflammation and Leaky Gut:
Systemic infection has killed more people in the history of mankind than anything else.  The immune system is hardwired to fight to the death to prevent infection from dominating and destroying the body.
When the gut lining is damaged, it allows for large food particles, bacteria and environmental debris to get into the blood stream.  This influx of foreign debris primes the immune system which mistakes these food particles for dangerous infectious microbes.
The primed up immune system goes out on a major assault on food particles, bacteria and toxins in the blood stream causing serious inflammatory activity that can cross into various tissues such as the joints, thyroid, brain, skin and the gut lining itself.  This can result in all different forms of chronic disease and autoimmunity.
Conditions Underlying Leaky Gut Syndrome:
There are many conditions underlying leaky gut syndrome that I describe in this article.  Some of the major factors that need to be addressed are the dysbiotic conditions of poor bacterial balance around the gut lining.  This could be due to any of the following:
1)  Small Intestinal Bacterial Overgrowth (SIBO):  A condition described here which involved an overgrowth of bacteria in the small intestine.  These bacteria break down food particles and create toxic debris, gas and inflammation.
2)  Candida Overgrowth:  Candida refers to a group of yeast species that are common to our intestines.  With the proper conditions, these yeast organisms can take control of the gut membrane and other mucous membranes of the body and wreak havoc.  You can learn more about Candida in this article here.
3)  Parasites:  There are many different parasites as described here that can make their way into the body and given the proper conditions they can take over control inside the gut.  Once they take over control they steal valuable nutrients and release toxic chemicals that irritate our immune system and cause system wide inflammation.

How To Begin the Process:
The leaky gut protocol begins with a 3-5 day fasting cleanse called the reset phase.   During this period the individual should consume organic broths.   Bone broth provides a megadose of critical nutrients like gelatin and key amino acids that support the rapidly growing cells in the gut and soothe inflammation and scarring of the gut lining.
You can also use anti-microbial herbs such as oregano oil and peppermint oil in the broth to help reduce the microbial load in the gut.  Herbal tea blends to help reduce microbial count (Pau D'Arco), improve digestive function (ginger and peppermint) and strengthen the gut lining (slippery elm) are all highly recommended.
Additionally the individual is recommended to drink water with raw apple cider vinegar (ACV) to help reduce microbial counts.  The ACV is a powerful sterilizer that bad bacteria, yeast and parasites do not like.  It helps to reduce their populations and improve the overall dynamics of the digestive system.
You can read more about the nutrition plan to heal leaky gut here
Reset Period:
During the reset period of the leaky gut protocol it is key for the individuals to consume organic acids and fluids so using apple cider vinegar and/or lemon in water is especially useful.  It is also recommended to use herbal teas and coconut oil throughout the day.  These will help strengthen the body through the fast and provide good clean fats and anti-oxidants.
Drinking pure aloe vera juice here can also be very healing on the digestive tract and can promote healthy bowel movements.  On the leaky gut protocol it is important to be moving your bowels to prevent against toxic fermentation in the gut.
1)  GI Clear:
This supplement is a blend of natural anti-microbials that have a powerful effect on reducing bad bacteria, yeast and parasitic counts.  This is made up of berberine, barberry, black walnut powder, sweet wormwood and other anti-microbial herbs.
Mild Cases:  1 cap – 2x daily on an empty stomach
Moderate Cases:  2 caps – 2x daily on an empty stomach
Severe Cases:  3 caps – 2-3x daily on an empty stomach
I like to use this product through the whole 30-day Digestive Health Restoration program of the leaky gut protocol.
2)  Proteo Enzymes:
Systemic enzymes are used to break down the protein layer of biofilm that is produced by bacteria to protect themselves. Biofilms are bacterial populations that adhere to each other and other surfaces within a self-produced extra-cellular matrix. The biofilm creates a pod-like intracellular bulge on the gut wall.
Biofilms offer bacterial and yeast species incredible survival advantages. These include the ability to horizontally transfer genetic material, shelter from environmental changes, protection from the host immune system, sharing of metabolic byproducts, tolerance and adaptability to antimicrobials.
Proteolytic enzymes disrupt these biofilms and make the bacteria more susceptible to the bodies immune system and the usage of anti-microbials and anti-biotics.
Normal Protocol: Take 3 caps in the morning on an empty stomach
Advanced Protocol: Take 6 caps in the morning on an empty stomach or as directed by your health care practitioner.
*This product should be taken at least 2 hours before or after consuming food for best results*
Improve Your Detoxification Systems:
When the body is overrun by bad microorganisms there is an overproduction of toxic metabolites that must be deactivated and eliminated by the body.  When this is a chronic condition, it overwhelms the liver which causes increased whole body toxicity and immune dysregulation.  This leads to higher inflammatory loads and possible auto-immunity or cancer development.
We use the thyroliver protect to help deactive metabolites.  This product contains clinically effective doses of milk thistle, N-Acetyl cysteine, selenium and alpha lipoic acid that support phase I-II liver detoxification and protect the gut lining and kidneys.
Normal Protocol:  Take 1 capsule – 2x daily, with meals (first and last meal)
Advanced Protocol:  Take 2 capsules – 2x daily, with meals (first and last meal) or as directed by your health care practitioner.
Sweep Out the Toxic Debris:
As the microbes die off they release tons of toxic debris that inflames the body if it isn't eliminated.  The activated charcoal has millions of tiny pores that capture and bind materials in an absorbent manner, much like a sponge. Due to the absorbent qualities they can grab over 100 times their own weight in toxins.
Taking the activated charcoal during the leaky gut protocol helps my clients feel so much more comfortable during the healing process.
Normal Protocol:  Take 2 Activated Charcoal in the mid-morning and 2 caps in the mid-afternoon (at least an hour away from food, supplements or medications)
Advanced Protocol: Take 4 capsules of Activated Charcoal in the mid-morning and 4 caps in the mid-afternoon (and an hour before/after other supplements or medications) or as directed by your health care practitioner.
Repairing the Gut Lining:
During the reset phase of the leaky gut protocol, while we are resetting the microbial load in our GI tract, we can begin the process of healing and repairing the gut lining.  The Gut Repair product has compounds within it that enhance the repair of the gut lining.
I have found that individuals with severe SIBO may struggle with the arabinogalactan fiber within the Gut repair.  Others thrive off of it during this 30-day program because the fiber helps to strengthen the gut microflora.  If you struggle with fiber and higher FODMAPS foods than I would avoid it and use a pure L-glutamine instead.
Gut Repair:  This is a blend of nutrients designed to heal and seal the gut membrane and replenish the mucosal membrane.
Moderate-Severe Cases – 3-4 spoonfulls daily     Mild-Mod Cases:  1-3 spoonfulls daily

L-Glutamine:
On the leaky gut protocol, I will often times have some of my clients take additional L-glutamine which has a powerful effect on improving the healing of the gut lining.  I have supplemented people with 30 grams a day with very good results.  I am often very cautious however, as some individuals do not metabolize L-glutamine well and can overproduce neuronal glutamine levels and cause brain cell excitotoxicity.
The major symptom these individuals experience is increased, fatigue, anxiety and irritability when they consume L-glutamine.  I typically have people start with 4-10 grams daily and then slowly go up 5 grams at a time while we monitor to see if any of these issues come about.
Strengthen Your  Gut Defense:  
Your intestinal system has its own immune system which is led by an immune compound called secretory Immunoglobin A (sIgA).  sIgA protects against the overgrowth of bacteria, yeast and parasites within the intestinal environment.  Its main job is to protect the gut lining from assault and reduce the risk of infection.
I find that many individuals who struggle with SIBO, Candida and parasites have reduced and altered levels of sIgA.  As long as levels of sIgA remain low, it allows for an overproliferation of bad microflora and increased risk of gut irritation.
For certain cases, I use a high quality IgG supplement that improves sIgA levels which is the immune component of the gut membrane.  This is very important for preventing future parasitic and/or yeast or bacterial infections.
This is a bovine colostrum product, which means that it is made from the special immunoglobins secreted during a cow's first milking.  Colostrum is one of the most immunosupportive substances on the planet.  Most people with milk sensitivities do great with colostrum but I never give it to anyone who has an extreme allergy (anaphalaxis) just to be on the safe side.
You can read all about this product here
Severe:  2 caps of 500 mg – 2x daily       Mild-Moderate – 1-2 caps of 500mg -1x daily
ReBuilding Phase:
As we move into the rebuilding phase of the leaky gut protocol, we want to support the digestive process and reduce stress on the digestive organs while maximizing nutrient absorption.  Most people with leaky gut syndrome have problems with hydrochloric (HCL) acid production and pancreatic enzyme production.
Low HCL and enzyme production leads to poorly digested food particles.  When these food particles are not digested well they create a breeding ground for pathogenic microorganisms who will metabolize them and create toxic chemicals, gas, etc.
Symptoms of Low Stomach Acid:
Low Stomach Acid:
One of the biggest things that I see associated with low HCL is low-energy shortly after eating a low-carb, higher protein meal.  Before you begin the leaky gut protocol, do this quick test to see if you need to use HCL with your meals.  Try eating 2 eggs or a piece of chicken and see how you feel over the next few hours.  If you are sluggish and have digestive issues, it is most likely associated with low HCL and digestive enzymes.
I also review an at-home baking soda stomach acid test in this article that will help you understand if you have low-HCL.  You can also take an HCL supplement with a protein based meal (6 oz or so of protein is best for the test) and see if you notice a burning feeling in your stomach (not in your upper chest – that is acid reflux and could be a sign of too low HCL).  If you do, it is a sign you either have an ulcer or have too much HCL and do not need to supplement.
You can continue doing this until you notice the burning sensation.  Then drop it by one cap and take that with each protein meal until you notice the burning again.  So if 5 caps made you burn, try using 4 caps with each meal.   I see many clients with severe digestive issues need 6-8 capsules of HCL until they notice the burning.
Using ginger, peppermint and apple cider vinegar in water throughout the day will help enhance HCL production and overtime as you are taking care of your digestive system you will be able to reduce the amount of HCL caps you need to properly digest your food.
Acid Prozyme:
Acid Pro-Zyme is formulated with a variety of compounds and is designed to support gastric acidity, digestion and normal gastrointestinal flora. Acid Pro-Zyme should be taken with, or immediately following a meal. Do not use if there is a prior history of, or a current complaint of, a peptic or duodenal ulcer.
Mild:  1-2 caps with each protein meal
Moderate:  2-4 caps with each protein meal
Severe:  4-6+ caps with each protein meal
Super D-Zyme:
Enzymes are extremely key for breaking down carbohydrates, protein and fatty acids and prepare them for proper digestion and assimilation in the body. Individuals with digestive challenges are often unable to produce sufficient quantities of digestive enzymes and are unable to effectively digest the food they are eating.
This is a great product to use daily as well as on the leaky gut protocol for a number of reasons:
Includes a Wide Variety of Enzymes: Many different enzyme subtypes to give a wide array of effects and address all digestive enzymatic effects. This includes carbohydrate metabolizing enzymes, proteolytic enzymes and fat- metabolizing enzymes.
Functions in a Wide pH Range: There are significant pH ranges in the stomach and small intestine. These enzymes are formulated to survive and thrive in a number of different ranges.
BioAvailable Enzymes are Key to Reducing Intestinal Stress: Intestinal stress is a major contributor to the formation of leaky gut syndrome. Bioavailable enzymes reduce the stress on the gut and improve nutrient absorption.
Mild:  1-2 caps with each meal
Moderate:  2-4 caps with each meal
Severe:  4-6 caps with each meal
Soil-Based Probiotics:
The last step of the rebuilding phase is bringing in some low-impact, hypoallergenic spore-forming probiotics.  Many individuals with leaky gut have trouble with lactobacillus strains of probiotics.  For these challenging cases, I only use spore forming soil-based organisms and have found them to be extraordinarily well-tolerated and life-changing for these individuals.
The Prescript – Assist contains a proprietary formula of humic and fulvic acids that help support the growth and development of the good microbes within the intestinal tract. Both humic and fulvic acids are major organic constituents of soil, coal, streams, lakes and ocean water.
Humic substances are considered the most chemically active compounds in soil. Fulvic acid contains over 60 minerals and trace elements and is essential for cellular health. Humans always consumed these humic substances by consuming dirt on fruits and vegetables. Today, we wash and over sterilize all our produce and very rarely get any of these highly beneficial soil compounds.
These humic substances act as powerful electrolytes and anti-oxidants. They are also natural chelators that bind and pull out toxic substances such as pesticides, herbicides, bad microbes and heavy metals. There colloidal nature allows them to help the cells to more efficiently respirate, hydrate, absorb nutrients such as amino acids and eliminate wastes more effectively.
This combination of benefits allows for a healthier internal environment which enhances the probiotics ability to flourish. These substances provide a multitude of benefits but are currently classified as pre-biotics because of their beneficial effects on the gut flora.
Mild:  Take 1 capsule daily away from meals
Moderate:  Take 1-2 capsules 1-2x daily away from meals
Severe:  Take 2+ capsules, 2x daily, away from meals
Additional Supplementation:
Adapt Strong:
I often see people with severe digestive issues that struggle with adrenal fatigue.  During adrenal fatigue, the body cannot produce enough cortisol to keep them energized and active throughout the day.  They often crash at points during the day and need to nap.
They often do not even respond to stimulants like caffeine because they have gotten to the point of adrenal exhaustion and are incapable of producing enough stress hormone to keep their energy up.  This can also lead to lack of emotional control and depression.
Cortisol helps to reduce inflammation in the body.  That is why cortico-steroids are prescribed to those with major inflammatory issues.  When cortisol is stable, it keeps us energized and reduces inflammation.  When cortisol is unstable and too low at periods of time during the day (or all day), we end up with increased inflammation.  This inflammation impairs the digestive system's ability to heal and rebuild.
As long as cortisol rhythm is out of balance, the gut will not fully heal and seal.  If you are dealing with adrenal fatigue, you want to support your cortisol production while healing your gut.  I use Adapt-Strong is my go to supplement to support the bodies ability to adapt effectively to stress, manage cortisol levels and support stable energy levels.
Mild Adrenal Fatigue:  1 cap – 2x daily (morning and afternoon)
Moderate Adrenal Fatigue:  2 caps – 2x daily (morning and afternoon)
Severe Adrenal Fatigue:  3 caps  2-3x daily (morning, afternoon, evening)

Putting This All Together:
I know this was a lot of info and you are probably wondering where to start on the leaky gut protocol  If you can only afford one supplement, I would probably take the probiotics but it is different based on the unique factors involved in each case.  Everyone is different and there is no leaky gut protocol that works the same for everyone.
This is what I find works well for most (80%) of the cases I have worked with and many of my colleagues have seen.
Reset Phase:
1)  GI Regulator – Take for 1-6 months depending upon degree of microbial overgrowth.  This supplement kills off bad microbes but also helps to balance blood sugar levels which is another key process in healing leaky gut.  If one has a parasitic overgrowth, they may need a specific anti-parasitic supplement as well.
2)  Proteo Enzymes:  Take 3-6 caps 1-2x daily for 30 days to reduce inflammation in the body and break down bacterial biofilms.
3)  L-Glutamine or Gut Repair:  Beginning with 3-6 grams daily and working up to 20+ grams daily.  This is a powerful support nutrient for rebuilding the gut lining.
4)  Adapt-Strong:  Help to balance stress hormone and improve cortisol regulation.
5)   Thyroliver Protect:  Helps to deactivate toxins and strengthen the liver.
6)   Activated Charcoal:  To help bind and sweep toxins from the colon.
ReBuilding Phase:
Continue to take the supplements from the reset phase of the leaky gut protocol.  Add these 3 to improve digestion and help to rebuild the gut lining.
1)  SBO Probiotic:    Hypoallergic, soil based organism to begin the formation of healthy microbes to strengthen the gut lining and reduce the level of bad microbes.
2)  Acid Prozyme:  Taking this in the middle or right at the end of each protein containing meal is very important to ensure adequate digestion.
3)  Super D-Zyme:  Take this a few mins before you begin your meal to ensure proper digestion.  Additionally, make sure you fully chew your food until it is fully liquid in your mouth which will help to take stress off of the digestive tract and reduce the need for enzymes.
ReInnoculation Phase:
Continue with the supplements on the leaky gut protocol above.  Depending upon lab tests or recommendations from your functional nutrition practitioner you may decide to add in colostrum or Gut Defense.  I like to start small and work to a larger dosage with this.
You may also want to add in core supplements such as fish oil, vitamin D3/K2 and anti-oxidant support.  Additionally, if you have had a histamine intolerance, you will want to add in Allergy Defense.
After 30 Day Protocol:
At this point in the leaky gut protoco, depending upon how you are responding, some of these supplements can be reduced.  I often will take people off of the GI Regulator, Proteo Enzymes and the Thyroliver protect at this point.  If the individual tells me their energy is great all day, we reduce or remove the Adapt-Strong.
I typically recommend the individual stay on L-glutamine or gut repair for another month and acid prozyme, probiotics and the digestive enzymes for 3-6 months.
It is possible for one to come off of all of these if they were healthy enough to begin with and have a really good diet that is rich in bone broth, collagen protein and L-glutamine, fermented foods and drinks that are rich in probiotics and enzymes and use digestive bitters such as apple cider vinegar, ginger and peppermint to continually strengthen HCL production.
Was this article helpful?