Best Fermented Foods To Heal Your Gut
Our ancient ancestors' utilized probiotic enriched fermented foods on a regular basis.  This was necessary as a means of food preservation without the advent of refrigeration.  Many ancient medicine men and physicians began utilizing them to treat certain ailments.  Probiotic enriched foods are one of the most important attributes of a healthy diet and lifestyle.  In this article, you will discover the best fermented foods to heal your gut.
In the early 20th century, Nobel Prize winning scientist Ilya Ilyich Mechinikov attributed the remarkable health of a group of Bulgarian people to their daily consumption of probiotic enriched foods.  He named the unique bacterial species that made up much of their fermented products Lactobacillus bulgaricus. He theorized that probiotic bacteria could have a much greater impact on human health than the much feared pathogenic strains of bacteria (1, 2).
Every Culture Has Fermented Foods:
Every culture around the world had their own unique fermented foods.  The Europeans used cabbage, beets and cucumbers to make foods like sauerkraut, kvass and pickles.  The Koreans made a spiced fermented cabbage they called kimchi.
The Asians fermented soy to form products such as tempeh, miso and natto.  They also created a fermented drink called kombucha.  Many different cultures also made their own fermented sourdough style breads.
Fermented Foods Help You:
1.  Improve the Health of Your Digestive System
2.  Strengthen Your Immune System
3.  Detoxify Your Body from Dangerous Chemicals
4.  Maximize Nutrient Absorption
5.  Reduce Inflammation Throughout Your Body
Traditional Fermented Foods
Sauerkraut is made by fermenting cabbage often times in vinegar.  Raw cabbage naturally has probiotics and enzymes that are exponentially multiplied during the fermentation period.  Fresh (not canned) sauerkraut is a fantastic source of living enzymes and active lactobacillus and pediococcus strains of probiotics.
Kimchii is most commonly made with Chinese cabbages.  There are many other variations of kimchii using cucumbers, eggplants, leeks, radishes, & other seasonal veggies.  Often times these are prepared with a combination of fermented veggies that give it unique antioxidants, live enzymes and the special organism lactobacillus kimchii among others (3).
Fermented soy comes in three major forms: miso, tempeh & natto.  Miso and tempeh often incorporate brown rice and barley fermentation with two unique probiotic yeast species.  These yeasts enhance the bioavailability of the amino acids and produce high amounts of B vitamins.   The bacillus subtilis bacterium is used to produce natto which is rich in proteolytic enzymes and vitamin K2 (4).
Raw, Fermented Dairy:
Almost every region had their own fermented raw dairy products.  The Bulgarians at yogurt, the Indians ate Lassi, the Africans had Amasi, and the Eastern Russia/Slovakia areas had kefir to name a few.  Each of these dairy products were fermented with lactic acid based bacteria such as Lactobacillus, Lactococcus and Leuconostoc among others.
These raw, fermented dairy products share many of the same bacterial strains.  In particular, the lactic acid based lactobacillus family of bulgaricus, kefir, parakefir, brevis, casei, etc.  It also provides a variety of healthy yeast saccharomyces species.  These include saccharomyces unisporus, turicensis, cerevisiae, & exiguous (5, 6, 7).
Finally, these dairy products contain one of the most potent probiotic strains, bacillus coagulans.  This combination of probiotic organisms' work in synergy to repair and protect the gut and destroy even the harshest of opportunistic organisms such as the Candida yeast species.
Best Fermented Foods to Consume:
This list is no particular order, these are all beneficial to the microbiome when they are properly prepared and consumed in their optimal state.  If any of these smell rotten or have visible mold, than discard the areas that stink or have the mold.
Begin by consuming 1-2 tablespoons daily and you can gradually increase, adding 1 tablespoon more each week.  Overtime you may be able to consume 1 cup of fermented foods at a time, but don't begin your plan like this or you may experience serious diarrhea!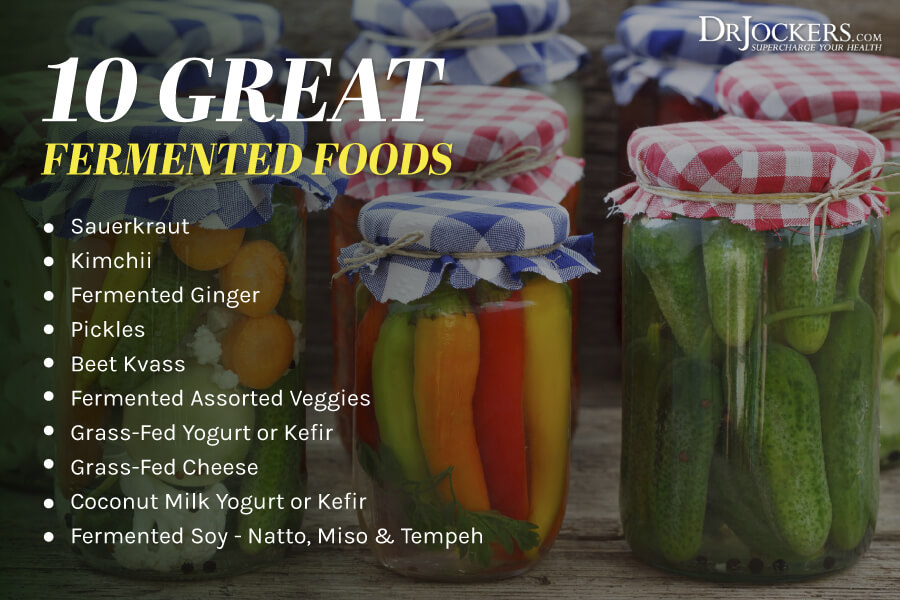 Best Fermented Drinks/Tonics:
Begin by consuming 1 tablespoon at a time, adding a tablespoon every 2-3 days.  If you have digestive problems or rash/hives, etc. than cut back down until these problems go away.  Overtime you should be able to consume larger amounts of these at a time.  Perhaps even entire bottles of fermented drinks at a time.
Be sure to start slowly and methodically increase your dosage as your body tolerates.  If you take too much too quickly you will often have diarrhea, gas and bloating.  Here is the list:
Fermented Foods & Histamine Intolerance:
As a clinician, I have learned that when individuals react very poorly to fermented foods it is a sign of histamine intolerance. Most people respond very well to small amounts and gradually increasing levels of fermented foods. Individuals with histamine intolerances often break out with hives, eczema, rashes, puffy eyes, headaches, etc.
People with histamine intolerance react in a multitude of different ways as shown in this study (9). Some people cannot handle any high histamine foods while others can handle certain types but not others.
As an example, an individual may tolerate avocados, berries and lemons quite well but have significant reactions with any sort of fermented foods or wine. You will have to find the unique ways that you react and understand what triggers reactions and what doesn't.
Overtime, as histamine content is reduced and the individual improves their gut health, reduces inflammation, improves liver function and stabilizes their adrenals they will be able to handle more of the histamines.  For some, this will mean they will be able to incorporate small amounts of all the higher histamine foods. For others they will only be able to handle certain foods while others will continue to trigger reactions.
Inflammation Crushing Ebundle
The Inflammation Crushing Ebundle is designed to help you improve your brain, liver, immune system and discover the healing strategies, foods and recipes to burn fat, reduce inflammation and thrive in life!
As a doctor of natural medicine, I have spent the past 20 years studying the best healing strategies and worked with hundreds of coaching clients, helping them overcome chronic health conditions and optimize their overall health.
In our Inflammation Crushing Ebundle, I have put together my very best strategies to reduce inflammation and optimize your healing potential.  Take a look at what you will get inside these valuable guides below!

Sources For This Article Include:
1. Role of Probiotics in health improvement, infection control and disease treatment and management. Link Here
2. Singh VP, Sharma J, Babu S, Rizwanulla, Singla A. Role of probiotics in health and disease: a review. J Pak Med Assoc. 2013 Feb;63(2):253-7. PMID: 23894906
3. Yoon JH, Kang SS, Mheen TI, Ahn JS, Lee HJ, Kim TK, Park CS, Kho YH, Kang KH, Park YH. Lactobacillus kimchii sp. nov., a new species from kimchi. Int J Syst Evol Microbiol. 2000 Sep;50 Pt 5:1789-95. PMID: 11034488
4. Kubo Y, Rooney AP, Tsukakoshi Y, Nakagawa R, Hasegawa H, Kimura K. Phylogenetic Analysis of Bacillus subtilis Strains Applicable to Natto (Fermented Soybean) Production . Applied and Environmental Microbiology. 2011;77(18):6463-6469.
5. Heller KJ. Probiotic bacteria in fermented foods: product characteristics and starter organisms. Am J Clin Nutr. 2001 Feb;73(2 Suppl):374S-379S. PMID: 11157344
6. Parvez S, Malik KA, Ah Kang S, Kim HY. Probiotics and their fermented food products are beneficial for health. J Appl Microbiol. 2006 Jun;100(6):1171-85. PMID: 16696665
7. Fernández M, Hudson JA, Korpela R, de Los Reyes-Gavilán CG. Impact on Human Health of Microorganisms Present in Fermented Dairy Products: An Overview. Biomed Res Int. 2015;2015:412714. PMID: 25839033
8. Tailford KA, Berry CL, Thomas AC, Campbell JH. A casein variant in cow's milk is atherogenic. Atherosclerosis. 2003 Sep;170(1):13-9. PMID: 12957678
9. Komericki P, Klein G, Reider N, Hawranek T, Strimitzer T, Lang R, Kranzelbinder B, Aberer W. Histamine intolerance: lack of reproducibility of single symptoms by oral provocation with histamine: a randomised, double-blind, placebo-controlled cross-over study.Wien Klin Wochenschr. 2011 Jan;123(1-2):15-20. PMID: 21165702

Was this article helpful?