7 Herbs That Enhance Autophagy and Cellular Healing
The desire to reduce pain, increase energy, lose fat, and improve mental clarity are some of the main reasons people visit us at DrJockers.com. Chances are, your health goals include some or all of these desires as well. In order to achieve these goals, you need to enhance autophagy and cellular healing in your body.
Autophagy is your body's natural method of detoxification. It happens when your body recycles and gets rid of old and unhealthy cells allowing the creation of new and healthy cells to replace them. While fasting, fasted exercise, and eating a ketogenic diet are three of the most powerful ways to enhance autophagy, we can't forget about the importance of anti-inflammatory herbs and compounds to enhance autophagy and improve your health.
In this article, you will learn what autophagy is, its benefits, and the power of fasting when it comes to enhanced autophagy. I will share with you my favorite anti-inflammatory herbs and compounds that enhance autophagy and cellular healing.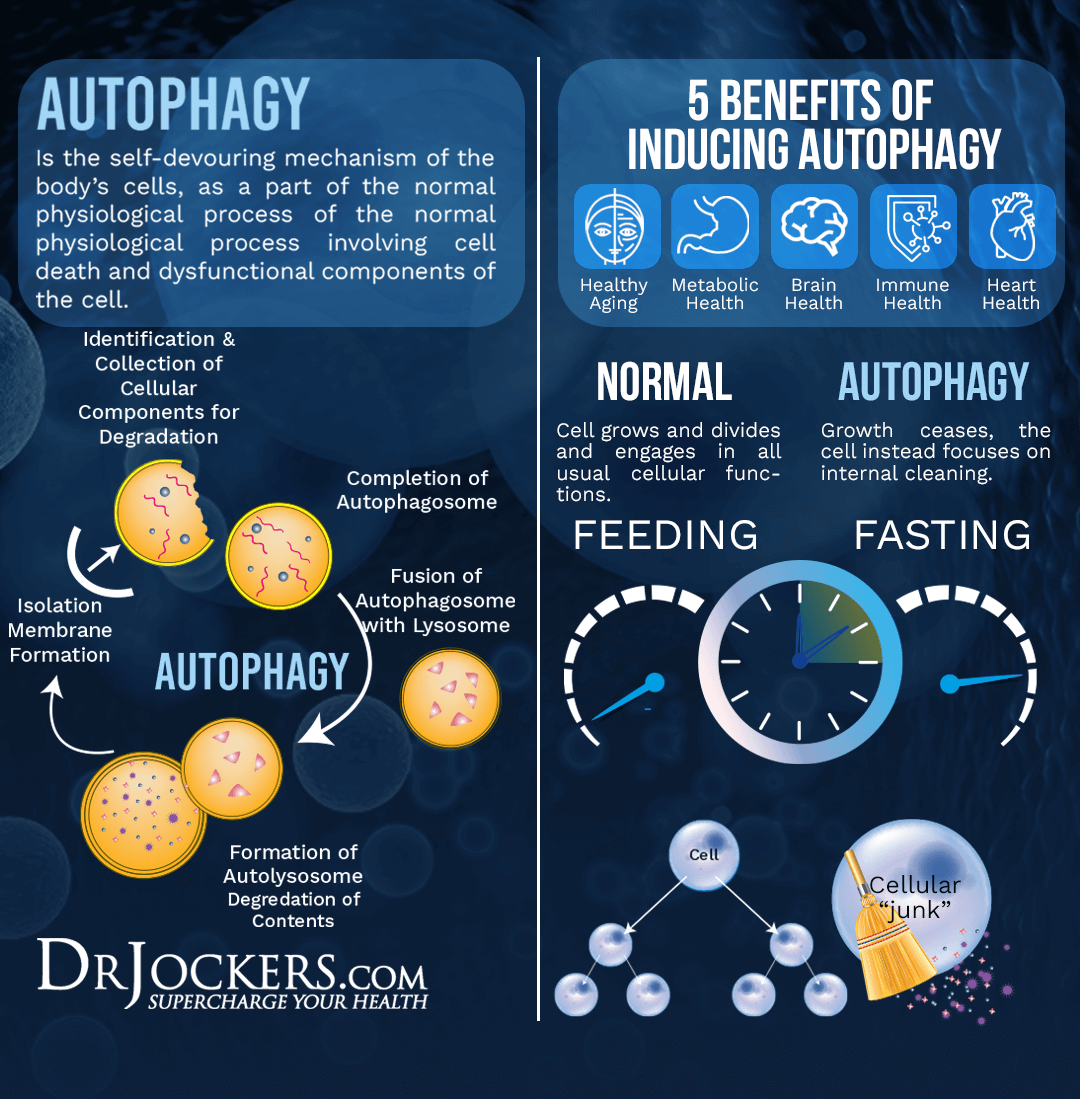 What Is Autophagy
Autophagy is an essential part of your immune system. It is a process that happens when your body recycles and expels old or excess cells that don't benefit or potentially harm your health. It is also referred to as a process of self-eating. Autophagy happens as a result of cellular stressors, such as nutrient deprivation from fasting, exercise, or significant temperature change.
Within each of your cells, there are a number of essential components called organelles. They serve as organs in your body but within your cells. When your cells are exposed to the stressors I mentioned earlier, it creates a phagophore, a transient double membrane structure. This phagophore has a great level of flexibility. As it expands, it's able to surrounder and sequesters cellular components, including lipids, proteins, and entire organelles (1).
Once the phagophore surrounds and encloses these components, it takes them to the lysosomes, which are unique organelles that contain degrading enzymes. Lysosomes are able to degrade the components that they are released upon.
How Do We Enhance Autophagy Processes In The Body?
So how does cellular stress drives autophagy? Your body is constantly striving for homeostasis or physiological balance for survival. Stress, on the other hand, refers to an environment that demands change.
When your body is exposed to cellular stressors, such as nutrient deprivation from fasting, or high-intensity exercise, it needs fuel to produce the necessary energy for survival. To accomplish this, your body signals the break down of older and less efficient cells and cellular organelles, allowing room for the creation of new, healthier, and more efficient cells to produce more energy (2). 
As a result, autophagy helps your body to function better. With the help of new mitochondria and healthy cells, your body becomes stronger. It also becomes more resilient to chronic stress, inflammation, chronic pain, and disease (3).  'To learn more about autophagy, I recommend this article.
Benefits of Autophagy
Autophagy has several health benefits. Let's look at them one by one.
Getting Rid of Senescent Cells
Senescent cells are older cells that don't function at a high level anymore. While it is normal for your cells to age, it is also important to replace these senescent cells with new ones. Autophagy helps to remove old cells with new and healthy cells (4).
Improving Mitochondrial Health
The mitochondria are the powerhouse of your cell that is essential for energy production and overall health. Unless regular bouts of autophagy are stimulated, you end up with dysfunctional and metabolically inflexible mitochondria. Autophagy may help to degrade dysfunctional mitochondria and replace it with new ones (5).
Eliminating Viral Infected Cells
As opposed to bacteria, yeast, and parasites, viruses are intracellular pathogens that impact your cellular genetic. A strong immune system can put viruses into a dormant state, however, it doesn't actually get rid of them. Autophagy is your body's natural way of removing infected cells and replacing them with healthy ones (6).
Reduces Cellular Apoptosis
Older cells undergo programmed cell death called apoptosis. However, this process is very stressful on your body and may lead to inflammation. Autophagy, on the other hand, is a much more energy-efficient process that helps to get rid of old cells and create new ones (7).
Autophagy Creates a Stronger and More Stress Resilient Body and Mind
Autophagy helps your cells to become stronger and healthier, and your body to become more resilient to stress. It may help to reduce inflammation, including gut inflammation and the risk of leaky gut syndrome, and may help your brain health, mood, memory, and mental processing (8, 9).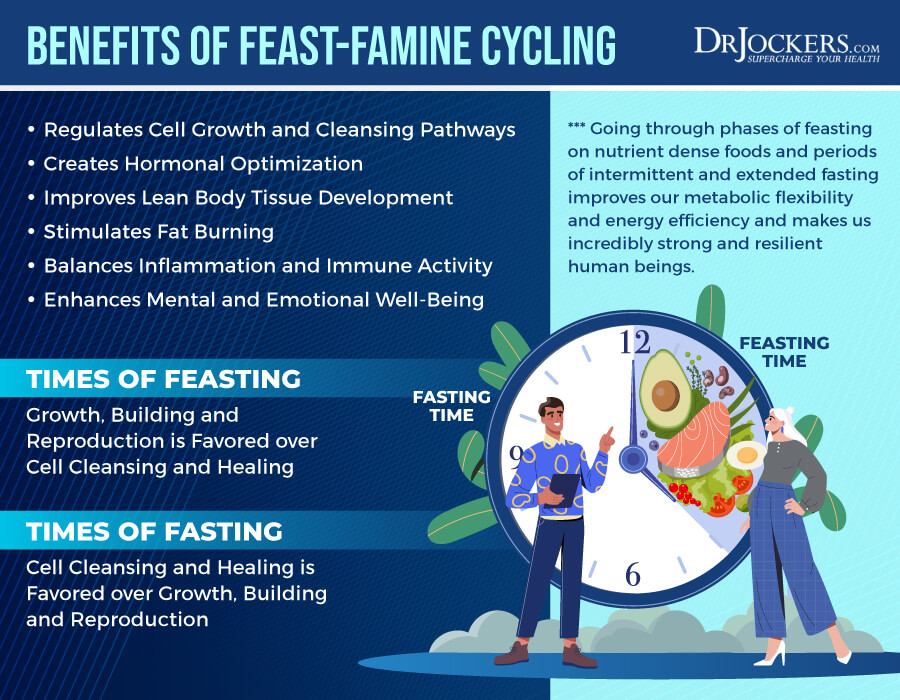 Fasting To Enhance Autophagy
Fasting is a healing practice that has been used for thousands of years for both health and spiritual reasons. Fasting simply refers to a practice of not consuming food for a certain period of time but consuming nothing or only non-caloric beverages, such as water and herbal tea.
There are a variety of fasting methods out there. While extended fasting that lasts for several days or even longer may be beneficial in some cases, it's not always practical. Intermittent fasting is more practical because you may practice it daily. Intermittent fasting is a fasting method that involves fasting for part of the day and eating only during a certain period of time. 
There are a variety of intermittent fasting strategies you may try. To find what may be the best strategy for you, I recommend that you read this article. If you are a woman, read this article about Crescendo Fasting, an intermittent fasting strategy that may be the best for certain women.
Fasting, including intermittent fasting, has many benefits to offer, including reducing inflammation, improving hormone sensitivity, increasing growth hormone, repairing your gut, and enhancing fat burning. One of the key benefits of fasting, however, is stimulating your body's inherent autophagy process (10, 11, 12, 13, 14, 15, 16, 17, 18, 19).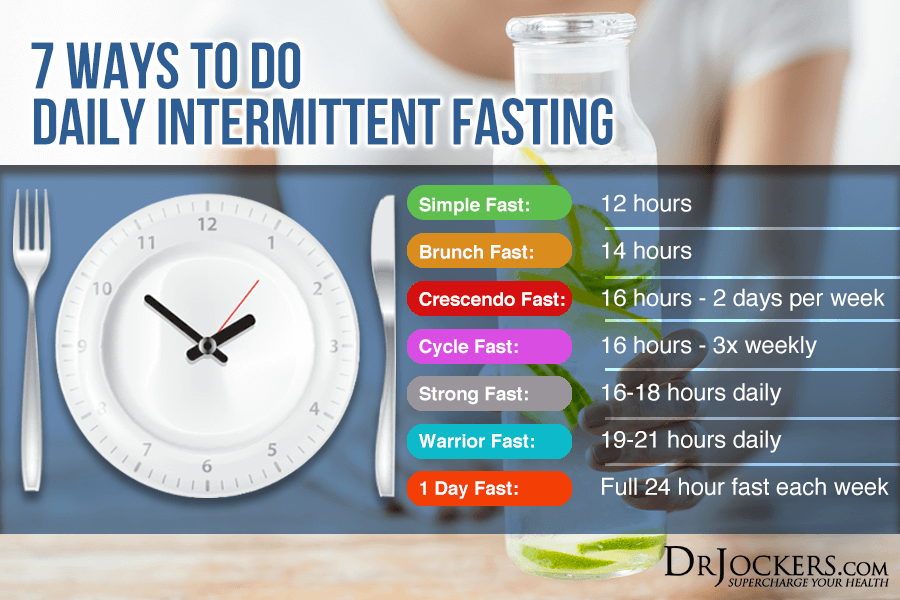 Fasting and Ketones
When you are fasting, your body has to turn to alternative fuel sources. Once it burns up all the stored sugar (glycogen) in your body, it starts to burn fat instead. This process produces ketones. Ketones are three water-soluble molecules produced by your liver from fatty acids during fasting, prolonged intense exercise, food restriction, carbohydrate-restricted diet, untreated type 1 diabetes, and alcoholism.
Ketones convert into acetyl-CoA and enter the Krebs cycle to help your mitochondria's energy production. As a result, they enhance autophagy, metabolic flexibility, and fat burning (20).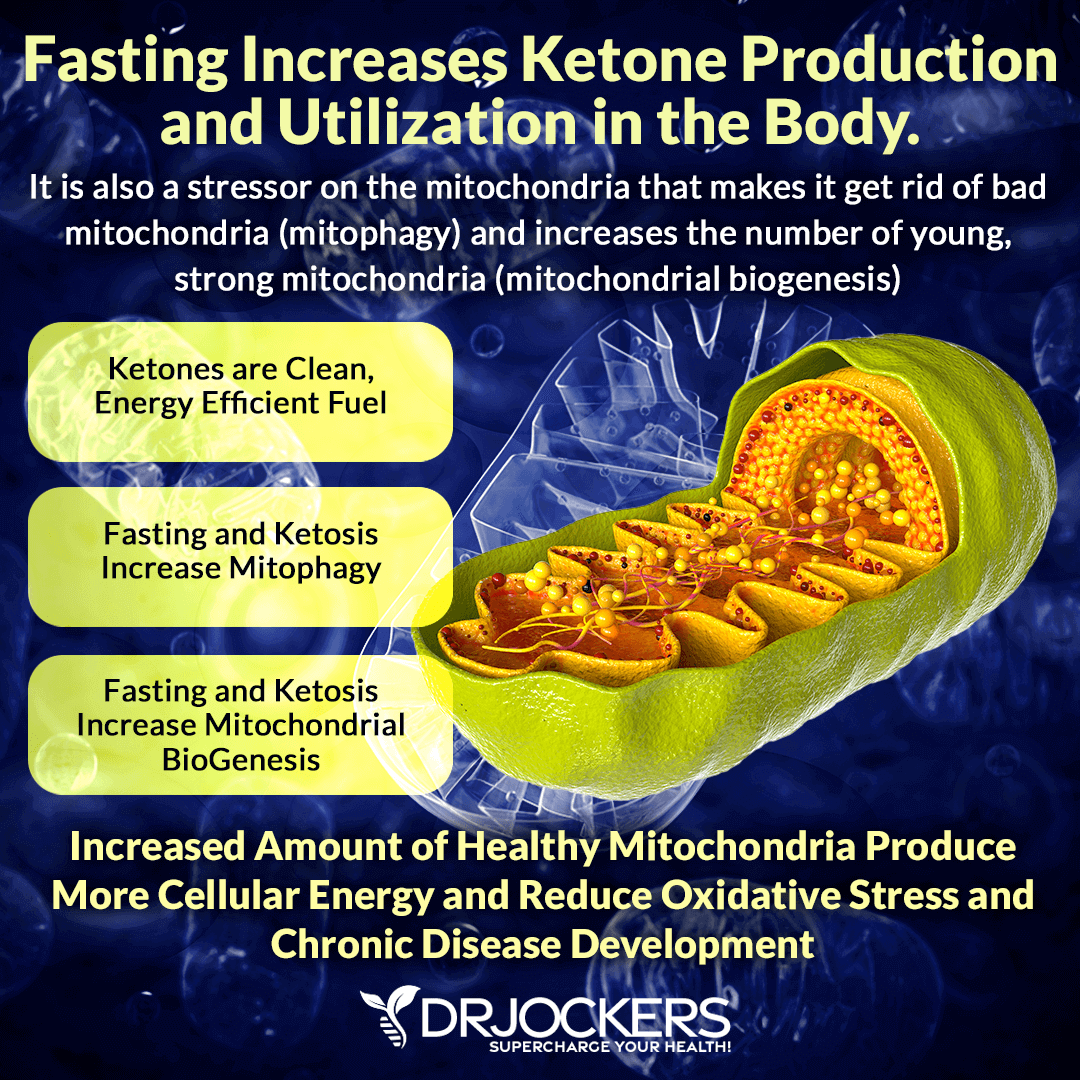 Top 7 Herbs That Enhance Autophagy and Cellular Healing 
One way to enhance autophagy and cellular healing is by using specific herbs. Many herbs contain polyphenols that help to suppress the mTOR pathway and activate the AMPk pathway to introduce autophagy.
Used in conjunction with fasting and other strategies, anti-inflammatory herbs are a fantastic way to optimize and enhance autophagy mechanisms in your body (21, 22, 23).  Let's look at the top 7 herbs that enhance autophagy and cellular healing.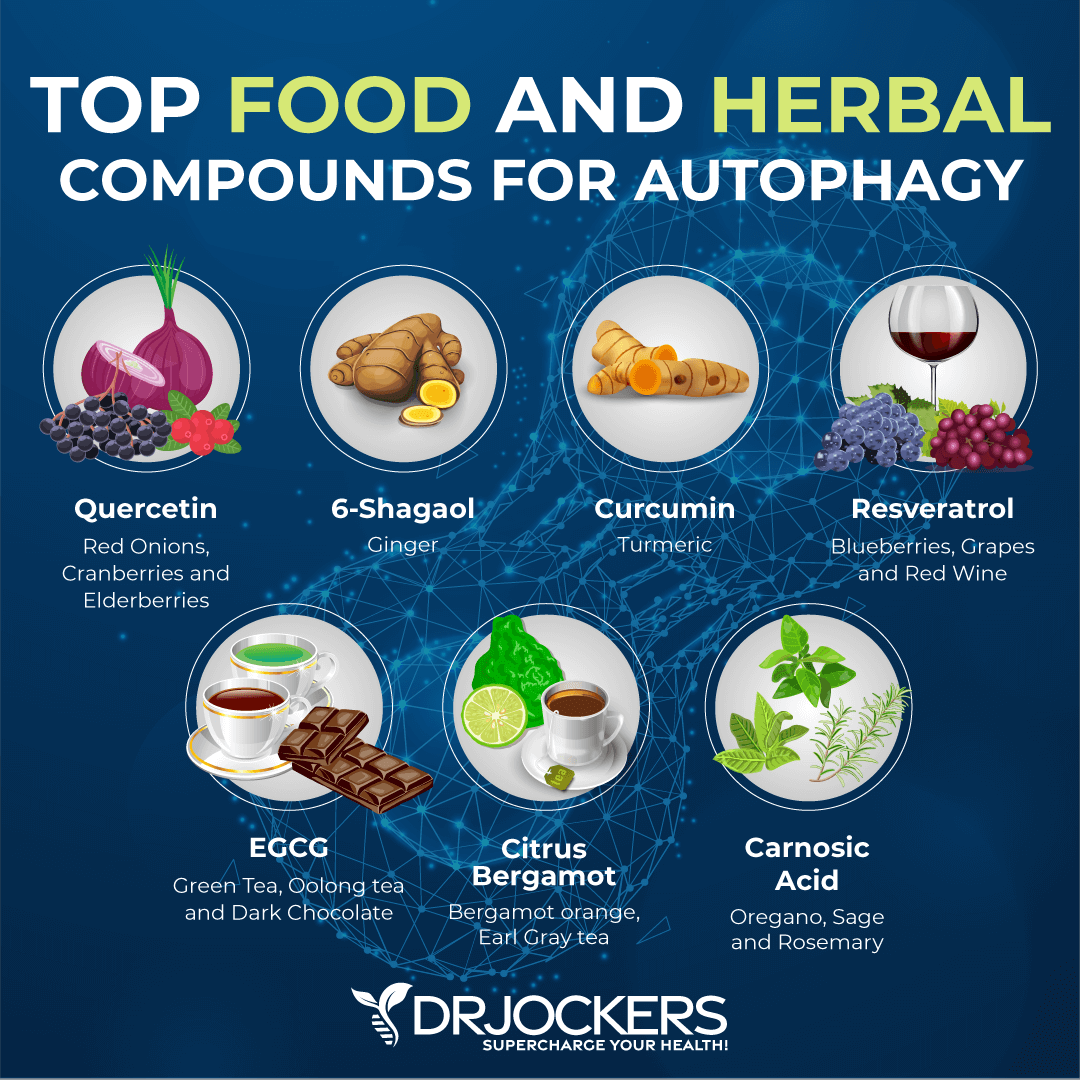 Matcha Green Tea
Matcha green tea is an increasingly popular tea. Though it comes from the same plant, Camellia sinensis, as green tea, it is grown differently. Farmers cover the tea plant for 20 to 30 days before harvesting. This technique increases chlorophyll production and amino acid content. After harvesting, they remove the stems and veins to create a fine powder from the ground up leaves resulting in a tea that's higher in antioxidants than green tea.
Matcha green tea is rich in the polyphenol EGCG and has a number of health benefits. One of its benefits is enhancing autophagy by mimicking the effects of calorie restriction. Some even refer to matcha as the autophagy-tea. Other benefits include boosting brain function, supporting your liver, protecting your heart, and helping weight loss (24). 
Use Ginger To Enhance Autophagy
Ginger is one of the most potent anti-inflammatory herbs out there. It belongs to the rhizome family, which means that its stem grows horizontally grows underground forming roots downwards and stems and leaves above ground. It has been used for over 5,000 years in China and India as a natural remedy. Since the Roman Empire, it has also been popular in Europe and in the past several hundred years around the world, including the United States. It can be used in dishes, teas, and juices, and as a supplement.
Ginger has over one hundred chemical compounds. Gingerol is its most powerful active compound with a variety of powerful health benefits. Ginger may enhance autophagy, decrease inflammation, and lower pain levels. It has been shown to reduce inflammation and pain related to exercise, osteoarthritis, intestinal issues, metabolic syndrome, and obesity (25, 26, 27, 28 29).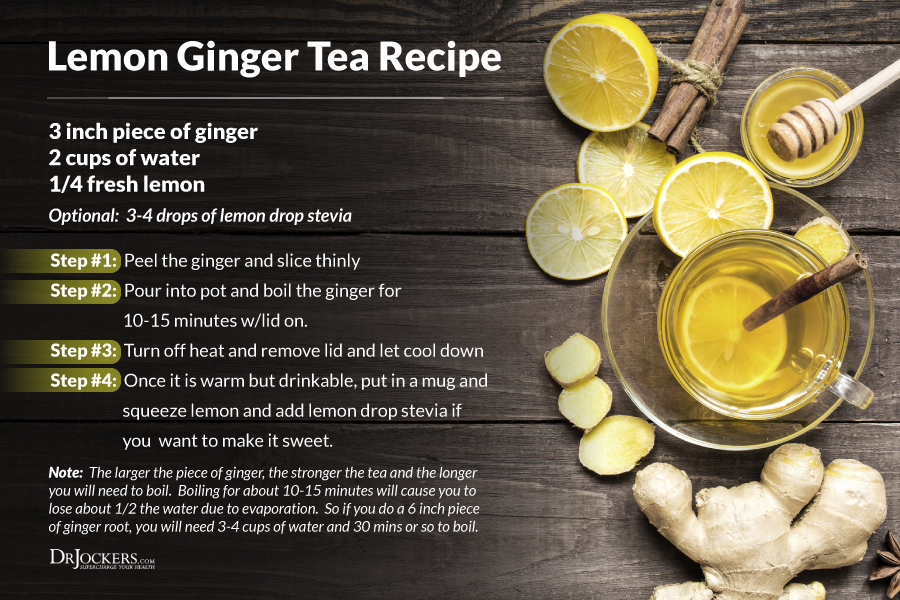 Turmeric
Just like ginger, turmeric is an anti-inflammatory herb that belongs to the rhizome family. It is a warming spice that provides flavor and color to various foods, condiments, and teas. It has been used for thousands of years in traditional Ayurvedic, Indian, and Chinese medicine, and more recently as an anti-inflammatory supplement around the world (30).
Turmeric is one of the most researched spices. The US National Center for Biotechnology alone has over 6,000 studies on its benefits. It is a powerful anti-inflammatory and antioxidant herb with a potent active compound, curcumin. Turmeric may enhance autophagy, decrease inflammation, and lower pain levels. Research has shown that turmeric may benefit inflammation related to ulcerative colitis, diabetes, osteoarthritis, and lupus (31, 32, 33, 34, 35, 36).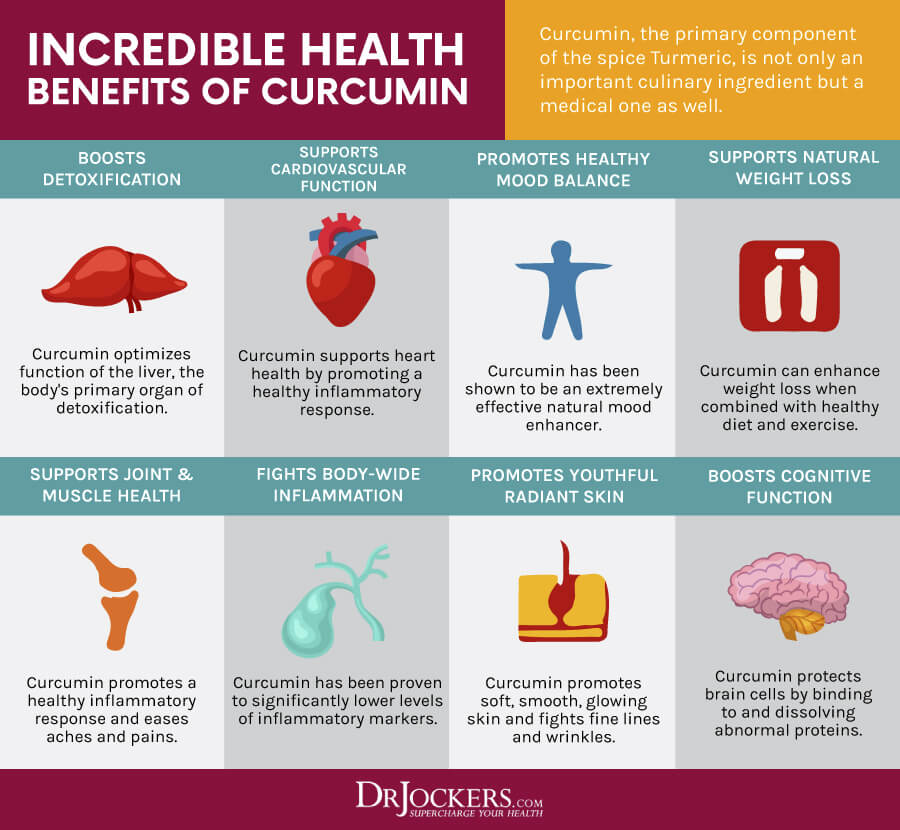 Use Resveratrol To Enhance Autophagy
Resveratrol is a powerful plant compound that can be found in red wine, grapes, berries, and peanuts. It is mainly concentrated in the skins and seeds of grapes and berries, which explains that the fermented grapes in red wine are particularly high in resveratrol.
Resveratrol acts as an antioxidant with countless health benefits for your health. Research has shown that by directly inhibiting mTOR through ATP competition, resveratrol may enhance autophagy. It may also be beneficial for brain health, insulin sensitivity, blood pressure, and joint pain (37, 38).

Citrus Bergamont
Citrus bergamot is a unique orange-sized fruit. It's yellow-green and bitter. It has been used as an aromatic essential oil for a long time, and it's an ingredient of Earl Grey tea, traditional colognes, and other things.
Citrus bergamot is rich in antioxidant flavonoids that offer fantastic benefits for your health, heart health, and cholesterol. It may enhance autophagy, especially skin autophagy that I've written about in this article. As aromatherapy, it may benefit pain, anxiety, nausea, and vomiting (39, 40).
Oregano, Sage, and Rosemary
Oregano, sage, and rosemary are three fragrant, delicious, anti-inflammatory herbs native to the Mediterranean. They are popular all over the world. They belong to the same herb-family as thyme, basil, and lavender. 
Oregano, sage, and rosemary are not only popular in the kitchen but also possess potent anti-inflammatory and antioxidant compounds that may enhance autophagy. No wonder they have been used as natural remedies for centuries. Research has shown their potent anti-inflammatory properties as well. Rosemary, for example, may reduce pain and inflammation in those with rheumatoid arthritis (41, 42). 
Quercetin To Enhance Autophagy
Bioflavonoids, or flavonoids, are a group of pigments that may help to protect you against various diseases. They possess anti-inflammatory, antioxidant, anti-viral, anti-allergic, and anti-carcinogenic properties, and may enhance autophagy.
While there are over 4000 known bioflavonoids, quercetin is one of my favorites. Quercetin can be found in onions, leafy greens, tomatoes, broccoli, and berries. It may enhance autophagy, fight inflammation, improve immunity, and fight free radical damage (43).
Use Inflam Defense™ To Enhance Autophagy
Inflam Defense™ is one of my favorite supplements to enhance autophagy and cellular healing. It uses the powerful combination of anti-inflammatory herbs, such as turmeric, boswellia, ginger, and rosemary extracts, as well as nutrients from quercetin, rutin, and proteolytic enzymes. Inflam Defense™ helps to enhance autophagy, support your immune system, protect you against oxidative stress, support healthy circulation and circular function, and boost your health with antioxidants.
If you are looking to enhance autophagy, keep your inflammation and pain levels under control, boost your immune system, and support your overall health, I recommend Inflam Defense™. Take one capsule twice a day between meals. For advanced protection, take two or more capsules between meals or as directed by your healthcare practitioner.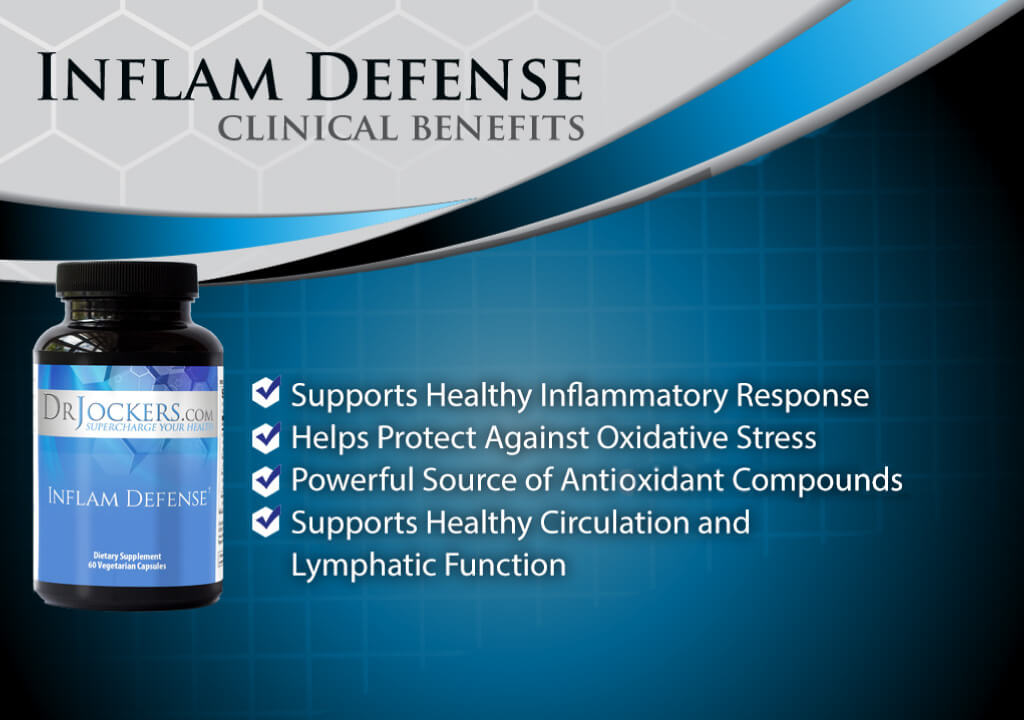 Final Thoughts on Herbs to Enhance Autophagy
Autophagy is part of your body's innate immune system. Enhanced autophagy is essential for increasing energy, losing fat, improving mental clarity, lowering pain, reducing inflammation, and improving your health. Autophagy happens when your body recycles and discards old cells allowing the creation of new cells to replace them.
While fasting, practicing fasted exercise, and eating a ketogenic diet are three of the most powerful ways to enhance autophagy, it is important that you support this process with anti-inflammatory herbs to enhance autophagy and improve your health.  Follow my tips and try these fantastic herbs I recommend to enhance autophagy, decrease inflammation, lose fat, and improve your overall health. If you want to learn about my fasting protocol to reduce pain, read this article
You can also check out my Fasting Transformation book which goes into the most recent scientific research and strategies for implementing intermittent and extended fasting into your life.  It is, by far, the best book on fasting the world has ever seen!  It is now, my great honor to present this to you and I am deeply appreciative of your support!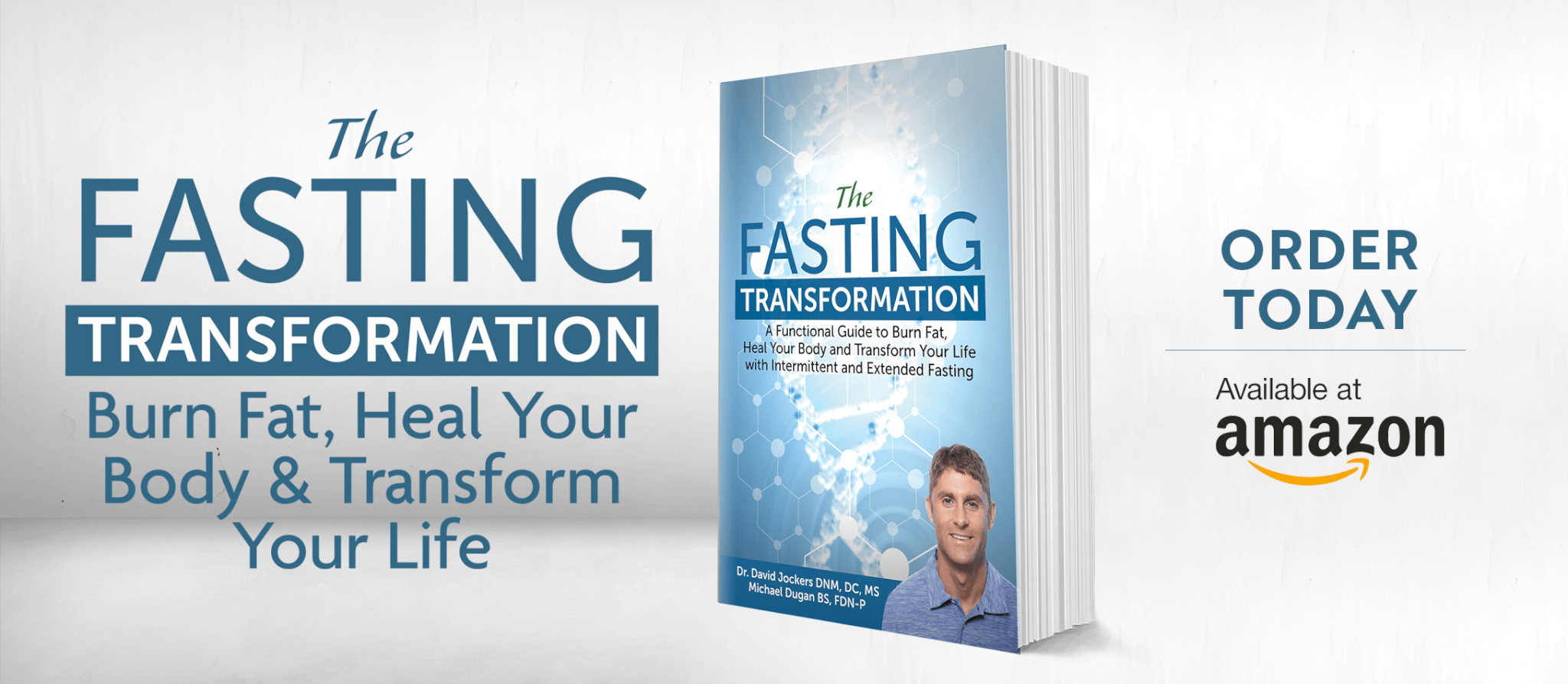 Metabolic Autophagy & Cellular Healing Masterclass
Autophagy is the body's innate mechanism for deep cellular healing and repair and it helps us reduce the effects of aging, inflammation and cellular damage.
The Nobel Prize in 2016 was awarded to the Japanese researcher Yoshinori Ohsumi for his breakthrough work in helping us understand the process of autophagy and how it works.  If you are struggling with your health or desire to optimize your health, activating the appropriate amount of autophagy is a critical component.
This masterclass will give you in-depth video trainings along with image-rich, research-based guides to help you understand the tools and strategies to unlock your body's dormant healing potential.  You will also learn my signature 6-week Metabolic Reset Cycle that will show you how to utilize advanced nutrition strategies for deep cellular healing!
Check out the masterclass here where you will learn my best action steps for optimal healing!
Sources in This Article Include:
1. Glick D, Barth S, Macleod KF. Autophagy: cellular and molecular mechanisms. J Pathol. 2010; 221(1):3-12. PMCID:
2990190
2. Russell RC, Yuan HX, Guan KL. Autophagy regulation by nutrient signaling. Cell Res. 2013; 24(1):42-57. PCID:
3879708
3. Diot A, Morten K, Poulton J. Mitophagy plays a central role in mitochondrial ageing. Mamm Genome. 2016 Jun. 27(7-8):381-95. PMCID:
4935730
4. Kang C, Elledge SJ. How autophagy both activates and inhibits cellular senescence. Autophagy. 2016;12(5):898-9. PMCID:
4854549
5. Patergnani S and Pinton P. Mitophagy and mitochondrial balance. Methods Mol Biol. 2015; 1241: 181-94. PMID:
25308497
6. Dong X, Levine B. Autophagy and viruses: adversaries or allies?. J Innate Immun. 2013;5(5):480-93. PMCID:
3790331
7. Fan YJ, Zong WX. The cellular decision between apoptosis and autophagy. Chin J Cancer. 2013; 32(3):121-9. PMCID:
3845594
8. Jiang D, Rusling JF. Oxidation Chemistry of DNA and p53 Tumor Suppressor Gene. ChemistryOpen. 2019; 8(3):252–265. PMCID:
6398102
9. Menzies FM, et al. Autophagy and Neurodegeneration: Pathogenic Mechanisms and Therapeutic Opportunities. Neuron. 2017 Mar; 93(5): 1015-1034. PMID:
28279350
10. Kim, I, Lemasters, JJ. Mitochondrial degradation by autophagy (mitophagy) in GFP-LC3 transgenic hepatocytes during nutrient deprivation. Mitochondrial degradation by autophagy (mitophagy) in GFP-LC3 transgenic hepatocytes during nutrient deprivation. Am J Physiol Cell Physiol. 2011 Feb;300(2):C308-17. PMID:
21106691
11. Sanchez, A, Reeser, JL, Lau, HS. Role of sugars in human neutrophilic phagocytosis. Am J Clin Nutr. 1973;26(11):1180-4. PMID:
4748178
12. Godínez-victoria, M, Campos-rodriguez, R, Rivera-aguilar, V. Intermittent fasting promotes bacterial clearance and intestinal IgA production in Salmonella typhimurium-infected mice. Scand J Immunol. 2014;79(5):315-24. PMID:
24612255
13. Alirezaei, M., Kemball, C. C., Flynn, C. T., Wood, M. R., Whitton, J. L., & Kiosses, W. B. (2010). Short-term fasting induces profound neuronal autophagy. Autophagy, 6(6), 702–710. PMID:
20534972
14. Collier, R. (2013). Intermittent fasting: the next big weight loss fad. CMAJ : Canadian Medical Association Journal, 185(8), E321–E322.
https://doi.org/10.1503/cmaj.109-4437
15. Amigo, I., & Kowaltowski, A. J. (2014). Dietary restriction in cerebral bioenergetics and redox state. Redox Biology, 2, 296–304.
https://doi.org/10.1016/j.redox.2013.12.021
16. Martin, B., Mattson, M. P., & Maudsley, S. (2006). Caloric restriction and intermittent fasting: Two potential diets for successful brain aging. Ageing Research Reviews, 5(3), 332–353.
https://doi.org/10.1016/j.arr.2006.04.002
17. Marinac, C. R., Sears, D. D., Natarajan, L., Gallo, L. C., Breen, C. I., & Patterson, R. E. (2015). Frequency and Circadian Timing of Eating May Influence Biomarkers of Inflammation and Insulin Resistance Associated with Breast Cancer Risk. PLoS ONE, 10(8), e0136240.
https://doi.org/10.1371/journal.pone.0136240
18. Patterson, R. E., Laughlin, G. A., Sears, D. D., LaCroix, A. Z., Marinac, C., Gallo, L. C., … Villaseñor, A. (2015). INTERMITTENT FASTING AND HUMAN METABOLIC HEALTH. Journal of the Academy of Nutrition and Dietetics, 115(8), 1203–1212.
https://doi.org/10.1016/j.jand.2015.02.018
19. Rothschild J, Hoddy KK, Jambazian P, Varady KA. Time-restricted feeding and risk of metabolic disease: a review of human and animal studies. Nutr Rev. 2014;72(5):308-18. PMID:
24739093
20. Moller L, et al. Impact of fasting on growth hormone signaling and action in muscle and fat. 2009 Mar. J Clin Endocrinol Metab. 94(3): 965-72. PMID:
19066303
21. Hasima N, Ozpolat B. Regulation of autophagy by polyphenolic compounds as a potential therapeutic strategy for cancer. Cell Death Dis. 2014;5(11):e1509. PMCID:
4260725
22. Lin SR, Fu YS, Tsai MJ, Cheng H, Weng CF. Natural Compounds from Herbs that can Potentially Execute as Autophagy Inducers for Cancer Therapy. Int J Mol Sci. 2017;18(7):1412. PMCID:
5535904
23. Lin, SR, Fu, YS Tsai, MJ Cheng, H, Weng, CF.Natural compounds from herbs that potentially execute as autophagy inducers for cancer therapy. Int J Mol Sci. 2017 Jul; 18(7): 1412. PMID:
28671583
24. Marino, G, Pietrocola, F, Madeo, F, Kroemer, G. Caloric restriction mimetics: natural/physiological pharmacological autophagy inducers. Autophagy. 2014 Nov; 10(11): 1879–1882. PMID:
25484097
25. Grzanna, R, Lindmark, L, Frondoza, CG. Ginger–an herbal medicinal product with broad anti-inflammatory actions. J Med Food. PMID:
16117603
27. Zahmatkash, M, Vafaeenasab, MR. Comparing analgesic effects of a topical herbal mixed medicine with salicylate in patients with knee osteoarthritis. Pak J Biol Sci. PMID:
22308653
28. Black, CD, Herring, MP, Hurley, DJ, O'Connor, PJ. Ginger (Zingiber officinale) reduces muscle pain caused by eccentric exercise. J. Pain. PMID:
20418184
29. Mansour, MS, Ni, YM, Roberts, AL, Kelleman, M, Roychoudhury A, St-Onge, MP. Ginger consumption enhances the thermic effect of food and promotes feelings of satiety without affecting metabolic and hormonal parameters in overweight men: a pilot study. Metabolism. PMID:
22538118
30. Prassad, S, Aggarwal, BB. Turmeric, the golder spice. Herbal Medicine: Biomolecular and Clinical Aspects. PMID:
22593922
32. Kuptniratsaikul, V, Thanakhumtorn, S, Chinswangwatanakul, P, Wattanamongkonsil, L,
Thamlikitkul, V
. Efficacy and safety of Curcuma domestica extracts in patients with knee osteoarthritis. J Altern Complement Med. PMID:
19678780
33. Hanai, H, Iida, T, Takeuchi, K, Watanabe, F, Maruyama, Y, Andoh, A, Tsujikawa, T, Fujiyama, Y, Mitsuyama, K, Sata, M, Yamada, M, Iwaoka, Y, Kanke, K, Hiraishi, H, Hirayama, K, Arai, H, Yoshii, S, Uchijima, M, Nagata, T, Koide, Y. Curcumin maintenance therapy for ulcerative colitis: randomized, multicenter, double-blind, placebo-controlled trial. Clin Gastroenterol Hepatol. PMID:
17101300
34. Khajehdehi, P, Pakfetrat, M, Javidnia, K, Azad, F, Malekmakan, L, Nasab, MH, Dehghanzadeh, G. Oral supplementation of turmeric attenuates proteinuria, transforming growth factor-β and interleukin-8 levels in patients with overt type 2 diabetic nephropathy: a randomized, double-blind and placebo-controlled study. Scand J Urol Nephrol. PMID:
21627399
35. Belcaro, G, Cesarone, MR, Dugall, M, Pellegrini, L, Ledda, A, Grossi, MG, Togni, S, Appendino, G.Efficacy and safety of Meriva®, a curcumin-phosphatidylcholine complex, during extended administration in osteoarthritis patients. Altern Med Rev. PMID:
21194249
36. Khajehdehi, P, Zanjaninejad, B, Aflaki, E, Nazarinia, M, Azad, F, Malekmakan, L, Dehghanzadeh, GR. Oral supplementation of turmeric decreases proteinuria, hematuria, and systolic blood pressure in patients suffering from relapsing or refractory lupus nephritis: a randomized and placebo-controlled study. J Ren Nutr. PMID:
21742514
37. Park, D, Jeong, H, Lee, MN, Koh, A, Kwin, O, Yang, YR, Noh, J, Suh, PG, Park, H, Ryu, SH. Resveratrol induces autophagy by directly inhibiting mTOR through ATP competition. Scientific Reports, volume 6, Article number: 21772 (2016).
Link Here
38. Resveratrol. WebMD.
Link Here
39. Bergamot. WebMD.
Link Here
40. Bergamot extract may lower cholesterol. Cleveland Clinic.
Link Here
41. Ghasemian, M, Owlia, S, Owlia, MB. Review of anti-inflammatory herbal medicines. Adv Pharmacol Sci. PMID:
27247570
42. Gok, MZ, Ozdemir, L. The Effects of Aromatherapy Massage and Reflexology on Pain and Fatigue in Patients with Rheumatoid Arthritis: A Randomized Controlled Trial. Pain Manag Nurs. PMID:
27091583
43. Li, Y, Yao, J, Han, C, Yang, J, Chaudhry, MT, Wang, S, Liu, H, Yin, Y. Quercetin, inflammation and immunity. Nutrients. PMID:
26999194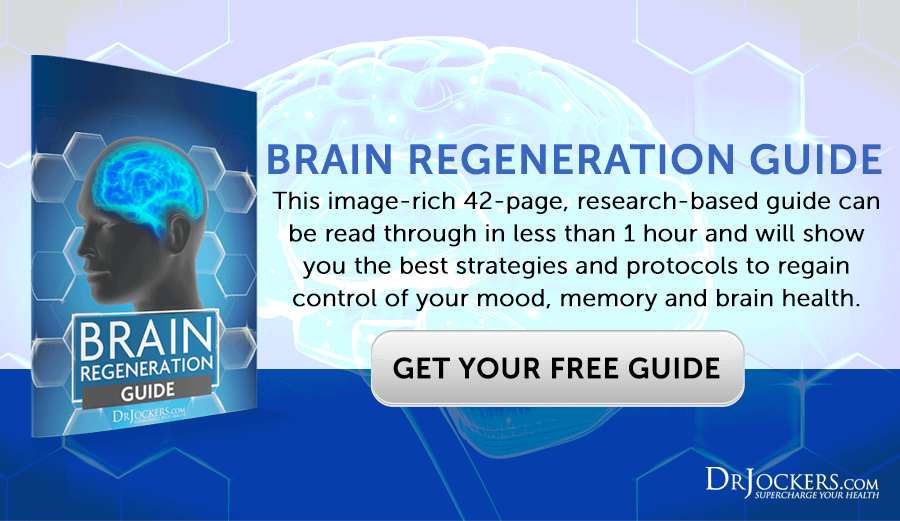 Was this article helpful?