The 11 Most Common Keto Side Effects
The ketogenic diet is a powerful new tool to hit the mainstream recently. This style of eating has substantial data behind it showing that it can boost fat-burning, reduce inflammation, boost cognitive performance, and more. What has not been covered quite enough are common keto side effects and how you can avoid them to make the best of this powerful eating style.
Although there can be many different side effects that manifest while becoming keto-adapted, they all stem from similar underlying issues. In this article, I outline what those underlying issues are, their related keto side effects, and simple strategies to overcome them so you can become keto-adapted as smoothly as possible.
Three Primary Causes
Although there are a variety of symptoms that can arise during keto adaptation, they mostly manifest from the same three underlying causes. Hypoglycemia (low blood sugar), Hypothalamic-Pituitary-Adrenal (HPA) axis dysfunction, and electrolyte/mineral deficiencies.
While these three causes are seemingly different, they are actually all related. When becoming keto-adapted initially, your body has been running on sugar for years. When you suddenly switch to fats, your body has to essentially build the cellular machinery necessary to generate and utilize ketone bodies as a fuel source.
This means that instead of generating tons of ketones from the very beginning, most people experience hypoglycemia for a period of time. With hypoglycemia comes a disruption in cortisol signaling which is what accounts for the HPA axis dysfunction. Finally, HPA axis dysfunction leads to an increase in secretion of minerals from the body in the urine.
Together these three causes can create all kinds of keto side effects. Once you understand them, though, a little bit of extra planning can help mitigate them from ever happening.
Hypoglycemia
As I briefly mentioned already, hypoglycemia is the first underlying cause to contribute to side effects during keto-adaptation. This is because the body simply doesn't know how to burn fat for energy yet.
During the adaptation phase, people commonly feel brain fog, fatigue, dizziness, intense hunger, irritability, and depression.
Although hypoglycemia is normal in the beginning, these keto side effects should subside within weeks of beginning a ketogenic diet. Look out for these signs and take steps to support your body during this time.
Keto Flu
This is perhaps one of the most well-known keto side effects. Keto flu is exactly what it sounds like, the onset of flu-like symptoms that arises shortly after beginning a ketogenic diet. This includes symptoms like fatigue, runny nose, nausea, and headache.
Keto flu is a classic manifestation of hypoglycemia that can be corrected with simple strategies that I will outline shortly.
Sugar Cravings
Many people find that during the beginning stages of a ketogenic diet they experience intense food cravings. These food cravings are typically for high-sugar foods and tend to really challenge your willpower.
This is a classic hypoglycemia response as well. The brain in particular requires lots of energy for normal function. When it receives a signal that you are hypoglycemic, a panic response occurs because of an underlying perception that you are starving to death (even if consciously you know you're not).
At this point your brain begins to tell you that, "YOU NEED IMMEDIATE ENERGY NOW OR YOU'RE GOING TO DIE"! This is when you have intense sugar cravings. Luckily, once you begin to produce ketones for energy this panic response calms down.
Dizziness & Drowsiness
When you are hypoglycemic while also not being fully keto-adapted, you essentially have an energy deficiency within the body. This is a short term adaptation that can lead to a variety of keto side effects.
During this time, you will likely feel dizzy and drowsy due to a general lack of energy. You may feel especially dizzy upon standing due to blood pressure dysregulation and inappropriate cortisol response (HPA axis dysregulation which we'll talk about shortly).
Reduced Strength & Physical Performance
During keto-adaptation, your body is learning to utilize a completely new fuel source that it has not had to use before. The muscles (along with the brain) contain tons of mitochondria for energy production that must now learn to utilize ketones as an energy source.
During this time, you will likely feel a significant drop in strength and ability to exert physical energy as one of the short term keto side effects. Luckily, once you become adapted you should see drastic improvements in these areas that are even greater than when you were sugar-adapted!
Hypoglycemia Mitigation Strategies
As you can see, a significant proportion of keto side-effects are attributed to hypoglycemia. These are my top strategies for addressing these issues.
Eat Every 3-4 Hrs: Eat every 3-4 hours when in the beginning stages of a ketogenic diet. This will help keep you satiated and blood sugar balanced.
Drink Mineral Rich Drinks: Instead of plain water, drink mineral rich beverages between meals. This includes organic broths or a high-quality electrolyte drink (like this one)
Hydrating and Mineral Rich Foods: Consume plenty of hydrating, mineral-rich foods and use salt generously. I like to snack on celery, cucumbers, and especially seaweed in the form of these Sea Snax. These are like seaweed chips that taste great and contains a lot of beneficial minerals.
Use Exogenous Ketones: Exogenous ketones are a fantastic way to train the body to use ketones for fuel before our body is good at creating ketones. They also buffer hypoglycemic responses by providing ketones the body can use for energy rather than having a significant stress response when blood sugar drops. A great exogenous ketone product that also has adaptogens and electrolytes is Keto Edge
Use Magnesium Supplementation: If you follow these strategies and continue to feel many of these symptoms, consider adding a magnesium supplement to your regimen. I would recommend taking the L-threonate form (such as our Brain Calm Magnesium) in a 1 gram dose – 3x per day between meals.
HPA Axis Dysfunction
The HPA Axis is a series of three glands (Hypothalamus, Pituitary, and Adrenals) that are primarily responsible for regulating our stress response in the body.
When we experience hypoglycemia, as I mentioned before, the brain goes into an emergency response to starvation. In addition to sugar cravings, the adrenals will release cortisol. Cortisol signals the release of stored glucose in the body (glycogen stores) to provide immediate energy.
Because of this response, glycogen stores are quickly burned up, hypoglycemia reoccurs, and the cycle continues. This is where HPA axis dysregulation promotes the onset of related symptoms while also exacerbating hypoglycemia-related issues.
Sleep Problems
With HPA axis dysfunction you are likely to experience a disruption in sleep. This is because cortisol is antagonistic to melatonin (meaning it opposes its function). When the HPA axis is thrown off, cortisol levels begin to fluctuate and interfere with the release of melatonin that occurs at night-time.
To review briefly, hypoglycemia stimulates the release of cortisol. Cortisol signals the release of stored glucose in the body, called glycogen, from the liver and muscle tissue. Cortisol is a stimulating hormone that can disrupt sleep if this response happens at night. This results in either insomnia or very poor quality sleep.
Although this cortisol response is helpful in emergencies, you want to try and minimize it as much as possible during keto-adaptation and especially at night.
Heart Palpitations
Many people will notice heart palpitations during the early phases of keto adaptation. This can be attributed to hypoglycemia, HPA axis dysfunction, and mineral imbalances.
During HPA axis dysregulation, cortisol can become abnormally high. If it remains high, the body will develop cortisol resistance. To compensate the body begins to secrete higher amounts of adrenaline which can then cause irregular heart rhythms or atrial fibrillation.
Additionally, the loss of minerals that we are about to discuss, can lead to a reduction in blood volume and pressure that can cause the heart to pump faster or even irregularly.
Supporting The HPA Axis
Like I said already, during the initial adaptation phase of a ketogenic diet, there is potential for the HPA axis to become dysregulated. During this time, it would be advantageous to take precautions to support the HPA axis as best as you can.
These are my top strategies for HPA axis support during keto-adaptation to reduce keto side effects:
Blood Sugar Balancing Strategies: Follow the blood sugar regulation strategies outlined above. Hypoglycemia is one of the primary triggers of cortisol dysregulation so address this first!
Magnesium Supplementation: This is outlined above but I want to touch on it again here. Magnesium is powerful support for the HPA axis. Magnesium L-threonate in particular is the only form proven to be able to cross the blood-brain barrier which means it can exert its effect on the hypothalamus and pituitary glands.
Use Adaptogenic Herbs: Although this strategy is not absolutely necessary, using adaptogenic herbs can tremendously benefit the HPA axis and help build your resiliency to stress. By supporting the HPA axis and helping to regulate cortisol levels, adaptogens may prove very helpful in mitigating HPA axis related side effects.
Electrolyte/Mineral Deficiencies
Electrolytes and minerals serve the vital function of regulating hydration while supporting proper nerve conductivity. During keto-adaptation, an excess of minerals are excreted through the urine due to HPA axis dysregulation.
This is because in addition to cortisol, the HPA axis is also responsible for regulating hydration levels through the retention and excretion of minerals. In a sense, HPA axis dysregulation can also lead to hydration dysregulation. Likewise, there are common keto side effects that occur that manifest from these imbalances.
Frequent Urination
The most obvious sign that your electrolyte/mineral balance is being affected is an increase in urination. On a low-carb diet, insulin levels drop which promotes the secretion of sodium in the urine. Sodium pulls more water into the urinary system which then is excreted as well. This is a very normal one of the keto side effects and a positive sign you are moving towards keto adaptation.
Additionally, as your body burns through glycogen stores in the liver and muscles, excess water is released into the urinary system. While getting rid of this extra water is helpful in releasing toxins from the body, you want to make sure you are taking in additional fluids, electrolytes, and minerals to avoid other related side effects.
Constipation
Constipation is a key sign that you are not maintaining electrolyte/mineral balance during keto adaptation. The consistency of someone's stool, and therefore the ability to pass that stool, is heavily influenced by its water content. The water content of your stool is likewise influenced by your overall hydration levels.
Additionally, constipation may also be a side effect of a change in your microbiome. Your gut bacteria makeup is largely determined by the kinds of foods you eat. When making such a drastic change in your diet, your microbiome will change which can also temporarily change your stools.
Also Consider: Certain foods can tend to be more conducive to constipation. Foods like eggs, cheese, and nuts may be contributing to constipation. Reduce intake of these at least during the initial phases of keto adaptation and see if that makes a difference. You want your stool to pass easily and resemble type 3 or 4 on the chart below.
Diarrhea
Sometimes people will experience diarrhea during the initial phases of a ketogenic diet. Although constipation is typically more common, diarrhea may also manifest due to the changes in the microbiome that occur when changing your diet.
These individuals would benefit from taking a bulking and binding agent such as psyllium husk, citrus pectin, or my favorite, activated charcoal. I have people do 2-3 grams of activated charcoal every 3 hours until the diarrhea subsides.
Also Consider: For some individuals, diarrhea may be brought on by low stomach acid and/or a sluggish gallbladder. Another possibility is that you have a low-grade food sensitivity to something you are eating such as eggs, nuts, and cheese.
Also, if you are supplementing with high doses of magnesium or vitamin C, it is recommended to back off of this until diarrhea has subsided as these can draw additional water into the colon.
If you are taking spoon fulls of salt in water it may also have a laxative effect. Try getting your salts in gradually throughout the day by just adding a pinch of salt to water and salting your foods to your desired taste.
Muscle Cramps
A common one of the keto side effects people experience in the early phase is muscle cramps. If you experience frequent muscle cramps while becoming keto-adapted this is likely due to mineral imbalances.
As I mentioned before, minerals are crucial for proper nerve impulse conductivity. A muscle cramp is essentially a misconducted impulse brought on by poor hydration and mineral balance.
Maintaining Proper Hydration & Mineral Balance
Now you are aware of the physiological changes that contribute to frequent urination, constipation, diarrhea, muscle cramps, and heart palpitations. Fortunately, the strategies to mitigate these side effects are quite simple. With a little proactivity and planning, these keto side effects will likely be less of an issue.
My top strategies for proper hydration and mineral balance are:
Super Hydration: Drink plenty of water, mineral-rich broths, and hydrating beverages. You want to ensure any toxins being released are flushed out effectively.
Use High Quality Salt: Use a high-quality salt in generous amounts in all of your meals, This will add back in sodium and other trace minerals that are excreted more rapidly during keto-adaptation. I like either Himalayan pink or a Celtic (gray) sea salt as they are the highest in trace minerals.
Consume Mineral Rich Foods: Increase your intake of mineral-rich foods like leafy greens, celery, cucumber, and seaweeds. As I mentioned before, I love to snack on Sea Snax as they provide plenty of minerals and are ketogenic friendly.
Use a Magnesium Supplement: Unless you are experiencing diarrhea, a magnesium supplement can work great for helping balance electrolytes and hydration levels. As you can see, magnesium can help keto-adaptation in many ways. Using 1 gram of the L-threonate form 3x daily is my general recommendation. If diarrhea occurs, lower to once or twice a day until it subsides.
Keto Breath
One of the keto side effects people may complain about is keto breath. Although this is not quite related to the three major causes we've discussed so far, keto breath is something that many people experience in the early stages of keto adaptation. When you begin producing ketones, you produce them in several different forms. The ketone that is released through the breath is acetone and is responsible for the keto breath that some people experience.
Luckily, acetone is only released in higher amounts during the initial adaptation phase and tends to wear off rather quickly (within 1-2 weeks).
Keto Breath Solutions
If this is an issue for you, you may consider brushing your teeth more frequently and using natural breath fresheners throughout the day. It is also important to maintain proper hydration during this time as a dry mouth can drastically exacerbate this side effect.
Some solid strategies include oil pulling with coconut oil and using a natural mouthwash when needed. I prefer this oral essentials mouthwash because it is natural and not as harsh as traditional brands.
You can also chew on fennels seeds, rosemary, mint, or parsley when needed as a natural breath freshener.
Precautions For Certain Conditions
While the ketogenic diet can be therapeutic for individuals with certain conditions, precautions need to be taken to prevent any severe keto side effects. If you are medications to control your condition, this is especially important.
High Blood Pressure: When drastically decreasing carbohydrate consumption, blood pressure may drop naturally. You may want to discuss this with your prescribing physician before implementing a ketogenic diet and take steps to monitor your body's response to the change in diet.
If you start to feel light-headed or experience heart palpitations, this may be due to a drop in blood pressure. It may be helpful to monitor your blood pressure during this time to quantify your body's response to the initial adaptation phase.
Diabetics: When you are eating less carbs and sugar, you will likely need less insulin or blood-sugar lowering medications to maintain blood sugar balance. Again, speak with your physician about this potential change and work with him to coordinate proper medication dosage.
If you experience symptoms like fatigue, intense hunger and cravings, light-headedness, or heart palpitations, this may be a sign your blood sugar has dropped too low. Use a blood glucose monitor to track your body's response to the diet change and make sure your body is adapting properly. If necessary consult your physician for necessary medication changes.
Exogenous Ketones
One of the best ways to get your body keto adapted quickly is through the use of exogenous ketones. Exogenous ketones are a supplemental form of ketones that are identical to the ketone bodies (Beta-hydroxybutyrate or BHB) that our body makes.
Our body needs some time to get used to ketones being elevated in the blood stream to begin using them effectively and efficiently for cellular energy. By consuming an exogenous ketone supplement, you get the body adapted to ketones faster and using them as an energy source before the body has built the metabolic machinery to produce its own ketones effectively.
Who Would Benefit From Exogenous Ketones
Most anyone who has struggled with keto side effects or just hasn't felt good on a ketogenic diet stands to benefit greatly from exogenous ketones during the adaption phase and beyond. Additionally, for people who have poor liver or gallbladder function, have poor mitochondrial health, or have never tried a ketogenic diet; the process of producing ketones can be stressful.
In these cases, exogenous ketones can be powerful. Exogenous ketones are a supplement that can be used to supply the body with a source of ketones that require almost no processing by the digestive tract and liver. This makes them great not only for helping someone get into ketosis, but also as a quick energy source and performance enhancer for brain and body.
Introducing Keto Brain MCT Oil:
Keto Brain is a pure 8 carbon chain caprylic acid. It is free of lauric acid and capric acid. This formulation turns very quickly into ketones in the body. This means that it is instant fuel for the brain. It helps to keep ketones up and allows the body to easily switch over from burning sugar to ketones as its primary fuel source.
Keto Brain is extracted from coconut oil in a time consuming process. No metal catalysts are used in the manufacturing process, and every batch of our Keto Brain is tested for heavy metals and other toxins to ensure it is 100% pure.
Keto Brain works directly in cells to give you an extra boost to maximize your performance. Tired of constantly craving sugar or caffeine? Want a thermogenic immune boost with your energy? Try Keto Brain and I am sure you will see a significant improvement!
Summary
The common keto side effects that people experience come down to three primary culprits: Hypoglycemia, HPA axis dysfunction, and poor hydration/mineral balance. The following strategies will help prevent these underlying issues and their respective side effects:
Stay Hydrated: Be sure to get at least half your body weight in ounces of water daily. Over time, you will desire more water and you can even try to shoot for 1 ounce of water per pound of body weight (Example: 160 lbs. = 160 Oz).
This may seem like a lot at first but try your best to hit this target. If you are a larger individual, try getting ¾ of your body weight in ounces.
Eat More Salt: Shoot for at least 2 tsps. of salt per day, if not more. My favorite sources are Himalayan Sea Salt, Redmond's Real Salt and Celtic Sea Salt.
Increase Meal Frequency: Eating every 3-4 hours will ease the hypoglycemic stress on the body. This will equate to 4-5 small meals throughout the day. As you become adapted, fasting for longer periods of time will become much easier.
Use Organic Broths: Sipping on broths throughout the day is a great way to stay hydrated while also getting additional minerals and amino acids into your system. Try a good organic, free-range or pasture-raised chicken or beef broth. This can be a traditional broth or even bone broth.
Mineral-Rich Foods: Consuming mineral-rich foods will help maintain proper hydration and support the HPA axis. My favorites are celery, cucumber, and seaweeds. I like Sea Snax which are really tasty, totally keto, and provide a ton of healthy minerals.
Fat With Every Meal: Every meal should have at least one source of healthy fats. Ideally, you want to shoot for 70-80% of calories from fats for any given meal. My top sources are coconut (oil/butter/flakes/milk), grass-fed butter or ghee, olives/olive oil, and avocados.
Consider Adding Supplemental Magnesium: During changes in blood sugar, magnesium is used up quickly. Magnesium is like oil to a car and keeps the body running smoothly on the cellular level.
I have found that using this Brain Calm Magnesium throughout the day to be of tremendous help during keto-adaptation. I would recommend using 1 scoop in water 1-3 times per day depending on how your body is responding.
Consider Using C8 MCT Oil: Providing pre-formed ketones takes stress off of the body and improves the bodies ability to use ketones as a fuel sources. This, in turn, improves the bodies ability to make its own ketones and speeds up the keto adaptation process. Take 1-2 tsps. of Keto Brain C8 MCT oil with each meal.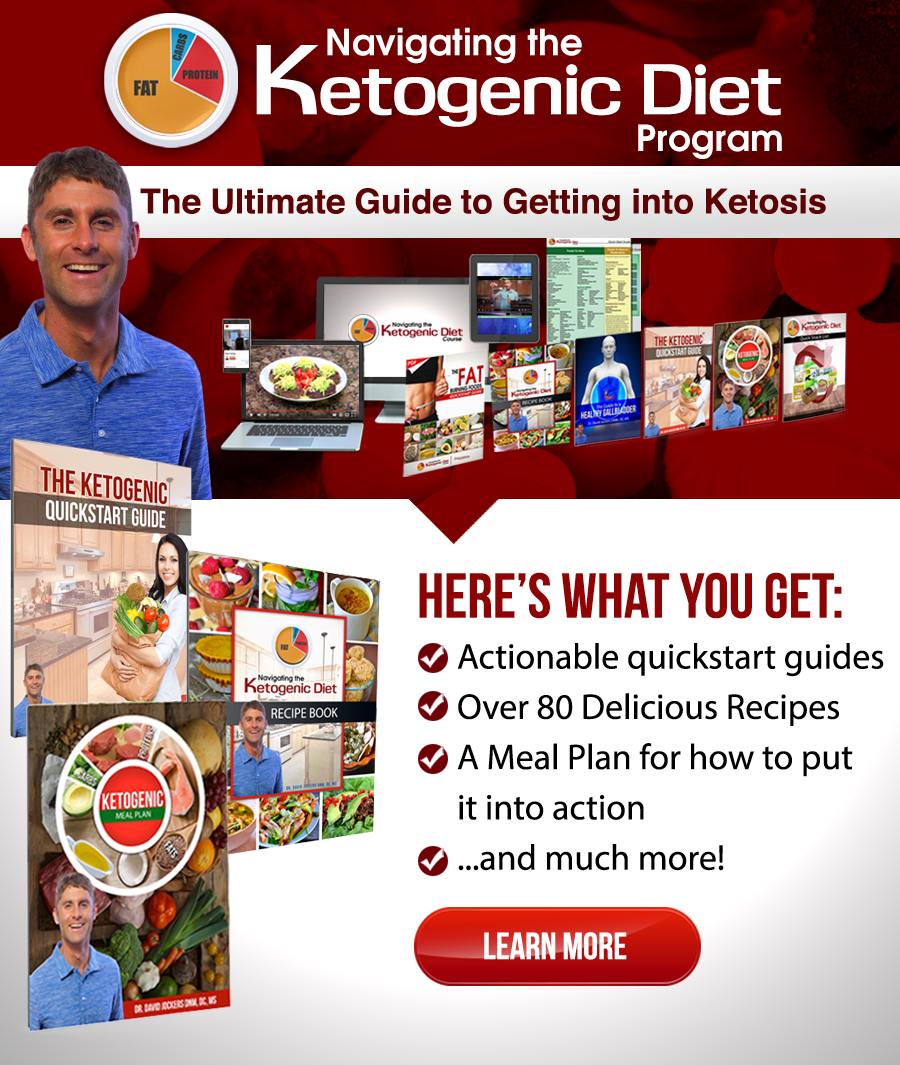 Was this article helpful?