Heavy Metals in Chocolate: What You Need to Know?
I am a huge fan of high-quality dark chocolate and eat some on most days!  When I heard about the recent Consumer Reports analysis that showed dark chocolate may have high amounts of heavy metals, I was really concerned.
Dark chocolate has many potential health benefits but also some risks. Research has found that there may be heavy metals hiding in your chocolate!  So what do chocolate lovers like me do now?  
In this article, I will discuss heavy metals in your chocolate. I will go over the health benefits of chocolate. I will share which chocolates are high in lead, cadmium, or both, and what are some safer choices. You will learn how to remove heavy metals in chocolate. I will discuss what other toxins may be hiding in your food. Finally, I will offer my best daily detox strategies.
The bottom line is that we have a lot of potentially problematic toxins in our food, not just in chocolate, and we need to make the best choices possible and follow a daily detoxification lifestyle in order to reduce our toxic load and thrive in life.  I plan to continue to consume organic dark chocolate but will do it with the considerations I list at the bottom of this article.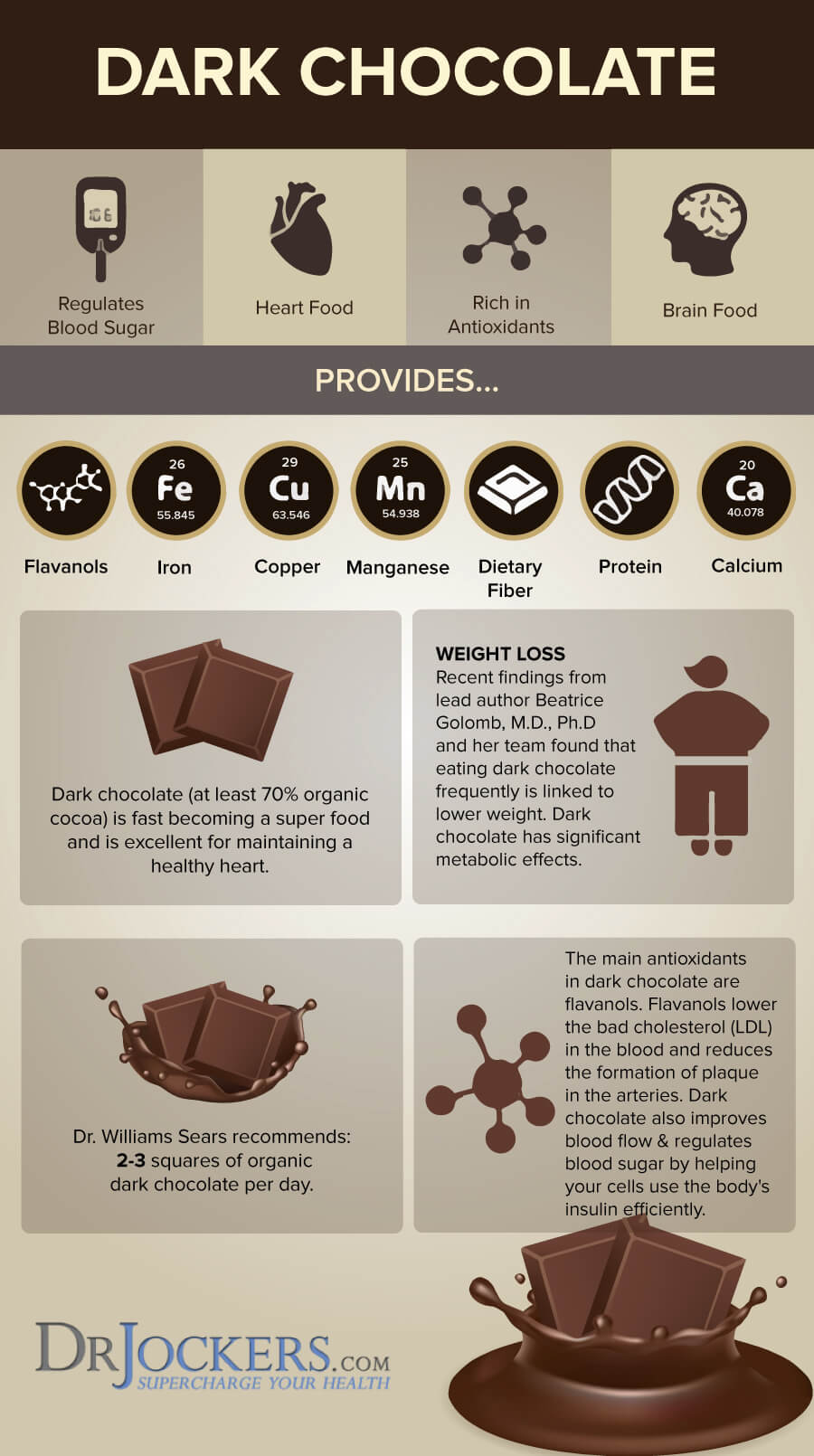 Health Benefits of Chocolate
Chocolate is one of the most sought-after foods in modern society. The average American consumes 11 pounds of chocolate a year (1). Unfortunately, most of this comes in the form of candy bars, pastries, ice cream, and other sugary desserts and junk food, loaded with trans-fatty acids, pasteurized dairy, sugar, artificial flavorings & preservatives that are highly toxic for human consumption. This is clearly not good for you.
However, raw cacao, which chocolate is made from, is actually a superfood. Raw cacao has many health benefits and if you are consuming chocolate bars made from raw cacao or very-dark chocolate with 92% or more cacao, it may offer you some health benefits beyond a delicious taste.
Pure chocolate comes from the seeds of the Theobroma cacao plant, which grows naturally in regions of Africa, South America, and the West Indies. The cacao tree was cultivated in Mexico, Central and South America for many years before the discovery of America.
Cacao products were a form of currency in the land during these times. Cacao was also used for ceremonial and medicinal purposes in many cultures.
You may wonder about the difference between cacao, cocoa, and chocolate. The cacao bean is the seed of the fruit. It is considered a culinary nut. Cacao is a superfood that is rich in antioxidant phytonutrients. Raw cacao is commonly used in the form of powder, bars, and nips.
You can also find chocolate bars that use cacao. When cacao seeds are roasted, they lose some of their nutrients, and this processed form is called cocoa. Most chocolate bars, candy bars, and chocolaty desserts are made with cocoa, not cacao.
Phytonutrients in Chocolate
According to a 2005 review published in The American Journal of Clinical Nutrition, cacao is high in polyphenols, such as epicatechin, which have powerful antioxidant and anti-inflammatory effects (2). The less processed the cacao is, the more bioavailable these flavonoids will be. Cooking and processing destroy the valuable antioxidants in chocolate. 
According to a 2005 review published in The American Journal of Clinical Nutrition, these antioxidant benefits may be great for cardiovascular health (3). Unfortunately, the addition of milk in milk chocolate may inhibit polyphenol absorption, losing much of the benefits of the chocolate.
Cacao and cocoa both contain theobromine, which is a bitter alkaloid that is similar to caffeine. Theobromine may offer powerful vasodilating effects and may be beneficial for the treatment of swelling and edema (fluid collection in the body). Theobromine may also be used as a diuretic and a natural cardiovascular stimulant that enhances oxygen flow to various regions of the body.
According to a 2009 review published in Circulation, cocoa may support blood pressure, insulin resistance, and vascular and platelet function, offer cardiovascular benefits, and helps to reduce inflammation (4). This improved blood flow may also support cognitive function and improve memory. According to a 2013 review published in The American Journal of Clinical Nutrition, theobromine may also help stimulate the production of healthy HDL cholesterol (5).
The vasodilating effects of cacao and cocoa through theobromine may help to relax smooth muscles and may be great for good effect at reducing asthmatic symptoms. According to a 2015 review published in Current Opinions in Lipidemiology, it may help to lower blood pressure and improve cardiometabolic health (6).
Just like tea, cacao and cocoa also contain similar polyphenolic flavonoid antioxidants A 2017 study published in the Archives of Internal Medicine has found that cocoa was more effective at lowering blood pressure than green and black tea (7). 
Is Chocolate Addictive?
Theobromine and caffeine are very similar alkaloids. However, theobromine is not as addictive as caffeine and coffee. Theobromine in cacao may have a lesser impact on your central nervous system than caffeine. On the other hand, it seems to stimulate cardiovascular function to a greater degree than caffeine. 
It's important to note, though, that cacao is not considered physiologically addictive, chocolate can cause addiction, including emotional addiction and food addiction to a certain level (8). This is likely because most of our chocolate products are highly processed, full of refined sugar, and loaded with artificial flavoring. Chocolate addiction is less likely to come when consuming raw cacao or extra-dark chocolate in moderation.
Other benefits of raw cacao and cocoa may include a more balanced mood, improved brain function, reduced symptoms of PMS, healthy bones, improved liver detoxification, improved pancreatic function, and more. According to a 2019 study published in Depression and Anxiety, consuming dark chocolate may reduce symptoms of depression (9). According to a 2020 study published in Nutrients, cocoa may help to boost cognitive performance (10). 
According to a 2021 study published in the Journal of Nutrition and Biochemistry, cocoa may help to reduce obesity-related health issues, such as non-alcoholic fatty liver disease (11). It may support mitochondrial biogenesis and antioxidant response. You may learn more about the benefits of raw cacao as a superfood by reading this article. 
Heavy Metals in Chocolate
Unfortunately, most things are not perfect. Chocolate may have some health benefits, but there may be some problems with it. Research has found that some dark chocolate bars contain heavy metals, namely lead, and cadmium. These are two toxic heavy metals that may lead to a list of health issues in both children and adults. 
Lead exposure can come from many sources. Up to a quarter of homes in the United States are affected by lead in their pain, indoor air, and soil. People from low-income neighborhoods are particularly affected. According to a 2012 review published in Environmental Health Perspectives, up to 35 percent of all low-income homes are affected by lead, and 17% of government-assisted, low-income homes are affected (12). 
Your municipal tap water may also be contaminated by lead. You may also be exposed to lead through cosmetics, tobacco products, firearm use, and contaminated foods. Lead exposure may increase the risk of poor fetal development, fatigue, digestive issues, kidney problems, high blood pressure, headaches, mood disorders, memory issues, and brain fog (13, 14).
Cadmium is another toxic heavy metal. It can be found in tobacco and contaminated foods. You may also experience occupational exposure from soldering, metalworking, and battery manufacturing. Cadmium is a water-soluble heavy metal, which means that it may absorb easily. 
The Problem with Heavy Metals:
According to a 2016 research published in Toxicological Research and a 2020 review published by the International Journal of Environmental Research and Public Health, cadmium exposure may cause poor calcium metabolism, liver disease, kidney damage, kidney stones, osteoporosis, cardiovascular disease, diabetes, and cancer, including lung, breast, pancreas, prostate, nasopharynx, and kidney cancers. (15, 16). 
According to a 2023 report, Consumer Reports tested for heavy metals in 28 different types of chocolate bars and found heavy metals in all of them (17). They tested some well-known brands, including Ghirardelli, Godiva, and Dove, and some smaller and healthier ones, such as Alter Eco, Mast, and Lily's.
They found that all of them had at least one heavy metal (cadmium or lead) in them, and many had both. California's maximum allowable dose level (MADL) for lead is 0.5 microgram and for cadmium, it's 4.1 mcg. Researchers found higher than the MADL level of heavy metals in the chocolate products that I will go over in this section.
This can cause a serious problem. Long-term exposure to heavy metals may lead to some serious health issues, including developmental issues, brain development, cognitive issues, nervous system issues, immune dysfunction, reproductive issues, and kidney damage. 
Which Chocolate Bars are High in Heavy Metals?
This can be a particularly serious problem to be aware of if you eat chocolate daily or almost daily.  However, even if you don't consume chocolate regularly, exposure to lead and cadmium may still be an issue for you, especially since these heavy metals may be found in other foods and elsewhere in the world.
Heavy metal exposure can add up and it's important to pay attention to and reduce exposure to all sources. This doesn't mean giving up dark chocolate completely. Don't worry, I will offer some safer options. 
High in Lead
Chocolate bars that are high in lead include:
Tony's Chocolonely, Dark Chocolate, 70% Cacao: 134% lead, 28% cadmium

Lily's Extra Dark Chocolate, 70% Cocoa: 144% lead, 42% cadmium

Godiva Signature Dark Chocolate, 72% Cacao: 146% lead, 25% cadmium

Chocolove, Strong Dark Chocolate, 70% Cocoa: 152% lead, 60% cadmium 

Lindt, Excellence Dark Chocolate, 85% Cocoa: 166% lead, 80% cadmium

Endangered Species, Bold + Silky Dark Chocolate, 72% Cocoa: 181% lead, 31% cadmium

Trader Joe's, Dark Chocolate, 72% Cacao: 36% lead, 192% cadmium

Hu, Organic Simple Dark Chocolate, 70% Cacao: 210% lead, 56% cadmium

Chocolove, Extreme Dark Chocolate, 88% Cocoa: 240% lead, 83% cadmium

Hershey's, Special Dark Mildly Sweet Chocolate: 256% lead, 30% cadmium
High in Cadmium
 Chocolate bars that are high in cadmium include:
Beyond Good, Organic Pure Dark Chocolate, 70% cocoa: 112% cadmium, 42% lead

Beyond Good, Organic Pure Dark Chocolate, 80% cocoa: 138% cadmium, 42% lead

Equal Exchange, Organic Extra Dark Chocolate, 80% cocoa: 120% cadmium, 45% lead

Lindt, Excellence Dark Chocolate, 70% cocoa: 116% cadmium, 48% lead

Scharffen Berger, Extra Dark Chocolate, 82% Cacao: 136% cadmium, 49% lead

Alter Eco, Organic Dark Chocolate Classic Blackout, 85% Cacao: 204% cadmium, 49% lead

Parcha, Organic Very Dark Dark Chocolate, 85% Cacao: 253% cadmium, 68% lead

Dove, Promises Deeper Dark Chocolate, 70% Cacao: 112% cadmium, 74% lead
High in Lead & Cadmium
Chocolate bars that are high in both lead and cadmium include:
Theo, Organic Pure Dark, 70% Cocoa: 142% cadmium, 120% lead

Trader Joe's, The Dark Chocolate Lover's Chocolate, 85% Cacao: 229% cadmium, 127% lead

Theo, Organic Extra Dark Pure Dark Chocolate, 85% Cocoa: 189% cadmium, 140% lead

Lily's, Extremely Dark Chocolate, 85% Cocoa: 101% cadmium, 143% lead

Green & Black's, Organic Dark Chocolate, 70% Cacao: 181% cadmium, 143% lead
Safest Choices
The safest choices may include:
Mast, Organic Dark Chocolate 80% Cocoa: 40% cadmium, 12% lead

Taza Chocolate, Organic Deliciously Dark Chocolate, 70% Cacao: 74% cadmium, 33% lead

Ghirardelli, Intense Dark Chocolate, 86% Cacao: 39% cadmium, 36% lead

Ghirardelli: Intense Dark Chocolate Twilight Delight, 72% Cacao: 61% cadmium, 96% lead

Valrhona, Abinao Dark Chocolate, 85% Cacao: 73% cadmium, 63% lead
How to Remove Heavy Metals in Chocolate 
Lead and cadmium may occur in cacao and chocolate for a variety of reasons, according to a 2022 report (18). One way lead may make its way into cacao is after the beans are harvested. In most cases, heavy metals are found in the outer shell of the cacao bean but not inside the bean.
However, lead levels in the beans may increase when the beans dry in the sun for several days because lead-filled dust and dirt can accumulate on the beans during this time. Furthermore, lead and cadmium may also get into chocolate during various steps of the manufacturing process.
According to the report, to reduce heavy metals in chocolate, we need to address both harvesting and manufacturing practices. They recommend minimizing soil contact with the beans, especially as they are drying in the sun. Putting them on tables and clean tarps or using protective covers may help. Another solution they recommend is cleaning the beans in factories to remove heavy metal contaminants. 
Dealing with cadmium is more difficult than reducing lead, but it's not impossible. Careful breeding and even genetic engineering may help to reduce heavy metals. However, this process may take several years to bring a solution. Genetic engineering is also a questionable option.
It may help with heavy metals, but it may have some other health risks. Replacing older cacao trees with younger ones and, improving soil quality, reducing cadmium contamination may be a good long-term option.
Since we are not there yet, all you can do is reduce your exposure to heavy metal-contaminated cacao products and dark chocolate. It's impossible to tell what is a safe or risky level. Toxic heavy metals are never healthy. What level of exposure would trigger issues in you depends on your personal body, health, and overall diet and lifestyle.
In the earlier section, I recommended some dark chocolate options that are safer and much lower in heavy metals than others, according to research. If you are consuming dark chocolate, select these safer brands. 
Chocolate Consuming Suggestions
I love chocolate and will continue to consume it but will make smart choices and keep my drainage and detox pathways working well to reduce my overall toxic load.  Here are some additional strategies you should consider when choosing chocolate products.
Consider chocolate as a treat.

Chocolate, even dark chocolate, shouldn't be a major part of your diet or even a part of your everyday diet. Sure, dark chocolate may have some health benefits, but it also holds some risks. Avoid frequent consumption and eat it only occasionally in small quantities. Enjoying a small piece over the weekend may be a good option.

Be smart with milk chocolate.

Milk chocolate tends to have lower heavy metal levels than dark chocolate high in cacao. However, you have to be careful. Milk chocolates tend to have more added sugars and artificial ingredients in them. Avoid these sugar-filled milk chocolate bars.

Read Ingredients:  Read the ingredients and choose better options. Nowadays, you can find some milk chocolate brands made with coconut milk, oat milk, or almond milk instead of dairy. Some organic brands use coconut sugar, xylitol, or stevia for sweetening. Avoid sugar-filled conventional brands, but you may find some no added sugar options as an occasional treat.
Remember, organic is not always better.

Using organic ingredients has a lot of benefits: they are free from pesticides, herbicides, hormones, and non-organic ingredients. However, if you look at the list, many organic dark chocolate brands are high in heavy metals.

Don't give your children too much dark chocolate.

Most dark chocolate people don't like dark chocolate. This may not be a bad thing. Heavy metals can be more harmful to the development of children than to adults. Moreover, chocolate should be an occasional treat to children, not a large part of their diet. Don't give them chocolate before nap time or bedtime.

Consider your total chocolate consumption.

Many people claim they don't eat too much chocolate. But they generally refer to chocolate bars, not other chocolaty desserts, pastries, candy, or drinks. But heavy metals may hide in your cakes, cookies, brownies, hot cocoa mixes, cocoa powder, and other chocolaty goodies. Reduce your overall chocolate consumption, not just your chocolate bars.

Follow an overall healthy, nutrient-dense, anti-inflammatory, antioxidant-rich whole foods diet. Eat lots of greens, vegetables, sprouts, herbs, spices, low-glycemic index fruits, fermented foods, nuts, seeds, grass-fed beef, pasture-raised poultry and eggs, wild-caught fish and seafood, and wild game. If you want to boost your intake of flavonoids and antioxidants found in cacao, choose grapes, green tea, apples, and other flavonoid-rich foods. Again, chocolate should be an occasional treat.
Use some daily detox strategies.

In the last section of this article, I will share my best daily detox strategies. These strategies will help your body to remove heavy metals and toxins better and reduce your risk of health issues. Since, unfortunately, it's impossible to completely eliminate exposure to heavy metals and other environmental toxins, it's critical that you do your best to reduce exposure and support your body in daily cleansing.
Toxins in Our Food
Unfortunately, chocolate is not the only problem at the grocery store and heavy metals are not the only toxic contaminant you have to worry about. Besides chocolate, there are other foods that may be contaminated with heavy metals, including cereals, wheat, rice, mushrooms, edible roots, fish, mollusks, and crustaceans (19). 
Non-organic produce and food products may be contaminated with pesticides, herbicides, and fungicides. Glyphosate is a commonly used herbicide or weed killer that contaminates much of our foods (20). Conventionally raised animal products may contain hormones, antibiotics, and dewormers the animals were treated with (21).
Packaged foods and overly processed foods are filled with refined sugar, artificial trans fats, artificial coloring, artificial flavors, and other artificial ingredients (22, 23). Moreover, packaged foods may be contaminated by Bisphenol A (BPA) from BPA-containing plastic packaging (24).
Avoiding overly processed foods, junk food, and non-organic food is an important step to protect your health. However, due to contamination coming from our soil, harvesting, manufacturing, and packaging, it is hard to find anything that is truly pure. This is why practicing daily detox strategies is so important to help your body remove toxins and support your body's healthy functioning.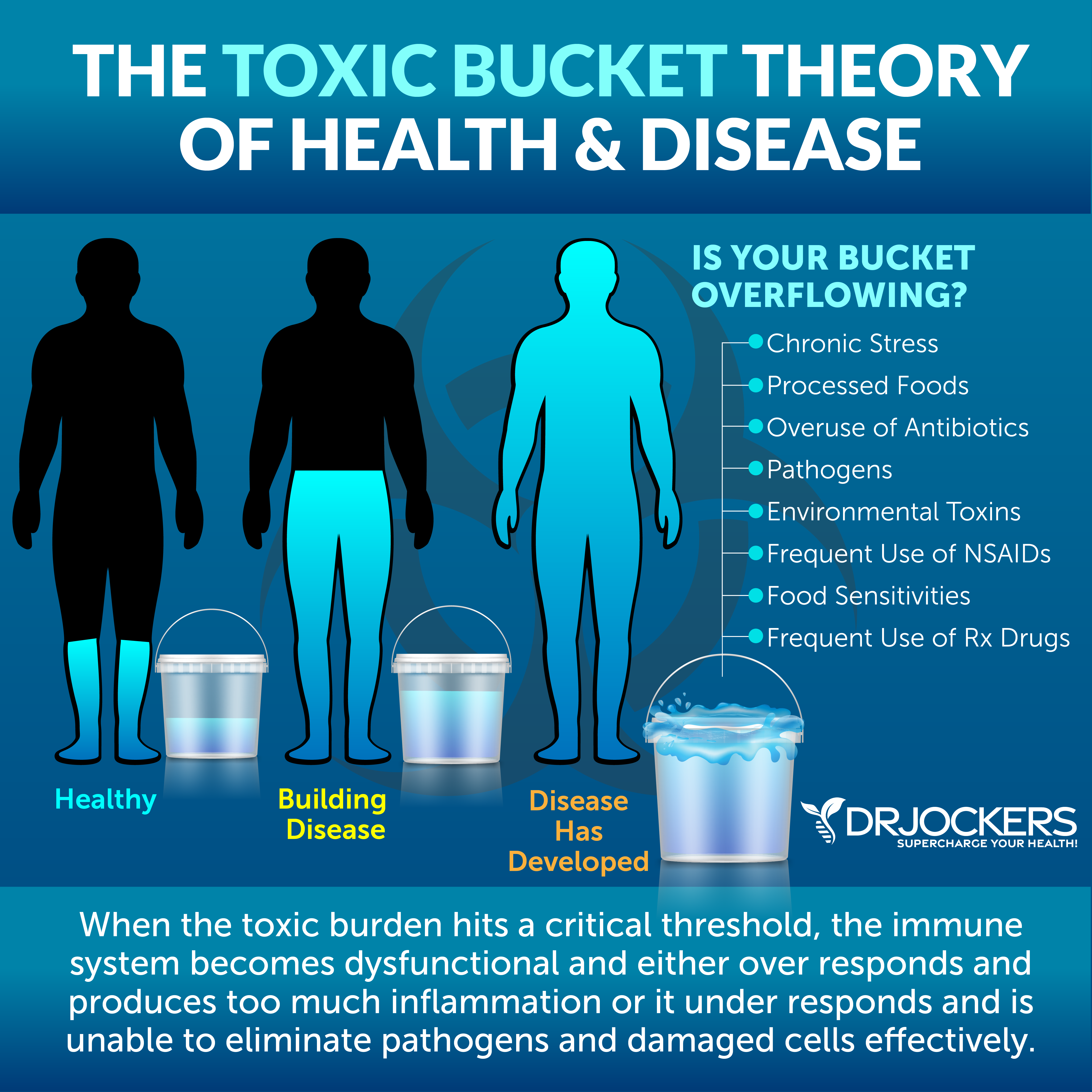 Best Daily Detox Strategies
Here are the best daily detox strategies I recommend:
Optimize Hydration
Hydrating your body is critical for your overall health. It also helps your body to remove toxins, heavy metals, and waste through urine and sweat. I recommend that you start your day with a large glass of warm lemon water. Drinking lemon water at this time can kick-start your digestion and support your immune health. Drinking herbal tea may also support detoxification, digestion, and immune health. 
Drink an additional glass every hour or too, at least 8 to 10 glasses total. If you work out a lot, it's hot outside, or you are sick, you may need more. You may add lemon, lime, cucumber, herbs, or berries to your water for extra micronutrients and flavor. In addition to water, hydrating vegetables and fruits, herbal tea, green juices, and green smoothies may provide additional hydration.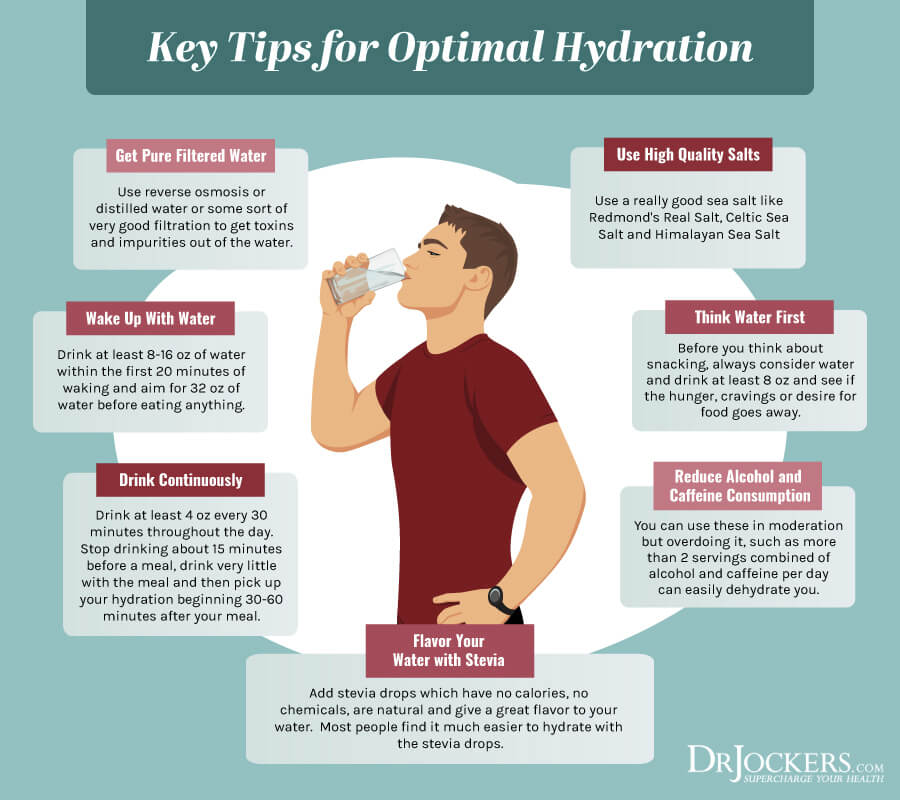 Anti-Inflammatory Nutrition Plan
Follow an anti-inflammatory, nutrient-dense nutrition plan. Remove inflammatory foods, such as refined sugar and carbs, refined oil, foods with artificial ingredients and additives, food allergens and food sensitivities, deep-fried food, junk food, and overly processed foods. 
Eat lots of greens, vegetables, sprouts, herbs, spices, low-glycemic index fruits, fermented foods, nuts, seeds, grass-fed beef, pasture-raised poultry and eggs, wild-caught fish and seafood, and wild game. Focus on healthy fats, such as avocados, pasture-raised butter and ghee, coconut oil, coconut meat, olives, and extra-virgin olive oil.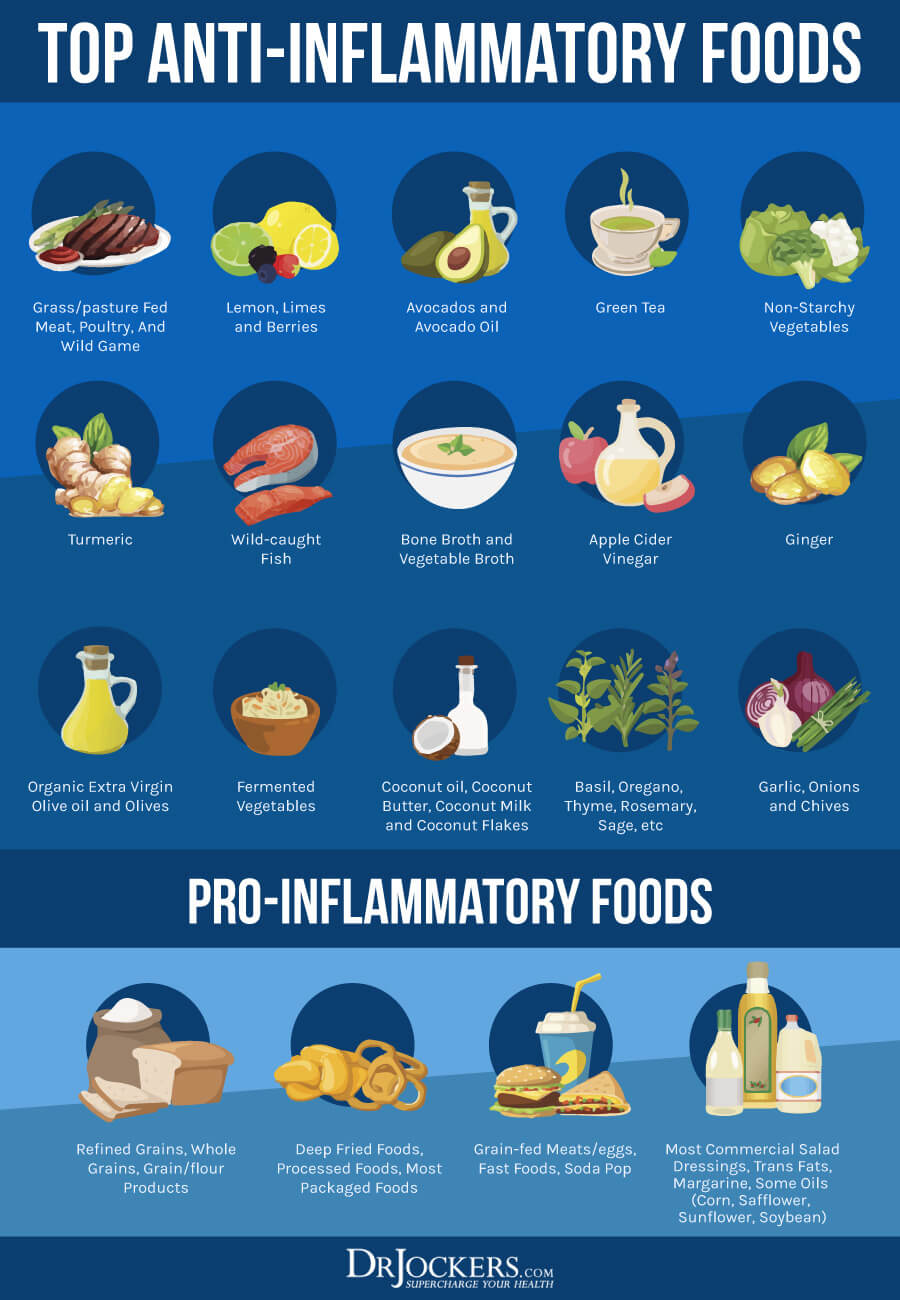 Intermittent Fasting
Intermittent fasting has so many health benefits you may read more about in this article. It's an eating approach where you are fasting (not eating) for a part of the day, keeping a specific eating window for your meals. If you are new to intermittent fasting, start with a 12-hour fast. Stop eating after dinner at 6 or 7 pm and don't eat until the next morning, 12 hours later, and 6 or 7 am. 
Gradually increase your fasting window until you find what works for you. Most people tend to find the 16:8 approach with a 16-hour fast and 8 hours reserved for eating the best, but you may find that a shorter or longer window works best for you. You may learn more about the best intermittent fasting strategies here.
Daily Sun Exposure
Daily sun exposure is essential for optimal vitamin D levels, immune function, and overall health. If it's warm outside or you are working out in the sun, it may also help detoxification through sweating.
I recommend spending 20 to 30 minutes each day outside in the sun. Exposure as much skin as the temperature allows.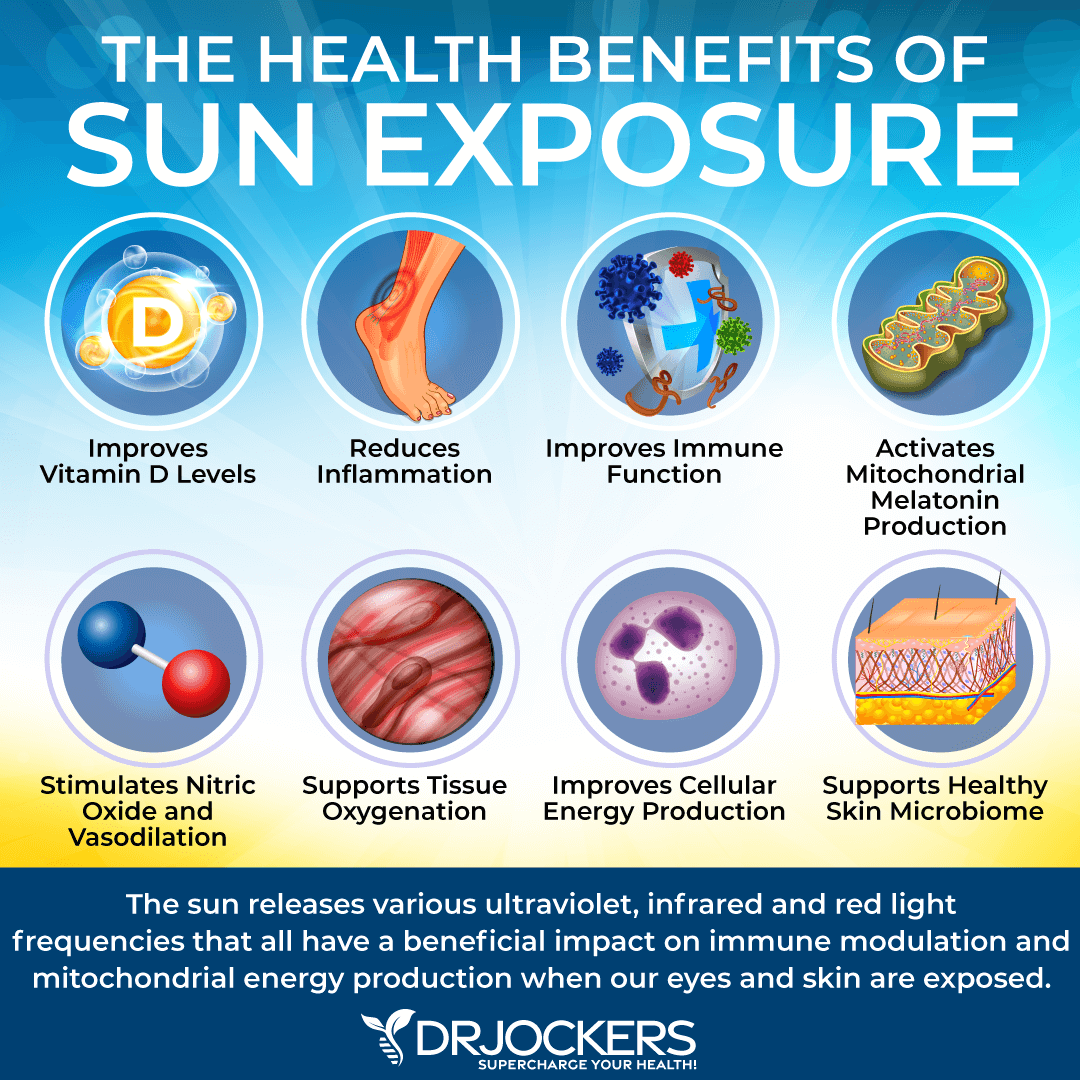 Regular Movement & Exercise
Moving your body and exercising may support detoxification through sweating, lymphatic function, and immune health. I recommend moving your body throughout the day. You may start your day with a short walk, rebounding, or a stretching session.
Stretch regularly. Go for a stroll at lunch. Walk or bike instead of driving whenever possible. Additionally to moving your body throughout the day, exercise at least 5 days for 20 to 30 minutes incorporating both resistance and strength training and cardiovascular exercise.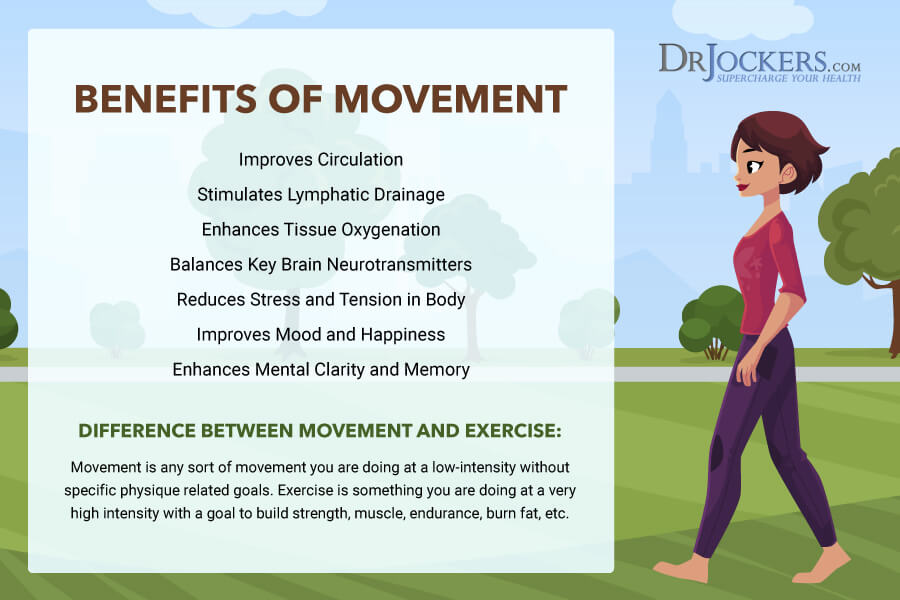 Support Liver and Lymphatic System
Your liver is your biggest detoxifying organ and your lymphatic system is also critical for detoxification and overall health. Supporting both liver health and your lymphatic system is critical. For liver health, I recommend eating beets, carrots, grapefruit, blueberries, cranberries, cruciferous vegetables, and extra-virgin olive oil.
To support your liver health, you may use castor oil packs over your liver at night. You may read this article on how to use castor oil packs. Read this article about liver cleansing.
To support your lymphatic health, you may try rebounding and dry brushing. I recommend reading this article about lymphatic cleansing for guidance. You can read this article about dry brushing.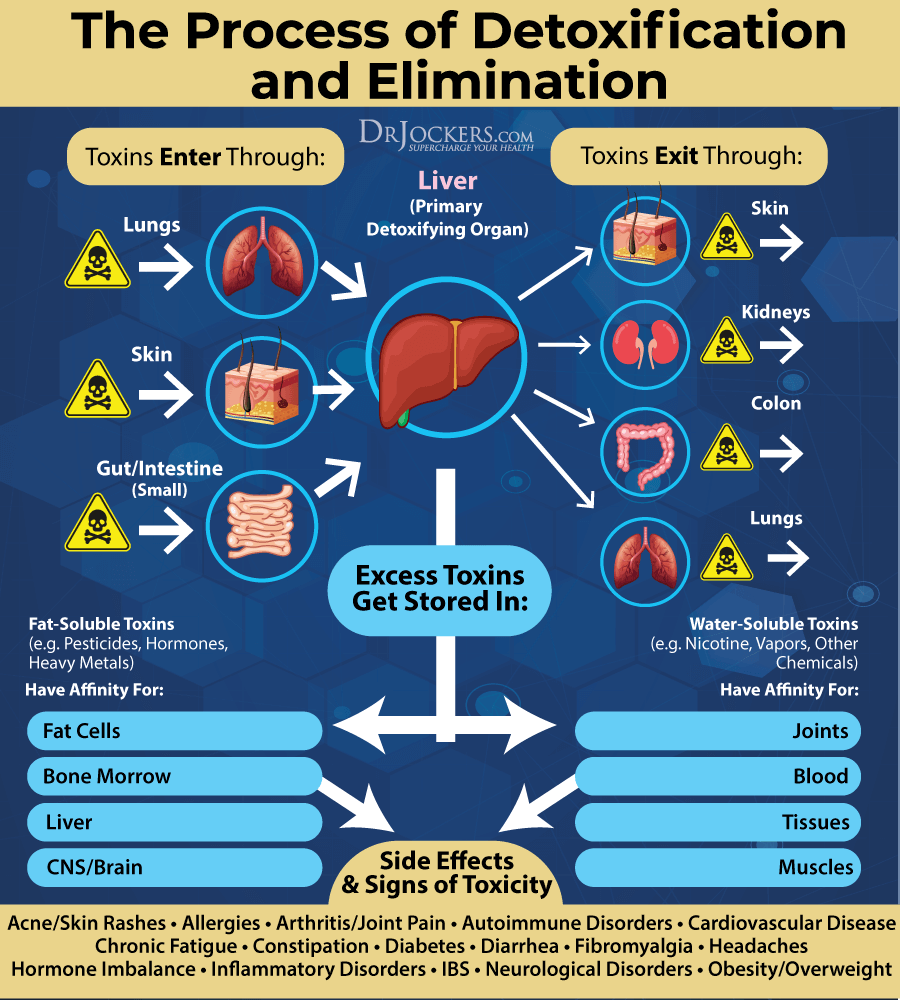 Take a Heavy Metal and Chemical Binder Daily
I recommend using a heavy metal and chemical binder daily.  Some good options here include chlorella, zeolite, and bioactive carbons such as fulvic and humic acids.  There are many good options here including GI Detox.  The key with GI Detox is that the components mostly stay in your gut but they don't go out into circulation to pull toxins out of the bloodstream.  
This supplement is a combination of nutrients formulated to provide broader activity than a single-ingredient product. Zeolite clay, activated charcoal, and silica are all binding agents with proven efficacy.
The other nutrients in G.I. Detox™+ support healthy digestion and elimination. The full-spectrum binding of G.I. Detox™+ provides a simple solution for environmental and internally produced detoxification. It supports healthy detoxification and full-body cleaning, reduces bloating and gas, helps the clearance of mold metabolites, supports mental clarity, and allows a more pleasant cleansing experience.
The Best Heavy Metal Binder
The best heavy metal binder on the market is HM-ET Binder. This product is specifically formulated to bind to heavy metals such as lead, cadmium, aluminum and mercury and it is also very effective at binding pesticides and herbicides such as glyphosate.
HM-ET Binder supports the body's natural ability to detoxify and encourages cellular repair. With the addition of Carbon Technology, it lends increased support to mitochondrial health, immunity, energy production, and long-term health. The name is simple: "HM" comes from "heavy metals" and "ET" comes from "environmental toxins." 
This product is designed to focus on chelating both heavy metals and environmental toxins from the system, while the bioactive carbon molecules provide the biological building blocks to heal your system.  This product is more pricey than other binders such as the GI Detox but it is also more potent and effective than other binders on the market.  
Take 1 capsule twice daily. HM-ET Binder can be taken with or without food. For maximum potency, take between meals or otherwise recommended by your healthcare practitioner.
Inflammation Crushing Ebundle
The Inflammation Crushing Ebundle is designed to help you improve your brain, liver, immune system and discover the healing strategies, foods and recipes to burn fat, reduce inflammation and Thrive in Life!
As a doctor of natural medicine, I have spent the past 20 years studying the best healing strategies and worked with hundreds of coaching clients, helping them overcome chronic health conditions and optimize their overall health.
In our Inflammation Crushing Ebundle, I have put together my very best strategies to reduce inflammation and optimize your healing potential.  Take a look at what you will get inside these valuable guides below!

Final Thoughts
Dark chocolate has many potential health benefits but also some risks. Research has found that there may be heavy metals hiding in your chocolate. I know I will be continuing to consume dark chocolate but I recommend following my tips on how to consume chocolate in moderation if you like chocolate. I also recommend following my best daily detox strategies for better health.
If you want to work with a functional health coach, I recommend this article with tips on how to find a great coach. Our website offers long-distance functional health coaching programs with our world-class team of health coaches. For further support with your health and other goals, just reach out—our fantastic coaches are here to support your journey.
Sources in This Article Include:
1. Woreby, et al.  Nutrition and Behavior:  A Multi-Disciplinary Approach: Pg 184  Link here
2. Seis, et al.  Cocoa polyphenols and inflammatory mediators.  Am J Clin Nutr January 2005 vol. 81 no. 1 304S-312S  Link here
3. Keen, et al.  Cocoa antioxidants and cardiovascular health.   Am J Clin Nutr January 2005vol. 81 no. 1 298S-303S  Link here
4. Corti, et al.  Cocoa and cardiovascular health.  Circulation.2009; 119: 1433-1441.  doi: 10.1161/CIRCULATIONAHA.108.82702
5. Neufingerl N, Zebregs YE, Schuring EA, Trautwein EA. Effect of cocoa and theobromine consumption on serum HDL-cholesterol concentrations: a randomized controlled trial. Am J Clin Nutr. 2013 Jun;97(6):1201-9.   PMID: 23595874
6. Berends LM, van der Velpen V, Cassidy A. Flavan-3-ols, theobromine, and the effects of cocoaand chocolate on cardiometabolic risk factors.  Curr Opin Lipidol. 2015 Feb;26(1):10-9.   PMID:  25551798
7. Taubert D, Roesen R, Schömig E. Effect of cocoa and tea intake on blood pressure: a meta-analysis. Arch Intern Med. 2007 Apr 9;167(7):626-34. PMID: 17420419
8. Ellam S, Williamson G. Cocoa and human health.  Annu Rev Nutr. 2013;33:105-28. doi: 10.1146/annurev-nutr-071811-150642. Epub 2013 Apr 29. Review.  PMID: 23642199
9. Jackson SE, Smith L, Firth J, Grabovac I, Soysal P, Koyanagi A, Hu L, Stubbs B, Demurtas J, Veronese N, Zhu X, Yang L. Is there a relationship between chocolate consumption and symptoms of depression? A cross-sectional survey of 13,626 US adults. Depress Anxiety. 2019 Oct;36(10):987-995. doi: 10.1002/da.22950. Epub 2019 Jul 29. PMID:
31356717
10. Martín MA, Goya L, de Pascual-Teresa S. Effect of Cocoa and Cocoa Products on Cognitive Performance in Young Adults. Nutrients. 2020 Nov 30;12(12):3691. doi: 10.3390/nu12123691. PMID: 33265948
11. Sun M, Gu Y, Glisan SL, Lambert JD. Dietary cocoa ameliorates non-alcoholic fatty liver disease and increases markers of antioxidant response and mitochondrial biogenesis in high fat-fed mice. J Nutr Biochem. 2021 Jun;92:108618. doi: 10.1016/j.jnutbio.2021.108618. Epub 2021 Mar 9. PMID:
33711421
12. Jacobs DE, Clickner RP, Zhou JY, Viet SM, Marker DA, Rogers JW, Zeldin DC, Broene P, Friedman W. The prevalence of lead-based paint hazards in U.S. housing. Environ Health Perspect. 2002 Oct;110(10):A599-606. doi: 10.1289/ehp.021100599. PMID:
12361941
13. Carrel M, Zahrieh D, Young SG, Oleson J, Ryckman KK, Wels B, Simmons DL, Saftlas A. High prevalence of elevated blood lead levels in both rural and urban Iowa newborns: Spatial patterns and area-level covariates. PLoS One. 2017 May 16;12(5):e0177930. doi: 10.1371/journal.pone.0177930. Erratum in: PLoS One. 2018 Apr 12;13(4):e0196002. PMID:
28520816
14. Adults and lead poisoning. NYC health.
Link Here
15. Chunhabundit R. Cadmium Exposure and Potential Health Risk from Foods in Contaminated Area, Thailand. Toxicol Res. 2016 Jan;32(1):65-72. doi: 10.5487/TR.2016.32.1.065. Epub 2016 Jan 31. PMID: 26977260
16. Genchi G, Sinicropi MS, Lauria G, Carocci A, Catalano A. The Effects of Cadmium Toxicity. Int J Environ Res Public Health. 2020 May 26;17(11):3782. doi: 10.3390/ijerph17113782. PMID:
32466586
17. Consumer Reports.
Link Here
18. (Full Report) Expert Investigation Related to Cocoa and Chocolate Products.
Link Here
19. Heavy metals in foods. Agq labs.
Link Here
20. Gillezeau, C., van Gerwen, M., Shaffer, R.M. et al. The evidence of human exposure to glyphosate: a review. Environ Health 18, 2 (2019).
Link Here
21. Rothrock MJ, Min BR, Castleberry L, Waldrip H, Parker D, Brauer D, Pitta D, Indugu N. Antibiotic resistance, antimicrobial residues, and bacterial community diversity in pasture-raised poultry, swine, and beef cattle manures. J Anim Sci. 2021 Aug 1;99(8):skab144. doi: 10.1093/jas/skab144. PMID:
33944927
22. Stanhope KL, Schwarz JM, Havel PJ. Adverse metabolic effects of dietary fructose: results from the recent epidemiological, clinical, and mechanistic studies. Curr Opin Lipidol. 2013 Jun;24(3):198-206. doi: 10.1097/MOL.0b013e3283613bca. PMID:
23594708
23. Iwata NG, Pham M, Rizzo NO, Cheng AM, Maloney E, Kim F. Trans fatty acids induce vascular inflammation and reduce vascular nitric oxide production in endothelial cells. PLoS One. 2011;6(12):e29600. doi: 10.1371/journal.pone.0029600. Epub 2011 Dec 28. PMID:
22216328
24. Rubin BS. Bisphenol A: an endocrine disruptor with widespread exposure and multiple effects. J Steroid Biochem Mol Biol. 2011 Oct;127(1-2):27-34. doi: 10.1016/j.jsbmb.2011.05.002. Epub 2011 May 13. PMID:
21605673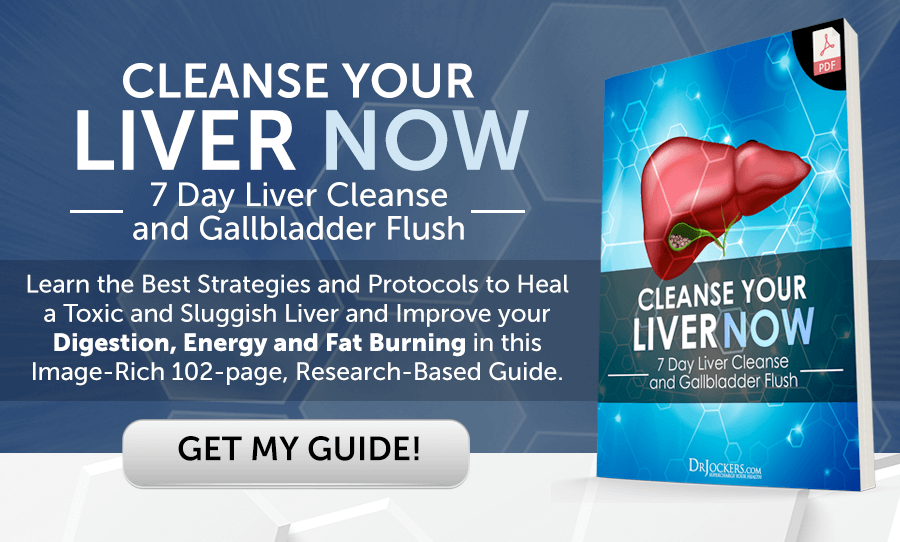 Was this article helpful?